The Real Housewives Of New York City Season 14 - Here's What We Can Tell Fans So Far
Gary Gershoff/Getty Images
If there is one thing we can count on in today's wild, unpredictable world, it is the Bravo masterpiece "The Real Housewives of New York City." As the sun sets on the show's 13th season, the first of the post-Dorinda Medley era and the first to include a Black cast member in Eboni K. Williams, it's time to start looking ahead to the future. You want to know all about the who, what, when of "RHONY" Season 14. Has the series started filming yet? Have the contracts been renewed? Have any contracts been revoked? Will Eboni stick around? You never know when Jill Zarin might make a reappearance.
Season 13 wrapped up with an "identity swap" party, which had the Housewives pair up and dress up like one another. But unlike in previous seasons, it doesn't look like the year ended with any huge drama or broken friendships or fresh betrayals. Which means we probably need to add another character into the mix for next time to spice things up, right? Here's what we can tell you about what's ahead.
When is Real Housewives of New York City's Season 14 release date?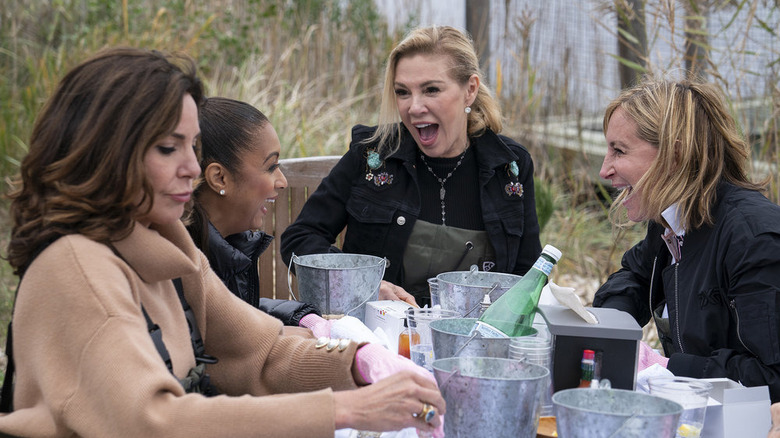 Heidi Gutman/Bravo
As of this writing, "The Real Housewives of New York City" Season 14 release date has not been announced. If this were another show, we might wonder if it was going to be canceled. It has, after all, been around for more than a decade. It's lived through four presidencies. It's almost as old as Facebook. If "RHONY" was a human baby, it would be starting its freshman year of high school. That said, due to lackluster ratings for Season 13, rumors are swirling that Andy Cohen and other Bravo producers are working on a shakeup.
"RHONY" often starts filming in the fall and usually continues through the winter and holiday season, allowing for at least one tropical vacation and one Christmas meltdown. On this schedule, you could normally expect a new season to drop sometime in March or April. But according to the Daily Mail at least, Andy has told the cast that production for Season 14 would be delayed while the team finds a way to "revamp" the show. "By having a slight pause, the noise can be reduced, they can reinvent the show, bring it back and make it fun again," a source told The Mail.
So about that revamp...
Who will be in the Real Housewives of New York City cast?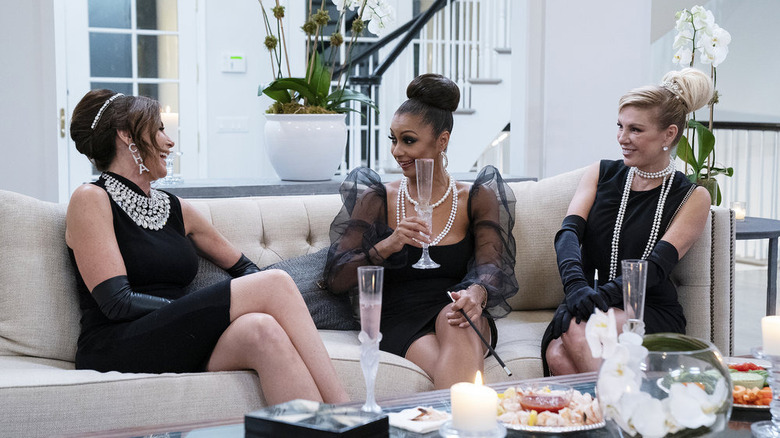 Heidi Gutman/Bravo
We've come to expect certain things of "Real Housewives of New York City," and one of those things is the increasingly unlikeable Ramona Singer. There was a time when we would have said Ramona would be on this show for the remainder of her natural life. But times have changed, and in a world where the likes of Lisa Vanderpump and Vicki Gunvalson are no longer Real Housewives, Ramona getting the boot is definitely in the realm of possibility.
As of right now, we only have gossip to go on, so take everything with a grain (or several) of salt. Radar Online reported that an insider claims Bravo wants the highest-paid Housewives (Ramona, Luann de Lesseps, and Sonja Morgan) to come back only as "friends" for Season 14. But according to gossip blog Deux Moi (via All About The Real Housewives), Bravo execs plan to keep on Ramona and Eboni Williams, drop Sonja and Leah McSweeney, demote Luann back to "friend," and then dip into the old group chat to coax Tinsley Mortimer and Bethenny Frankel back on the show. They also, apparently, are on the hunt for three fresh 'Wives to join the cast.
But before you get too excited, Bethenny has taken to her YouTube channel to say, categorically, she has not been in negotiations with Bravo about returning. So really, all we do know is that it's gonna get messy.