Inside Kim Kardashian's Battle With Her Neighbors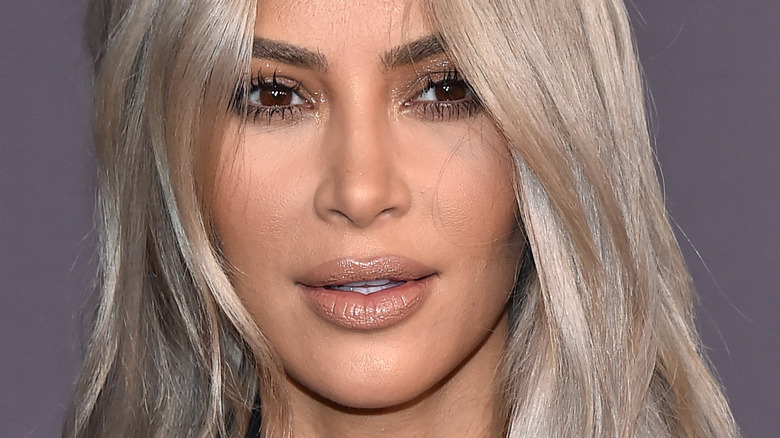 DFree/Shutterstock
Kim Kardashian seems to be hitting a rough patch with her neighbors, with one Hidden Hills local attempting to block the reality star from expanding her home. The "Keeping Up With the Kardashians" star, who recently hit billionaire status, first bought the home with soon-to-be ex-husband Kanye West in 2014 for a whopping $20 million, according to People. The celeb's mother was quick to point out in 2018 thanks to the couple's three years of renovations on the Los Angeles property that the mansion is now worth $60 million.
"I would say [it's] like a minimal monastery," said Kim of the all-white home in an interview with Vogue. Jonathan Van Meter, the writer of Kim's 2019 Vogue cover story, described the home as having "Pentagon-level security" and a "forbidding front door, which looks like it might be lowered over a moat." Despite the already grandiose yet minimalist style property, the reality star hopes to expand — but plans are being halted by one disgruntled neighbor.
Kim Kardashian wants to add more to her property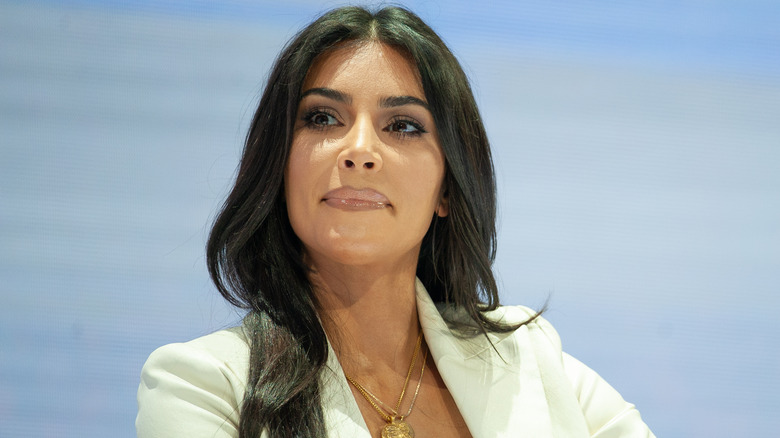 Asatur Yesayants/Shutterstock
According to court documents obtained by People, TV personality Kim Kardashian is looking to add to her massive Hidden Hills property by building out an "underground vault, subterranean parking, an attached subterranean 'wellness center' and a detached guardhouse." Unfortunately for the SKIMS owner, her neighbor, Sarah Key, is asking a judge to halt the expansion in the name of the neighborhood's "natural and rustic county setting." 
The court documents detail Kim's plan to "flatten two hills" for her renovations, building on "two high-pressure gas transmission lines" which the star's neighbor fears will put the "Hidden Hills community members at risk of catastrophic bodily injury and irreparable real personal property damage." According to the court filing, the property expansion "may cause loss of a life." Kim's home does already include two kitchens (one for staff and one for show), a shower "big enough for a basketball team," according to Vogue, and a master bedroom "the size of an airplane hangar.'
Kanye West and Kim Kardashian designed the home together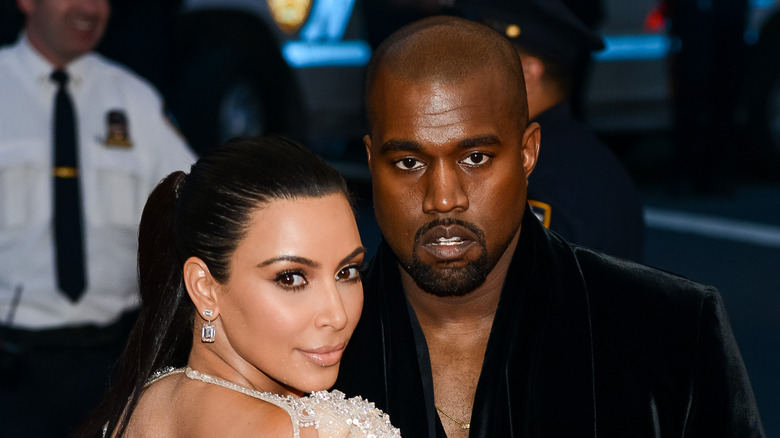 Sky Cinema/Shutterstock
After years of keeping details of their home under wraps, Kim Kardashian and Kanye West opened up their mansion to Architectural Digest in February 2020, revealing what went into their "minimalistic" property. "We passed by this incredibly extravagant house while strolling through the neighborhood [in 2013]," Kim said. "I'd just had North, and we were doing a lot of walking so I could work off some of the baby fat. I didn't really know Kanye's style at that point, but I thought the house was perfection. Kanye was less enthusiastic. He said, 'It's workable.'"
Eventually the rapper got on board with the project, and the Hollywood couple spent three years renovating. "The one thing Kanye and I had in common was our preference for a neutral palette," continued Kim. "I love the simplicity of the design. Everything in the outside world is so chaotic. I like to come into a place and immediately feel the calmness." The E! star added, "Kanye would come up with the most far-out ideas, and I'd say, 'This is not normal. We need drawers!' I was the voice of functionality."
Kanye chimed in, pushing back on criticism the home was not kid-friendly for the couple's four young children. "The kids ride their scooters down the hallways and jump around on top of the low Axel tables, which they use as a kind of stage," he said. "This house may be a case study, but our vision for it was built around our family."