Inside Jennifer Hough's Disturbing Accusations Against Nicki Minaj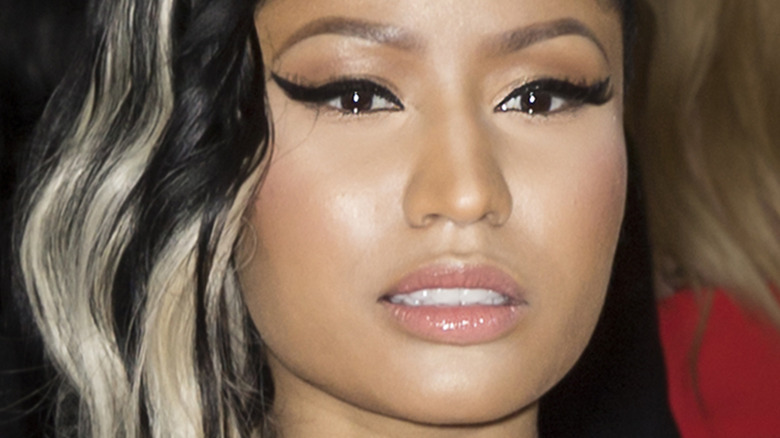 Ovidiu Hrubaru/Shutterstock
Onika Tanya Maraj-Petty, famously known as Nicki Minaj, has been plastered across our news feed for what feels like weeks now. From eyebrow-raising testicular swelling anecdotes to calling people out in the media for harassing her family, Minaj's words seem to hold a lot of power. But for one huge issue that's been plaguing her life, Minaj is allegedly not wielding that power for good. 
But first, let's backtrack — it all started in 1994, when a woman named Jennifer Hough accused Minaj's husband, Kenneth Petty, of sexually assaulting her when they were both 16. Although Hough got charged with first-degree rape, he pled guilty to first-degree attempted rape in 1995, for which he served almost five years in prison, per the Division of Criminal Justice Services. Now, Hough is suing Minaj for alleged harassment, claiming the singer is trying to coerce her into recanting her account against Petty, per HotNewHipHop.
As for Minaj, she claims the media is trying to paint a narrative about her husband that is simply not true. She falsely claimed via an Instagram comment that Petty and Hough were in a relationship at the time of the alleged assault, said that Petty was younger than Hough (he wasn't), and even made a false accusation about Hough's race during a 2019 episode of her Apple Music show, "Queen Radio," per the Daily Beast. Hough has stayed silent throughout it all, but on September 22, she finally decided to speak up and reveal a disturbing accusation against Minaj in an exclusive interview on "The Real." This is what Hough said and why she's speaking up. 
Jennifer Hough speaks her truth on 'The Real'
When Nicki Minaj first announced her marriage to Kenneth Petty, Jennifer Hough faced an overwhelming amount of harassment from Minaj's fan base, nicknamed, "Barbz." Hough was afraid of this exact scenario happening to her when she first heard of their nuptials. "I was so afraid of being found out," she told the cast of "The Real" (via Ok!), holding back tears. "I was so afraid of being known as the person he violated and I didn't want that. You know, it's Nicki Minaj, you know I didn't want that to reflect on my children."
The cyberbullying became so bad, Hough moved three times in 2020 "out of fear for her safety," and was separated from her then 22-year-old daughter, per the Daily Beast. Hough was supposedly not just harassed by fans, though. She claimed to "The Real" hosts that supposed associates of Minaj repeatedly offered her money in exchange for a retraction about Petty. Hough alleged that following the last offer, she received a serious threat from Minaj's associate.
Hough told "The Real" hosts that she's really tired of being in a constant state of fear for her and her daughter's lives, and that's why she decided to speak out. "I feel like the actions that were taken in regards to this whole situation have put me in a different type of fear at my age now and it was wrong and I don't wanna be afraid anymore. So the only way not to be afraid is to continue to speak up."
Jennifer Hough feels betrayed by Nicki Minaj
The assault affected Jennifer Hough for the majority of her life in "so many ways," and so did her fear about being thrust into an unwanted spotlight once she found out Kenneth Petty was marrying an award-winning rapper. "Hiding within myself, living and surviving through insecurities, using them to protect myself, thinking that if I don't look a certain way I won't attract a certain type of attention. And I've been like that my whole life," she told the co-hosts of "The Real."
Hough hopes that the lawsuit will shed some light on the truth of what happened that day between her and Petty, as noted by the Daily Beast. It's completely understandable why Hough would want that period of her life to come to a close, as she has faced an enormous amount of scrutiny due to Nicki Minaj's supposed lies and her zealous fans. 
During her interview, Hough acknowledged the false age-difference story Minaj decided to spread in order to discredit her. "It was like reliving it again because it was a lie. It wasn't true. We both were 16. We were never in a relationship," Hough stated, per Billboard. "It just felt woman to woman that was wrong of her because I don't know you, you don't know me to know that that statement you put out to the world to be true. You have 150-something million followers, they all believed it. It hurt coming from another woman."
If you or someone you know has been the victim of sexual assault, you can call the National Sexual Assault Hotline at 1-800-656-HOPE (4673) or visit RAINN.org for additional resources.