RHONJ's Margaret Josephs Reveals What Really Happened During The 'Your Husband's In The Pool' Incident - Exclusive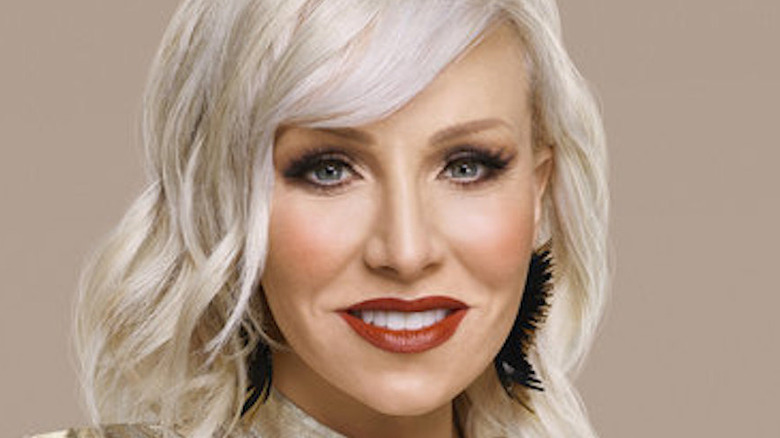 Rodolfo Martinez/Bravo
We may receive a commission on purchases made from links.
"The Real Housewives of New Jersey" has made myriad cultural contributions: the baptism brawl, that time Jennifer Aydin smashed a wine glass and seemingly threatened to stab Melissa Gorga, Gia Giudice's viral TikTok moment (which led to a Will Smith remix and Cardi B shout out). Some could even argue that Teresa Giudice's Season 1 table flip deserves a spot in the Louvre — or at least the Library of Congress. It didn't just set the bar for the series; it set the bar for every "Housewives" spin-off.
The thing about "RHONJ" is that it always errs on the side of explosive. While the ladies of "Beverly Hills" tend to float insults through tabloids or screaming at private homes (see: Lisa Vanderpump's Radar Online incident and the Kyle Richards-Taylor Armstrong cat meme), there are markedly few physical fights beyond a thrown cocktail. When Margaret Josephs joined the "RHONJ" cast in 2017, she clearly understood the assignment. There was a line, and she wasn't going to cross it, as much as Danielle Staub tried to provoke her.
Josephs has purveyed through most of the series as the voice of reason. She rarely drinks, which could be why she seems particularly lucid during the show's patented boozed-up dinner parties. Nonetheless, one of those parties became the stage for one of the most iconic moments in "RHONJ" history — and Josephs was the maestro. In this exclusive interview, the star walks Nicki Swift through the now-viral "your husband's in the pool" incident. 
Margaret Josephs says Marty Caffrey was "so deserving"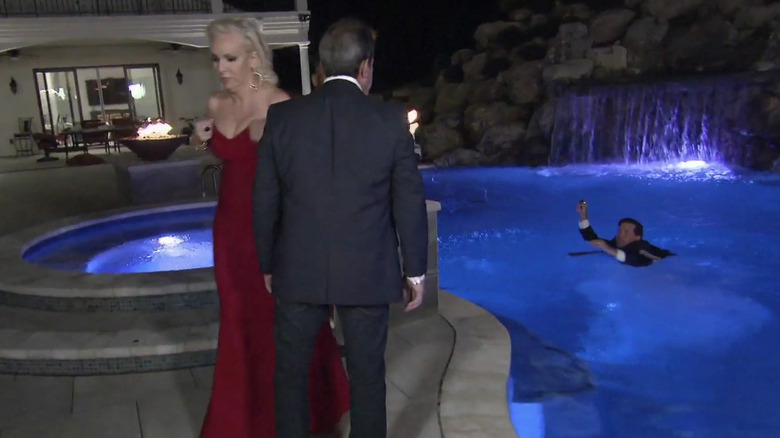 Bravo
The pool incident took place in Season 9, and at the time, Margaret Josephs' relationship with Danielle Staub had been tenuous for years. Some could say it was a ticking cocktail glass waiting to be thrown. It was always going to escalate; it was just a matter of when. Josephs had no idea that fateful day would be the day. As she tells Nicki Swift, it was a slow build. She was already arguing with Danielle Staub's husband du jour, Marty Caffrey, who had been "making up stories" and saying "hostile," "rude things" to her and husband, Joe Benigno. She made Benigno promise not to resort to violence, but from her perspective, the pool was "hijinks," the kind of thing that happens at a kid's birthday party. It was markedly low stakes, considering her castmates have actively threatened each other with broken glass.
"I was like, 'You know what? This guy's an assh**e. ... He really annoys me, he's definitely going in the pool,'" she tells Nicki Swift, noting that she tried to push him, but his leg got stuck on the step. After Begnino came for the final blow, Josephs' internal monologue chimed, "Oh, he's so deserving."
"His phone was on him, his watch, everything," she says. "And I was like, 'That's what he gets.' Oh, it just felt so good. It was just like the icing on the cake to just stick it to them, but I happened to like Marty after he got rid of Danielle."
Margaret Josephs didn't even remember her iconic line until later
Margaret Josephs' pool push might have been a standout moment in its own right, but it wasn't officially sealed into infamy until she brushed past Danielle Staub and casually uttered the words: "Your husbands in the pool." The moment quickly racked up headlines and inspired reenactments, even landing on Vulture's list of "The 100 Most Unhinged, Unexplainable, Unforgettable 'Real Housewives' Moments." It's officially part of the pop culture lexicon, but Josephs wasn't even aware of her cultural contribution until Bravo bigwig Andy Cohen pointed it out.
"I don't even remember saying it," Josephs tells Nicki Swift. "And when I spoke to Andy, he goes, 'Marge, when you said, "Your husband's in the pool," it was so funny.' I go, 'Oh, that's great,' and I didn't remember it til I saw the scene saying that."
It's true, reality TV can feel like you're living in a fishbowl — one where no one expects to get wet. Both Marty Caffrey and Staub have made their "Free Willy" break for the ocean, where people can't gawk at their in-fighting (which now includes a divorce and restraining order). The pool push could very well have been the beginning of the end of their reality TV careers, making it particularly poignant. As for Margaret, she's still living life as an open book while filming Season 12. For the sake of her castmates, let's hope she brought a towel.
You can pick up Josephs' memoir, "Caviar Dreams, Tuna Fish Budget: How to Survive in Business and Life," at a bookstore near you.