The Reason Tucker Carlson Might Be In Hot Water With Rupert Murdoch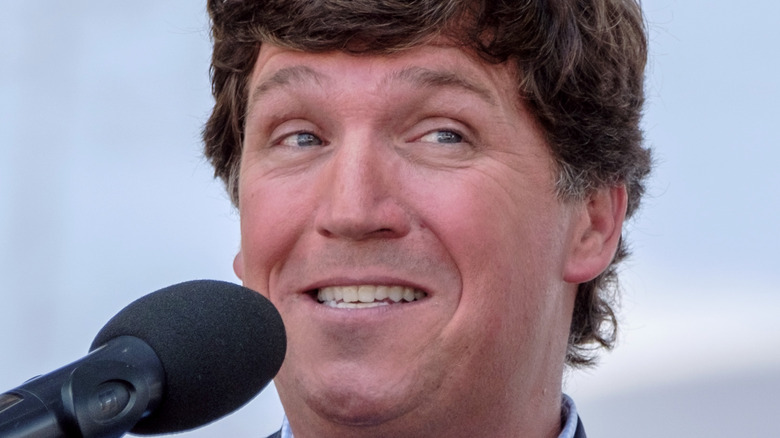 Janos Kummer/Getty Images
Tucker Carlson's popularity with conservative viewers might be indisputable — his Fox News program's consistent top-performing ratings are proof enough — but that doesn't mean his controversial takes haven't been cause for concern outside of his targeted demographic. Carlson's incendiary commentary has been one of the hallmarks of his reputation as a right-wing pundit and political commentator, examples of which range from continuously bashing self-deemed leftist "elites" while swimming in millions himself as a prep school-educated heir, punching down at feminists, and admitting to sometimes lying on-air.
But now, it looks like remarks Carlson made on his September 22 episode of his Fox News program "Tucker Carlson Tonight" could not only incite waves of criticism from anti-racist activists and advocacy groups. The comments could also get him in trouble with his network boss, Rupert Murdoch, for publicly overriding a statement Murdoch previously made in Carlson's defense earlier this year.
Per the Intelligencer, Carlson's latest stunt is connected back to a letter Murdoch wrote to the Anti-Defamation League in April after Carlson dedicated a segment at the time to lambasting President Joe Biden's administration. The April 8 episode included Carlson railing against what he deemed as Biden "​​trying to replace the current electorate" with "more obedient voters from the Third World" — a sentiment which, per the Anti-Defamation League (via the Intelligencer), was steeped in white supremacist dog-whistling and rhetoric. So what did Murdoch say then? And what has Carlson done now?
Tucker Carlson's recent outburst refuted everything Rupert Murdoch defended him for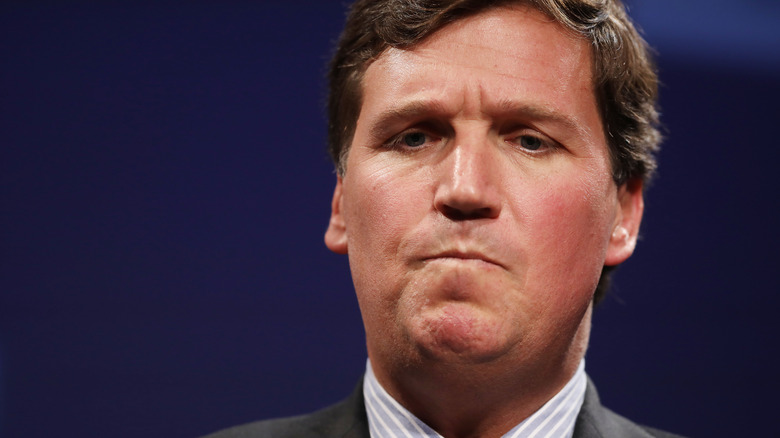 Chip Somodevilla/Getty Images
As the Intelligencer summarized in their September report, Tucker Carlson's rant drew enough concern from the Anti-Defamation League and others that they drafted and sent a statement to Fox News executives, demanding Carlson be fired by the network. Their main tenet centered on the idea of "replacement theory," a white supremacist viewpoint which claims the immigration of non-white (and sometimes non-Christian) marginalized groups are designed to replace white people, and will drive them to extinction (via the ADL).
In return, Murdoch sent a response to the organization in defense of Carlson. "Concerning the segment of 'Tucker Carlson Tonight' on April 8th, however, we respectfully disagree," Murdoch wrote. "A full review of the guest interview indicates that Mr. Carlson decried and rejected replacement theory. As Mr. Carlson himself stated during the guest interview: 'White replacement theory? No, no, this is a voting rights question.'"
However, the political commentator's remarks during his latest episode seem to entirely undermine Murdoch's prior argument in Carlson's favor. As the Intelligencer noted, Carlson overtly claimed that President Joe Biden aims to "change the racial mix of the country" through his policies, later adding calling this, by name, "the great replacement" and invoked the racist pseudo-science of "eugenics." As of the time of this writing, Murdoch has not publicly said anything regarding Carlson's unwieldy monologue.