Here's What Joe Rogan Thinks Will Happen If Donald Trump Runs In 2024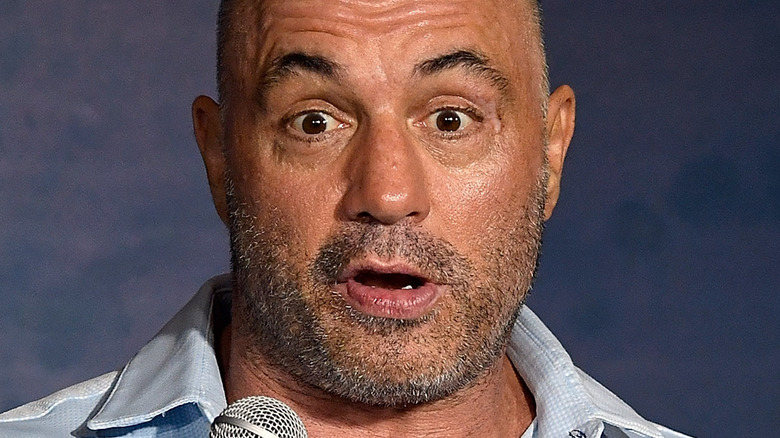 Michael S. Schwartz/Getty Images
It's been about nine months since Donald Trump left office, and the question on everyone's mind is what's next? After departing Washington D.C., Trump publicly feuded with Twitter (he's still banned) and took some time to unwind at Mar-a-Lago. According to reports, Donald and Melania Trump have been spending their days apart. Trump spends much of his time doing his own thing and golfing while Melania apparently hits the spa multiple times a day. They came together for a recent dinner, though, and are reportedly greeted with applause every time they entered the dining room at their Florida club.
Now that they've taken some time away from D.C., political commentators and politicians alike have their eyes turned to Trump and his future. The one thing everyone wants to know is — will he or will he not run again? And if so, can he win? There are obviously plenty of Republicans who are still very much in the pro-Trump camp and there's no denying that. Enter Joe Rogan, UFC commentator and podcast host extraordinaire, who's got some interesting theories about Trump's future. Here's what he had to say.
Joe Rogan had some nasty words for Joe Biden compared to Trump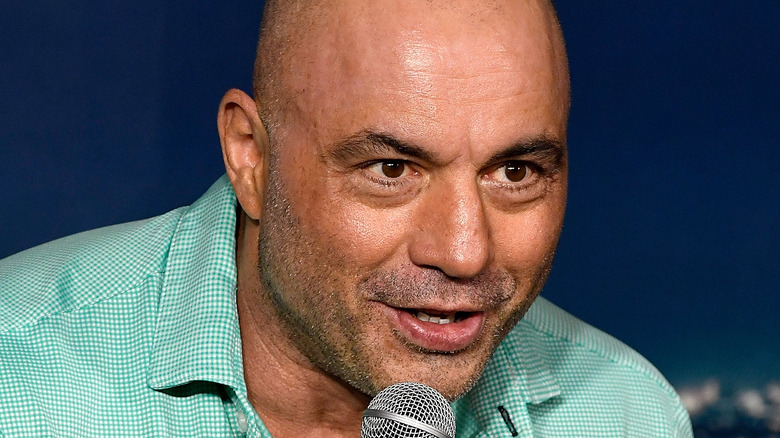 Michael S. Schwartz/Getty Images
In a recent episode of his podcast, Joe Rogan let his guest for the week, Amanda Knox, know his thoughts on Donald Trump's future. "He's probably going to win," Rogan said after Knox compared Trump to Italian media tycoon Silvio Berlusconi, per Yahoo! News. 
"How is Joe Biden going to win?" Rogan then asked. "How is it possible he's going to beat anybody?" Rogan went on to criticize Biden's tenure as president thus far. "After you've seen him speak, after you've seen the decay and the decline, how is that possible?" he said. Oof. Rogan then claimed that Biden was poised to fail, thanks to the Democratic party. "They've done a terrible job," he continued. "The Democrats f****d up royally by making that guy the president."
Rogan seemed to think that Trump's ability to win had less to do with Trump's charisma and more to do with Biden's issues. "It's crazy. It's crazy that that's the choice," he said. "Like you have Donald Trump or a man who's got something seriously wrong, right?" Rogan continued. "[Biden] a guy who's had multiple aneurysms, had actual brain surgery, and is 78 years old and is experiencing some sort of pretty radical cognitive decline." Well, it's quite clear where the podcaster stands. But what does Trump think about his chances of being president again?
Trump is staying quiet on if he'll run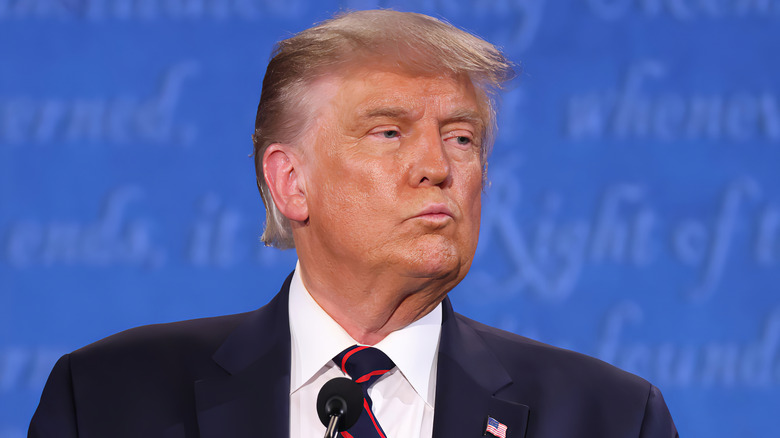 Devi Bones/Shutterstock
While political commentators have been abuzz with theories about Donald Trump's future plans, Trump has stayed tight-lipped. Earlier in September, though, he broke his silence during an interview on Real America's Voice. According to Trump, just about the only thing that would stop him from seeking office yet again is his health, per Business Insider. "Well, I guess a bad call from a doctor or something, right?" Trump said when asked what if anything would stand in his way. "You get that call. Come on down and see because we've got a bad report ... Things happen, through God, they happen," he said.
Trump went on to explain that he was not happy with the current state of the country. Just like Joe Rogan, Trump is no fan of Joe Biden. "I feel so good and I hate what's happening to our country. Our country has never been in a position like this," Trump said. "We were so good ten months ago and we're so bad now." So good at the height of COVID-19, no kidding! 
As for any more concrete plans about actually running for president again, Trump didn't say. If the press tour he's been on in recent months is any indication, though, he could run yet again. Clearly, he has some pundits still on his side.