What Happened To The Father Of Farrah Abraham's Child?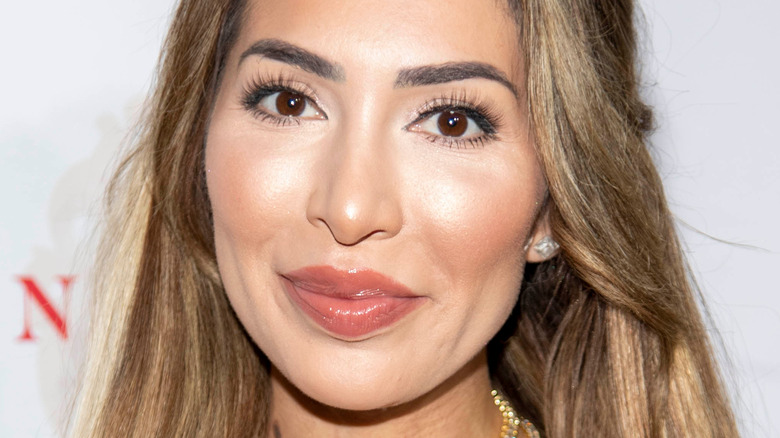 Eugene Powers/Shutterstock
Farrah Abraham was a young mama who brought a lifetime's worth of drama to the "Teen Mom" franchise during the eight years she spent being an MTV reality show star. The Iowa native was 17 years old and expecting when she was introduced to viewers on "16 & Pregnant," and she was experimenting with working in the adult entertainment industry when she exited "Teen Mom OG" in 2017. In a Facebook post, Farrah wrote that Viacom fired her for participating "in adult promotions and activities."
Some members of the original "16 & Pregnant" cast, including Maci Bookout and Amber Portwood, appeared on the show with the fathers of their children. Their episodes focused on their relationship issues as well as their pregnancy journeys. However, Farrah had broken up with her daughter Sophia's dad, Derek Underwood, at the time of filming. Still, she tried calling him as soon as she learned that she was pregnant. "I actually was so conflicted at that time because he did not pick up the phone when I initially found out, and I called him first thing above anyone," she said in a 2018 YouTube video. 
On the show, viewers learned that her mother despised Derek and supported Farrah's choice not to tell him about the pregnancy (via Teen Mom Junkies). He learned about it anyway, but Farrah didn't get the chance to decide whether she wanted him there when Sophia was born.
The tragic reason Farrah Abraham's daughter Sophia never met her father
Farrah Abraham's ex died before Sophia was born. "The last time I saw Derek was when I was five months pregnant," Farrah recalled on a 2016 episode of "Teen Mom O.G.," via E! News. "My dad and Derek pulled knives on each other and called the cops on each other and it was really sad." As reported by Omaha's KETV, Derek Underwood died in a fatal car accident in May 2009. A passenger was also killed, and it was later discovered that the teens had alcohol in their systems. It had been supplied to them by the passenger's mother, who was charged with "procuring alcohol to minors."
Derek's blood alcohol content was low enough for investigators to determine that it played no role in the accident. According to Farrah, he hit a patch of black ice on a road near her home. The vehicle crashed into a pole, per Des Moines' KCCI, and he suffered a fatal neck injury. She didn't address the tragedy in front of a camera until Season 2 of "Teen Mom," per MTV News.
While Farrah and Derek weren't on great terms on "16 & Pregnant," she described him as her "true love" in her 2012 memoir "My Teenage Dream Ended." We hadn't spoken in more than two months, but crazily I had still hoped we had a future together — me, him, and our baby, as one happy family," she wrote (via Carter Matt).
Does Farrah Abraham's daughter have a relationship with her father's family?
Derek Underwood's sister Kassy told KCCI that he "loved to cook" and had planned on attending culinary school, while his obituary noted that he had worked as a waiter for a year. These are just some of the small details Farrah Abraham's daughter has learned about her dad as she's gotten older. She's seemingly inherited some of his traits, too; in 2019, Farrah told Us Weekly that Sophia had started cooking.
Farrah often takes Sophia to her father's gravesite, and it's always an emotional experience. "He was not only a gift to a mother at one time, but he is a reminder he gave me one of the biggest gifts of my lifetime," she said in a May 2021 Instagram video filmed during one of their visits. 
Farrah has also introduced Sophia to some of Derek's family members. The "Teen Mom" star and Derek's mother, Stormie Clark, do not get along at all — Stormie even took Farrah to court over visitation rights in 2010 when she was not allowed to see Sophia (via Radar Online). However, Farrah does take her daughter to visit Derek's father and stepmother in Kansas City. They even stayed there for a month in 2020. "Sophia definitely craves getting to know her father's side of the family because she just doesn't have her dad," she told In Touch Weekly.