The Real Reason Donald Trump Wants To Tweet Again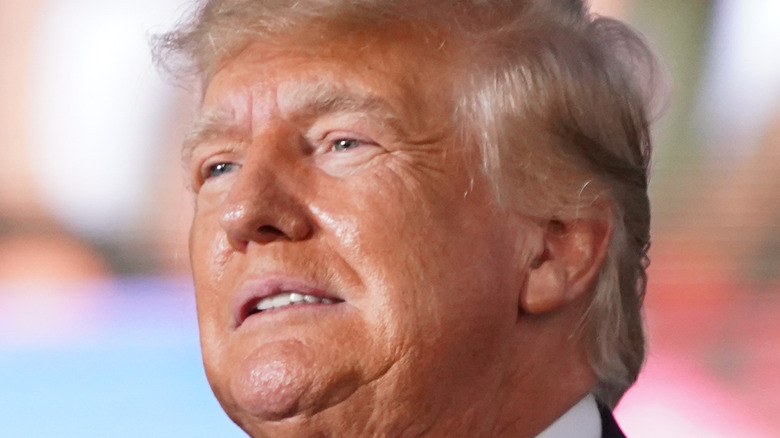 Sean Rayford/Getty Images
Ever since Donald Trump was officially booted from every major social media platform following the January 6 insurrection, it's no secret that the former president has never let his ousting — especially from Twitter — keep him from communicating his thoughts. Over the scope of eight months, Trump has instead used his own outlets, like his Save America site and his many rally speeches, to state his opinions. But now, according to a new report by The Associated Press, Trump is doing his best in order to gain access to the platform on which he once regularly blasted 140-character screeds. And he's using the federal courts to do it. 
Per AP, Trump's lawyers filed a motion in the U.S. District Court in Miami on October 2 in order to obtain a preliminary injunction against Twitter and the platform's CEO, Jack Dorsey. The attorneys argued that the permanent ban is an assault on Trump's rights to free speech under First Amendment. (Notably, the First Amendment does not cover the right to free speech when that speech is "to incite actions that would harm others," as could be argued with Trump's tweets about the insurrection. The Washington Post also notes that the First Amendment "protects people's freedom of speech from government intervention," but Twitter is a private company — not a government.) But while Trump's lawyers explained his reasoning behind the continuing litigious campaign to get back into the graces of the blue-checked echelons, could there be something else spurring on the former president?
Donald Trump's pleas for Twitter access could have to do with simple math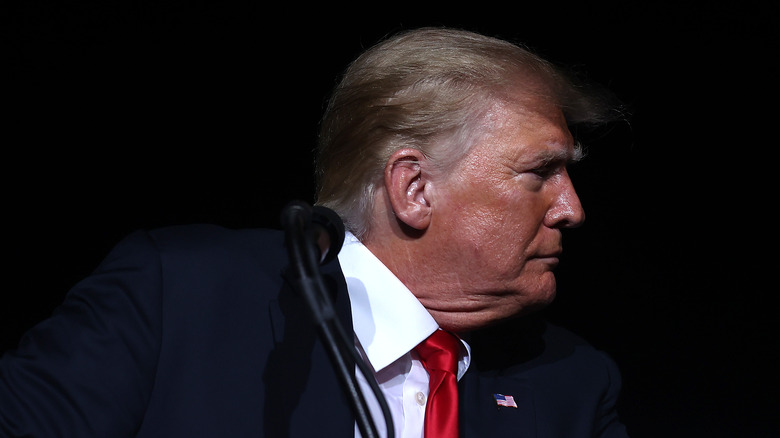 Chip Somodevilla/Getty Images
Simply put, Donald Trump's appeal to the federal courts to have his Twitter back might just boil down to simple data, and how that affects him as a potential presidential candidate for 2024. As Axios mentioned in their analytical breakdown, recent survey results published by the optimization platform SocialFlow indicate a steep decline in Trump-related content, which is congruent to his Twitter ban back in January. As Axios noted, data taken between January and March showed a 50% downtick in Trump-related stories posted on social media. While this decline might generally correlate with a decrease in content written about Trump since he is no longer in office, it could also be due to his inability to make headlines via social media post, a tactic which characterized much of his four-year term. 
According to SocialFlow's data set, Twitter's interest in Trump continued to drop in the months since. As Axios explained, it indicates Trump's attempts to get back on the social media horse through nontraditional means — like his tweet-like memos and flailing self-founded platform — haven't been successful. And considering Trump continues to tease a possible presidential run in 2024, this could be his real motivation behind getting his Twitter account back. MSNBC elaborates even further on this notion, claiming that Trump has a history of using lawsuits in order to fundraise.