Will Joe Amabile And Serena Pitt Make It Down The Aisle? - Exclusive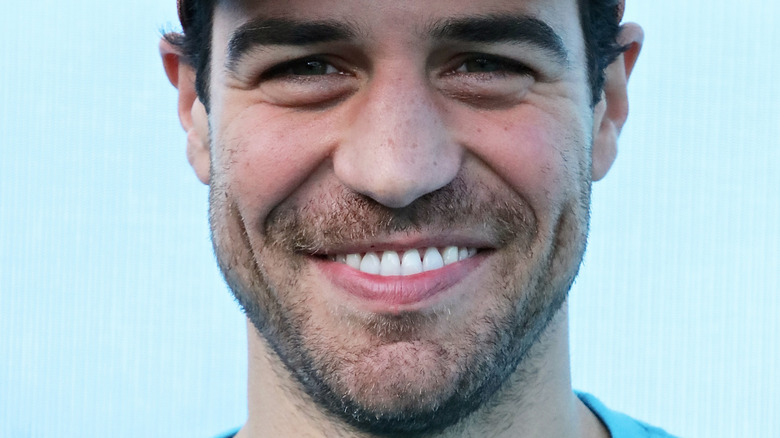 Robin L Marshall/Getty Images
Joe Amabile and Serena Pitt got engaged on the finale of "Bachelor in Paradise," which aired on October 5, according to Us Weekly. The couple linked up fairly early on in the season, and seemed to hit it off straight away. Despite a visit from Joe's ex-girlfriend, Kendall Long, which threatened to muck things up for him and Serena, the two were able to pull through, and they ended up falling in love. "There was a time in my life where I was very cynical about love. Pretty recently, actually. And between bad breakups, and failed relationships, I started to doubt if I was really going to be able to get there with someone," Serena told Joe during the finale (via YouTube). A few minutes later, Joe was down on one knee. "I want to spend the rest of my life with you," he said. "I'm convinced of that," he added.
After the finale aired, Joe and Serena sat down for numerous interviews and gave an update on how things have been going since they left Mexico. "We're not rushing down the aisle. But we definitely feel confident in the fact that we want to be together. It'll be nice to just take a breath, date, live together, and then marriage will come down the line," Serena told People magazine. In an interview with Us Weekly, the two revealed that they were planning on moving in together soon. But the question remains: Will Joe and Serena actually end up getting married?
Serena Pitt was focused on Joe Amabile during her finale speech
Nicki Swift wanted to get some inside scoop about the potential staying power of Joe Amabile and Serena Pitt, so we asked body language expert, media coach, international personal branding expert, and author of A.W.E.S.O.M.E, Jess Ponce III, for his take. Ponce watched the "Bachelor in Paradise" finale clip and was able to give some insight into whether or not Joe and Serena will end up getting married.
"[Joe's] eye contact was on [Serena] as she spoke about her cynicism of love. Meanwhile, she took in a deep breath, looked to the side to gain composure as she spoke. When she came to the comment, 'and then I met you' [Joe] seemed to almost get teary-eyed. This is noticeable and distinguishable (from just the sun being in his eyes) because he took a subtle deep breath and slightly moved his head down. After this he continued to look down a few times, signaling that he was trying to keep his composure," Ponce told Nicki Swift exclusively. "Serena was all smiles when she spoke. Her eyes also focused on him when she talked about her feelings about him. During her recounting of her background (speaking about herself) her eyes went to the side and back to him. Her focus solely on him, at the point she declared her love, seemed to reflect an authentic, direct declaration. That's a tough thing to do," he added.
Joe Amabile got candid with Serena Pitt
Joe Amabile received a visit from his ex-girlfriend, Kendall Long, just before he proposed to Serena Pitt. The purpose, evidently, was for Kendall to give Joe her blessing — something that was presumably set up by the show's producers — according to Us Weekly. It's actually the very first thing that he said to Serena when he saw her on the finale stage.
"When Joe spoke about his ex his body language did change. His eye contact shifted to his side, to her, then to the side again. He also began shifting his weight. Yet, his tone seemed resolved and confident," Jess Ponce III explained to Nicki Swift. "Joe also held his hands in front of him when it was his time to speak about his experience and background. When he said they had speed bumps along the way he motioned outward with them, no longer keeping them in front of him. He was opening up. Literally. Even though it was brief, this sign points to being in the moment. He also lit up with a big smile when he said, 'I am really into you.' This was the most sincere, telling moment. [Serena] swayed back and forth in a coy, charming way indicated she really liked his comment. [Joe] also admitted that when he thinks about forever he didn't know, but with her he could see it," Ponce said.
And then came the proposal. 
Joe Amabile got down on one knee
Expert Jess Ponce III broke down Joe Amabile and Serena Pitt's body language during the actual proposal to help set the stage for the couple's potential future together. "When he came to the proposal time, [Joe] took a deep breath. Then he got on his [knee] and acknowledged that [Serena] said she loved him [first] and it was his time to say it. Another tell me moment," Ponce says. "[Joe] did exactly what he needed to do at that moment — a sweet, almost perfect, proposal. It was undeniable, at that moment, that he is a kind and sweet person. She took it in, smiled, and swayed back as she said yes. It was everything you hoped the show would be, complete with his comments, 'That was really good.'"
From there, Joe and Serena embraced. "As they kissed, they exchanged 'I love [yous].' We didn't see him say it, but heard him. However, we did see him say 'I want to spend the rest of my life with you.' ... In the final rose exchange we see him say, 'I will never stop loving you.' Prior to that we hear him say I love you, but don't see it," Ponce continues. 
So, will Joe and Serena end up getting married based on the their body language? 
Joe Amabile and Serena Pitt have a good base for their relationship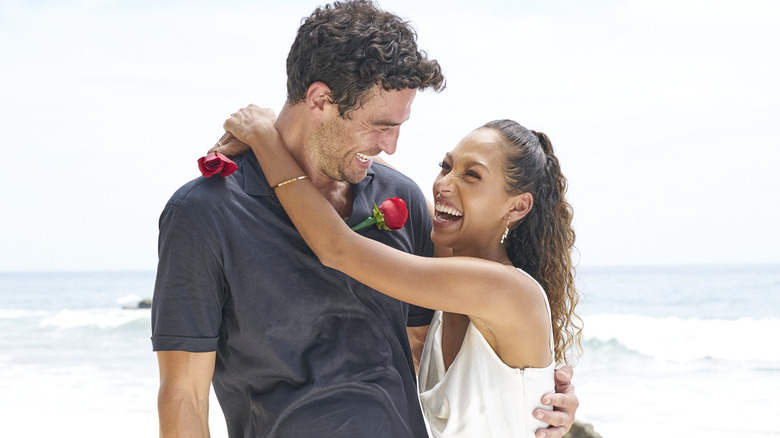 Craig Sjodin/ABC
Jess Ponce III believes that Joe Amabile and Serena Pitt have a really good basis for a relationship — and they could have staying power. "In the post interviews after the engagement, Joe had a couple of telling moments. Among the biggest moments was 'we'll figure out the rest of it later.' Meanwhile her hands were all over him — and he was pushing his hair back., indicating self awareness," Ponce tells Nicki Swift. 
"In the end, I think the most telling and sincere statements Joe said made were 'I am really into you' and 'we'll figure out the rest later.' Is this enough for a lasting relationship? Who knows? Is it a good start of a relationship. Why not? At the end of the day, it does make for good television. This is entertainment after all," Ponce says. We definitely know that fans are rooting for these two to make it all the way!