Inside Meghan King And Cuffe Owens' Wedding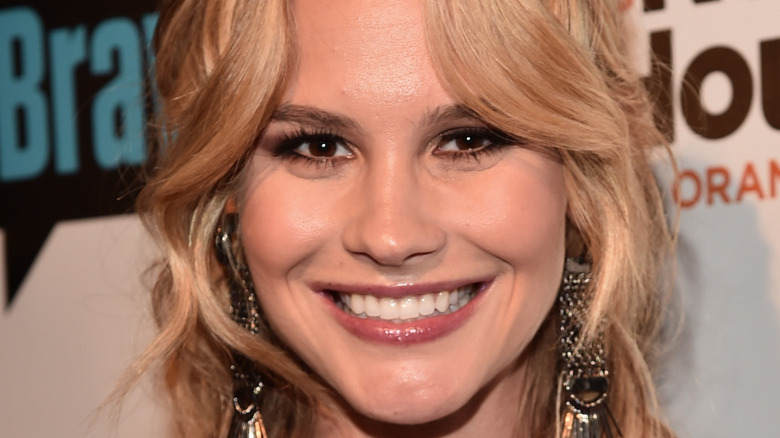 Alberto E. Rodriguez/Getty Images
It seems like just last week (literally!), we found out that "Real Housewives of Orange County" alum Meghan King has a new boyfriend, and it is President Joe Biden's nephew, Cuffe Owens. And on October 11, King announced to Brides that she and Owens secretly married. Talk about a whirlwind romance! It is not quite clear when these two first started dating, but King revealed their romance commenced at breakneck speed. "We connected on a dating app, texted for a day or two, then spent five straight hours on the phone the first time we spoke," she told Brides, revealing that Owens immediately flew out to meet her and that the next week they were "planning our future together." On September 25, she definitely had the town talking after posting a photo of her and Owens on Instagram.
According to All California Attorneys, Owens is a lawyer working under law firm Felker Toczek Suddleson Abramson LLP. As for how he's related to the president, Owens' mother is actually Biden's sister! According to Us Weekly, Valerie Biden Owens was even Biden's close adviser and campaign manager.
King is officially a part of the American political royal family, and we have some juicy and sweet deets about her and Owen's whirlwind wedding.
President Joe Biden attended Meghan King and Cuffe Owens' wedding
Some of the illustrious guests that attended Meghan King and Cuffe Owens' intimate Pennsylvania affair included President Joe Biden and first lady Jill Biden, the White House announced (via People). 
King gushed about the wedding to Brides, revealing exactly why the couple knew they wanted to be married. "Our wedding was about two things for us. Our love for and commitment to each other, and our family — each of our families, and the new very large and very tight family that we were bonding together by getting married," King proclaimed. "That's it."
The couple were also very particular and intentional while picking out the date of their wedding, which also has ties to family. "When we realized that Cuffe's parents' wedding anniversary — October 11 — was a holiday Monday, we both knew exactly what we were going to do, where we were going to do it, and how we were going to do it," King told Brides of their nuptials, which took place at the home where Owens grew up. "It's a beautiful thing to see eye-to-eye with each other as we do."
As for King's wedding ensemble, she wore "the first dress I tried on," the former reality star gushed to Brides. "A mature blazer dress by Rasario." She paired the dress with blue Manolo Blahnik heels, and Owens wore a suit by Ralph Lauren.