Why Is Donald Trump Having Rallies?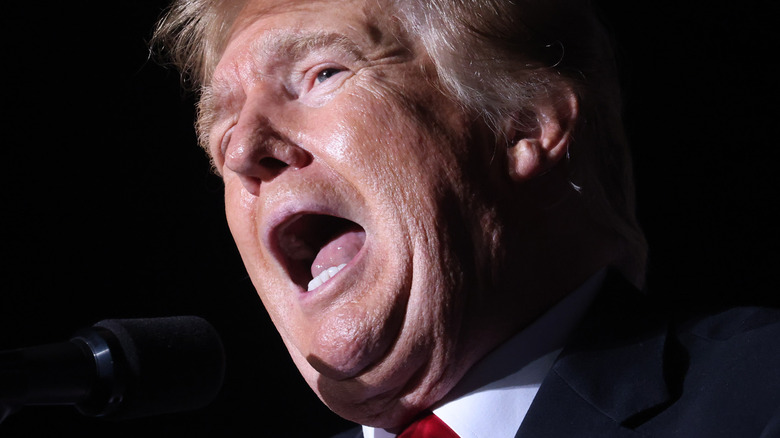 Scott Olson/Getty Images
Former President Donald Trump has yet to announce his bid for the 2024 general election, but the writing seems to be on the wall. Trump — who has reportedly been strongly advised by his aides and inner circle to hold back from launching a campaign to keep attention on the upcoming 2022 midterm elections — has continued to hold rallies throughout the country, seemingly setting the stage for another run. These large gatherings, which have received criticism amid the ongoing COVID-19 pandemic, have seen the former commander-in-chief propagate baseless claims of election fraud, to name one controversial talking point.
Of course, the reason for Trump hosting rallies likely boils down to him wanting to drum up attention for 2024. However, as seen in many situations where the ex-president is involved, the explanation here might be more complex. That was evident on October 9, when the ex-reality star held his latest rally in Iowa. During the event, Trump endorsed Iowa Sen. Chuck Grassley, a Republican running for an eighth term in November. And Trump's public backing might help paint a clearer picture about why he continues to host rallies despite not confirming his next political step.
Did Trump's Iowa rally send a message to the GOP?
Donald Trump's latest spate of rallies, which kicked off in June, is by all accounts ostensibly to keep his voter base keyed up until he eventually makes his rumored 2024 campaign official. Of course, it's also fair to reason part of his impetus for rallying appears to be a way to sate his ego. And a recent poll conducted by the Des Moines Register has perhaps bolstered his self-confidence, as it showed that 53% of the Iowa-based respondents regard Trump in a positive light. So given this support, it's not very surprising he decided to host an event in "The Hawkeye State."
But to take things a bit deeper, it's fair to reason Trump continues to host rallies because he wants to prove to the GOP that he's not going anywhere and that they need him more than not. Grassley, who criticized Trump's handling of the Capitol riots on January 6, even said as much at the rally, saying he "wouldn't be too smart" if he didn't accept the endorsement, according to Politico. So, in a sense, Trump appears to be throwing his weight around by putting on these events.
It also seems in line with his plan to weed out his detractors in the Republican party, which he has discussed before. "If we didn't have RINOs (Republican in Name Only), the Republican Party would totally dominate politics," Trump said in a September statement, per CNN. "The good news is there are far less than there were four years ago — it is a dying breed."