The Real Reason Carrie Fisher Thought Star Wars Would Flop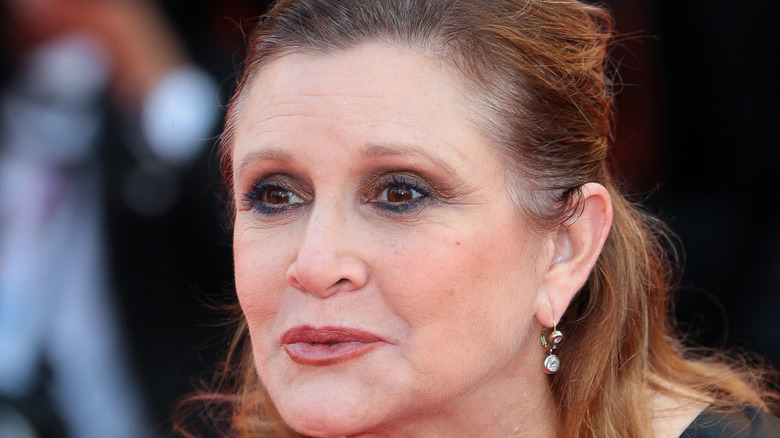 Matteo Chinellato/Shutterstock
"Star Wars" continues to be one of the most successful franchises of all time. Created by George Lucas in 1977, the first movie, "Star Wars: Episode IV – A New Hope," has gone on to make $775 million globally, per Statista. "Star Wars" is considered one of the highest-grossing film franchises in the world (or universe, rather?), boasting a box office revenue of more than $10 billion. Each film included in the franchise had become a box office hit, with most of them making over $1 billion worldwide, the site notes. But did you know that a long, long time ago, in a galaxy far away, even George Lucas believed that his creation would flop?
"I didn't think the film was going to be successful," he admitted to the crowd at the 2015 Tribeca Film Festiva, per lnsider. "I showed it to all of my friends early on, but it was mostly [filled with] stock footage of old war movies, and all kinds of stuff," he recalled. "They saw it and [said] 'Poor George.' 'What were you thinking?'" Apparently, only one person believed he would make it — Steven Spielberg.
Even the actors in the franchise didn't believe "Star Wars" would eventually become a worldwide phenomenon. Never in Carrie Fisher's wildest dreams did she think that the movie would be a success, and that she would be a household name.
Carrie Fisher thought that 'Star Wars' was just 'some small science fiction movie'
When Carrie Fisher bagged the role of Princess Leia in "Star Wars," she didn't realize that it was going to be a box office hit, much less a globally recognized movie franchise. Hollywood writer Sue Cameron, a close friend of Fisher's mom, Debbie Reynolds, told People that Fisher didn't think much of the movie. "She told her mother, 'I have a part in some small science fiction movie,'" she said. "That was all it was to her."
As we all know, Princess Leia also had turned out to be an iconic character loved by audiences worldwide. But as it turns out, Fisher didn't feel much of a connection to the role when in the early days. "At the beginning, she did not emotionally connect to the role. She was shocked by the phenomenon and continued to be surprised by its reach," Cameron added. "But later on, Carrie, who had to be talked into going to her first "Star Wars" conventions to meet fans, found that she just loved it. She was not blasé about it. It really made her feel good. And it was uplifting for her."
In 2013, Fisher talked about fan conventions and their meaning to her. "People just love it," she told Global News. "It's like a fairy tale, it's part of their youth, so there's something really innocent. It's the best part of people that like it."
Carrie Fisher thought that starring in 'Star Wars' would upend her career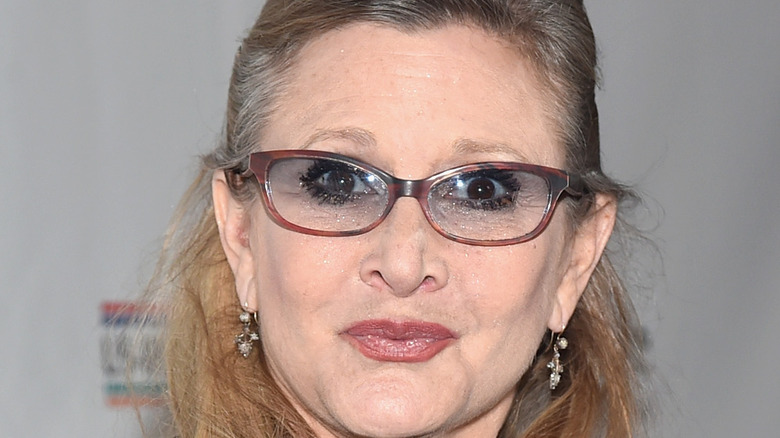 Alberto E. Rodriguez/Getty Images
Before Carrie Fisher played the role of Princess Leia in Star Wars, her only other acting credit was in the movie "Shampoo." And while she was already recognized due to her being the daughter of Debbie Reynolds and Eddie Fisher, the actress was quite apprehensive about the whole thing. She had thoughts of being in a strange new sci-fi feature would upend her career before it even started.
Fisher's brother, Todd Fisher, recalled the time where they had seen the film for the first time. "She just doesn't want to go, and I'm like, 'You know we've got to go in,'" he told Yahoo! Entertainment. "So we sit in the front row and it starts, and we watch those titles go by and then the battlecruiser flies over and I looked over, and I had her hand, she was squeezing my hand, panicked. I said, 'This is no B movie.'" It was no B movie indeed. 
As fans know, Fisher would go on to star, posthumously, in "Star Wars: Episode VIII – The Last Jedi" in 2017. Needless to say, the actor's legacy as Princess Leia will be remembered forever.