What's Really Going On With Kyle Richards And Erika Jayne?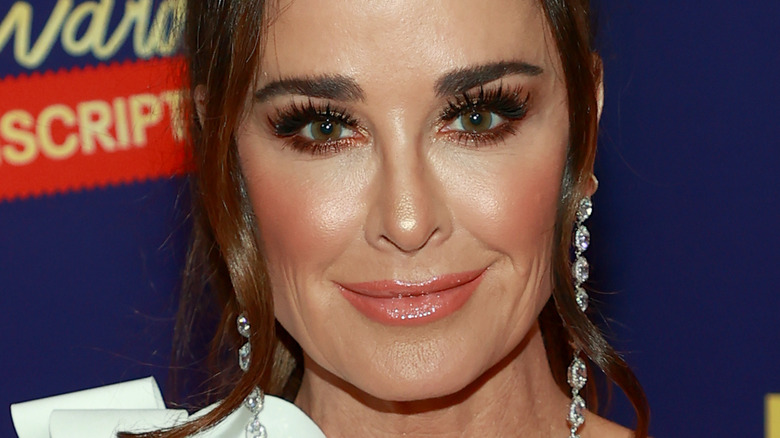 Matt Winkelmeyer/2021 Mtv Movie And Tv Awards/Getty Images
Season 11 of "The Real Housewives of Beverly Hills" has been a whirlwind. Viewers already knew about Erika Jayne and Tom Girardi's divorce, and soon after their divorce announcement, their legal troubles came to light. Girardi had been accused of embezzling funds from his clients; the families of plane-crash victims, per Insider. All of this unfolded while the cameras were rolling, and fans were arguably eager to see how the "Pretty Mess" author would handle it all on-screen. The other cast members seemed to have the same questions as the fans — how much did Erika know?
Season 11 was filled with outrageous stories that Erika told the ladies, and many of them were left wondering if they were fabricated. One story in particular that Erika told the women was about a burglar who broke into Girardi's house while he was sleeping. The former lawyer confronted the burglar, according to the "Painkillr" singer, and he ended up in the hospital. The story takes an even stranger turn when the former "Chicago" star told the women that her son's car flipped after checking on her estranged husband because it was snowing in Pasadena, California. This unbelievable story sounded like something out of a movie to the women, including Kyle Richards, and they had doubts about its validity.
Kyle Richards says she and Erika Jayne are 'good'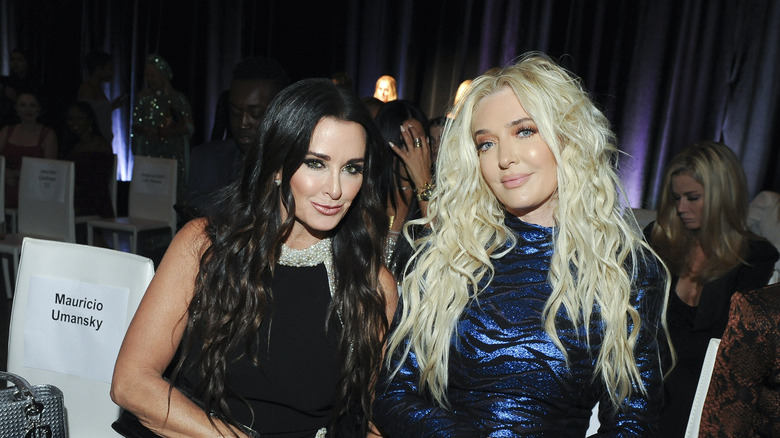 Amy Graves/Getty Images
In one scene on Season 11 of "The Real Housewives of Beverly Hills," Dorit and Paul (PK) Kemsley came over to Kyle Richards and Mauricio Umansky's home for dinner. Kyle and Dorit recounted Erika Jayne's burglary/car accident story for their husbands, and both PK and Mauricio cracked jokes and laughed, thinking it was too wild of a tale to be true. Kyle and Dorit also laughed at their reaction to the story, despite their close friendship with Erika.
Kyle Richards recently appeared on "The Kelly Clarkson" show and opened up about how her relationship with Erika is now. "So I heard that you and Erika had a little thing, but ya'll are good now?" Clarkson asked. "Well you know she was upset. No, we actually are good, we are good. There were things in the show that she saw over the season obviously that hurt her feelings ya know?" Kyle explained. "And we had a lot of questions, it was very confusing then there was a scene when my husband and PK were kind of like laughing and then, they make me laugh and it's hard."
Richards went on to add, "It's like when you're in church or something and you're not supposed to laugh and you can't help it. I knew, 'oh gosh when she sees this she's gonna be upset,' but we worked through things on the reunion."
Erika isn't on great terms with some of her other co-stars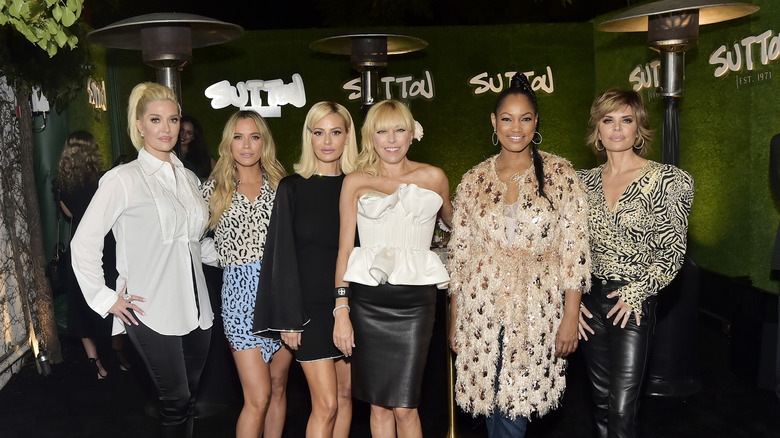 Stefanie Keenan/Getty Images
So where does Erika Jayne stand with the other women? Recently, her fellow cast members Garcelle Beauvais, Sutton Stracke and Crystal Kung Minkoff were featured in the Los Angeles Times. The headline read, "We could be implicated: How scandal consumed 'Real Housewives of Beverly Hills'," and indeed, the article touched on how the women felt about Erika's situation and what it was like filming the show as everything was coming out. 
The "XXpen$ive" singer fired back on Twitter writing, "Pure fiction" with a link to the article. Another user wrote, "You didn't even read the article and it shows." Erika replied, "Honey, Im the lead... 'We could be implicated' No, you can't. Period." The other women in the show aren't the only ones Erika has clearly had issues with. In the previews for the first-ever four-part reunion, Andy Cohen and Erika seem to butt heads. At one point, Andy asks Erika why she didn't leave her husband sooner. She replies, "Where would I go?" Andy snarkily replies, "I know what you make on this show."
Tune in to see all the drama unfold on the reunion beginning on October 13. Lord knows there's plenty of it.