How Beanie Feldstein Really Feels After Playing Monica Lewinsky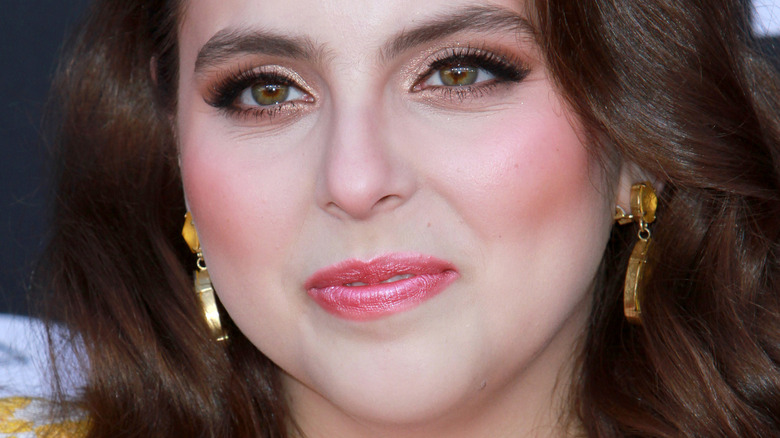 Kathy Hutchins/Shutterstock
Beanie Feldstein is comedy's newest leading lady after starring in box office hits like "Neighbors 2: Sorority Rising," "Lady Bird," and "BookSmart," per IMDb. Now, she has been tapped to play Fanny Brice in the revival of "Funny Girl," the 1964 Broadway musical. "Funny Girl" is also the movie that famously earned Barbra Streisand an Oscar in 1968.
"The first time I played Fanny Brice was at my third birthday party, in a head-to-toe leopard print outfit my mom made for me," Feldstein said in a press release regarding her new gig, per PopSugar. "So, it's safe to say that stepping into this iconic role, on Broadway and not in my family's backyard, is truly my lifelong dream come true."
Becoming the quirky leading lady in a Hollywood classic isn't the only role of a lifetime Feldstein prepared for in her recent career. She also starred as Monica Lewinsky in the American anthology true crime television series, "Impeachment: American Crime Story," which was released on FX in September. So, how does Feldstein really feel about portraying such a pivotal person in American history?
Playing Monika Lewinsky is different from anything Feldstein has ever done
While being interviewed by none other than Monica Lewinsky herself in August for The Hollywood Reporter, Beanie Feldstein remarked how emotionally toiling it was for her to portray Lewinsky's story properly. "From a deeply selfish, personal perspective, this is a very different world for me. I'm not singing or dancing or making people laugh here. I'm hopefully presenting Monica with the depths of her humanity, and there's so much pain that she had," Feldstein said frankly to Lewinsky. "It's completely different from anything I've ever done, and that's very scary."
Even though Feldstein was only 4 years old when the scandal broke out between Bill Clinton and his former intern, the actor believes that works for her, not against her. "I was almost a blank slate which I think was a really beautiful place to approach [the character] from," Feldstein explained on "Live with Kelly and Ryan" in October.
Feldstein also talked to The New York Times in October and said that embodying the role of Lewinsky and giving her story the justice it deserves will likely be much different from her future acting roles. "It remains the most tremendous responsibility I think I will ever have," she said. "Because I know I'll play real people again. I'm about to play Fanny Brice. But there's nothing like this."