What Elizabeth Warren Thinks Could Stop Trump In 2024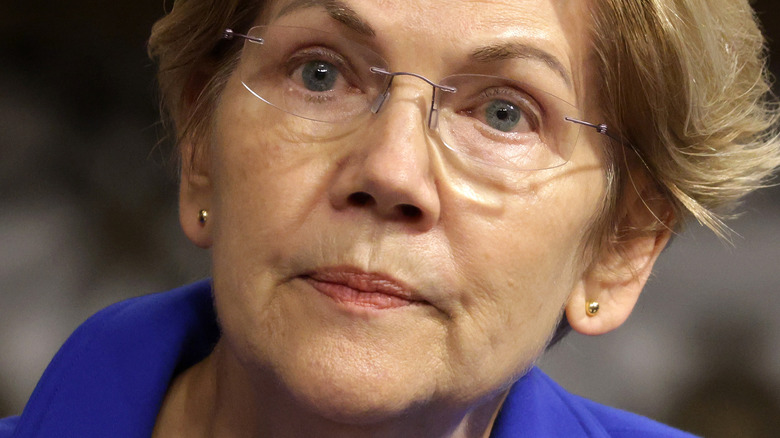 Alex Wong/Getty Images
It's no secret that the 45th President of the United States, Donald Trump, and Sen. Elizabeth Warren of Massachusetts have developed some bad blood over the years. It mainly stems from Trump's racist and inappropriate usage of a nickname he gave to Warren, mocking her alleged indigenous ancestry. According to USA Today, there is still a debate of whether or not Warren's DNA test is significant in determining her indigenous ancestry. However, the Trump campaign's brutal attacks on Warren's heritage were one of the ways they believed they could paint her as dishonest, and stop her from winning the 2020 Democratic presidential nomination (which she eventually did lose).
Republican strategist Ford O'Connell told Reuters in 2019 that there's a reason Trump wanted to bash her persona in public. "If you can undermine her credibility, you can make the case that the policies she is promoting are not true either," he said. 
Now it seems that Warren also has a strategy to prevent Trump from winning the 2024 Republican presidential nomination. Warren decided to share her plans with the co-host and studio audience of the daytime TV show, "The View."
Elizabeth Warren wants to protect the vote
On October 13's episode of "The View," Republican author Sarah Elizabeth Cupp asked Democrat Elizabeth Warren if she's nervous that Donald Trump could win another term in office come 2024. Joy Behar, another co-host of "The View," scoffed at that question, interjected, and replied, "Don't even say it!" This made Warren all the more passionate, as she pleaded that in order to protect the American democracy, we "must pass the laws to protect the vote." Warren also told "The View" co-hosts that she believes "every American citizen should have a right to vote."
This statement is very different from what Warren said in 2019 while at the Heartland Forum in Storm Lake, Iowa, which was co-sponsored by Huffington Post. There, she spoke about how voting rights for incarcerated individuals should be a different topic of conversation, even though they still qualify as American citizens. "Once someone pays their debt to society, they're out there expected to pay taxes, expected to abide by the law, they're expected to support themselves and their families, I think that means they've got a right to vote," she stated. "While they're incarcerated, I think that's something we can have more conversation about."
It is possible Warren had a change of heart, due to seeing the increasing support for Donald Trump's likely 2024 presidential run. Warren continued on about the importance of passing voting laws on "The View," telling her co-hosts they're needed "to get that vote counted, to end gerrymandering, and to beat back the influence of dark money."