Here's What Adele Looks Like Without Makeup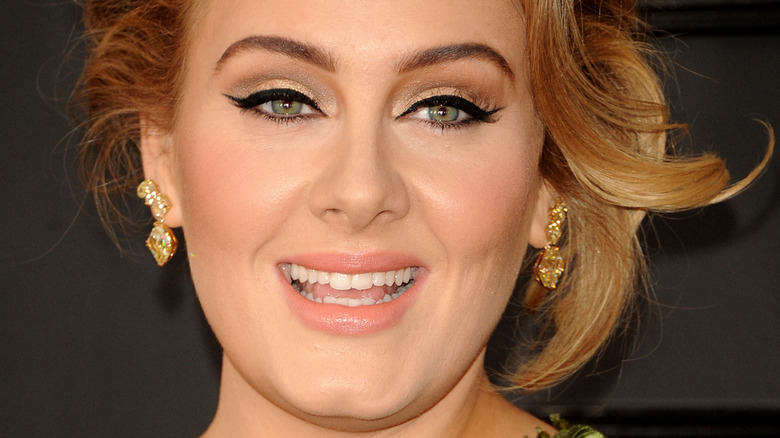 Tinseltown/Shutterstock
It's official — Adele is back. The Grammy-winning singer-songwriter is once again in the spotlight after a five-year hiatus, and everyone and their mother is thrilled. On October 5, the "Someone Like You" singer shared a short clip from the music video of her upcoming single, "Easy On Me," off of her upcoming album, "30." In true Adele fashion, it seems just as heartbreaking as her other tracks, causing a worldwide frenzy. The star's iconic winged eyeliner even made a surprise reappearance when she graced the cover of British Vogue's  November issue, signaling that Adele is set to take the world by storm again.
Of course, Adele is more than her signature cat-eye, and for her, confidence encompasses more than just looks. "I feel so comfortable in my own skin. I really like how I look, I like who I am, I like everyone that I surround myself with," she told Vogue in 2016. The singer is so relaxed, in fact, that she has posted her fair share of makeup-free photos, and although there's no denying that she looks astonishing with her winged liner, Adele looks just as beautiful without any makeup.
Adele loves going makeup-free on her days off
Take one look at Adele's Instagram, and you'll notice that she seems to avoid caking her face with makeup when she's not working. In July, even though England's football team lost in the Euro 2021 finale, Adele didn't look the least bit upset and shared a makeup-free portrait on her page.
"You did us so proud! You brought our game home and brought us all together," she wrote. In the photo, she was wearing the team shirt and a pair of jeans, along with a couple of bracelets on her wrists. And on her face? Not one trace of makeup was seen, and she was glowing. It just goes to show that Adele doesn't even need her cat-eye to look stunning. She also shared a makeup-free photo on her 33rd birthday, and as expected, she looked flawless.
In 2015, Adele surprised everyone when she went makeup-free on the cover of Rolling Stone. The cover featured a close-up photo of the star's bare face, complete with damp hair and a towel around her shoulders to make it seem like she was fresh out of the shower. It was Adele in her most natural state, and she looked ravishing as ever.
Adele takes good care of her skin
Part of the reason why Adele looks beautiful without makeup is that she takes good care of her skin. While the star has yet to share her skincare routine (we do know she loves the occasional sheet mask, though), her hair and makeup artist, Michael Ashton, shared the ideal routine with Who Australia, and it's likely that he uses the same process on the singer.
"Prepping the skin is one of the best and most important first steps," he said and recommended kicking off your skincare regime with a double cleanse and moisturizer. "I love facial oils and facial balms." After cleansing, he said that it's prep the skin with micellar water, followed by a primer before putting on any makeup. "I'll use around the nose and forehead to get rid of any excess oil," he said on how to use micellar water, "and then follow with a Marc Jacobs Coconut Primer [$23]."
As for her winged eyeliner? Her other makeup artist, Anthony H Nguyen told Vogue that the trick is looking forward into the mirror. "Always have thin and pointed cotton buds and make-up remover handy, to clean up or reshape the liner," he advised. "And make sure to check if the eyeliner is even by having eyes look forward into the mirror, instead of having eyes shut the whole time during application."