How Tall Is Adam Driver?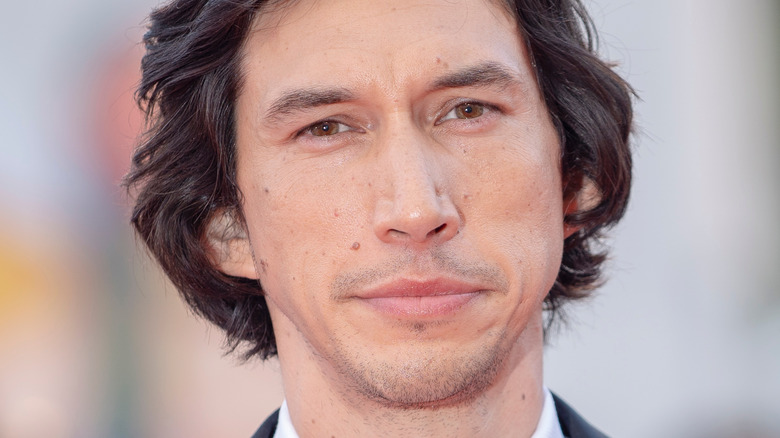 Denis Makarenko/Shutterstock
Adam Driver is many things. He is a phenomenal actor – as seen in his work on "Star Wars," "Girls," and "A Marriage Story." He also has quite an unconventional face, which is unlike what you typically see in Hollywood heartthrobs. "I have been told before that I have an unusual face," he told The Guardian in 2015 when asked about as much. "But my face is my face. I had a whole life before acting, over the years. Lots of things have been said about my face."
Driver is also very big — in the most literal sense. The Cut describes him as "not so much the giant in 'Jack and the Beanstalk' as the dang beanstalk" because of how simply large he looks on screen.
How tall Driver really is remains a mystery as he hasn't explicitly stated his height. But with the internet's collective sleuthing, we have an idea of how near he is to the sky, and the answer isn't as high as you think.
Adam Driver isn't as tall as you think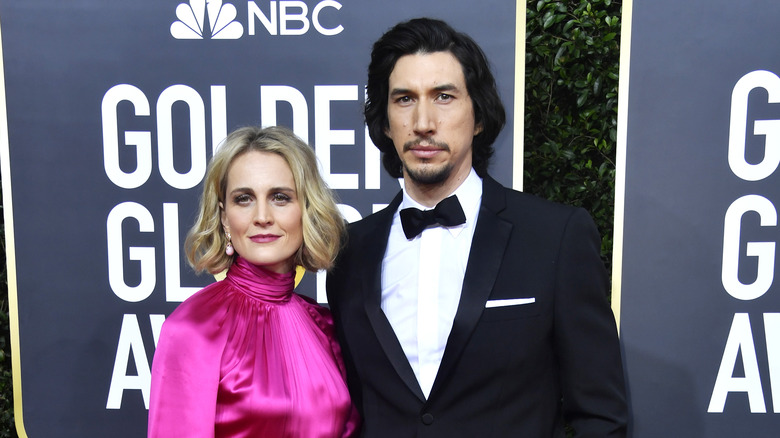 Frazer Harrison/Getty Images
The internet can't seem to come to an agreement as to how tall Adam Driver really is. A quick Google search will tell you that he stands 1.89 meters or roughly 6 feet 2 inches tall, while IMDb claims that he is a wee bit taller, standing 6 feet and 2.5 inches. Per Celebrity Height Guide, he is 6 feet 3 inches tall, and so does his Kylo Ren page on the "Star Wars" fandom, Wookieepedia.
These figures don't really seem to be unusual. Whether he's 6-foot-2 or 6-foot-3, it appears that he's just your average tall person. Perhaps the reason why people are curious about his height is that he towers over many of his colleagues on-screen (or his wife Joanne Tucker), leading fans to believe that he may just be a direct descendant of a Greek god. 
Luckily, a fan who had met him in real life finally put all the speculations to rest and confirmed that his height is more or less 6 feet and 3 inches. "[I]'ve met him! he's actually closer to 6'3, and is incredibly broad in the shoulders," one Twitter user wrote. "[I]'m 5'7 and one of his thighs is as wide as my entire body, he's incredibly large in frame so he appears much, much larger. [A]lso scarjo is like 5'4 so in comparison he seems ginormous."
People also have interesting things to say about Adam Driver's ... feet
Adam Driver's height isn't his only physical feature that caused quite a stir online. When he made an appearance on "The Late Show with Stephen Colbert," the host was quick to point out how the star was wearing Christian Louboutin shoes. 
"That's super-special," Colbert said, and proceeded to ask the actor to show the audience his bright red soles. "You could literally go paint the town red if you just shuffled." Apparently, the "Star Wars" star wasn't even aware that he wore expensive shoes and that his soles were indeed red. "Did you know those were red before I showed you?" Colbert asked. "No, I had no idea," Driver admitted.
Still, fans were amused that he showed off his feet, which are apparently a U.S. Size 14 per the Twitter fan account Adam Driver Central, spawning funny reactions like "Stomp on me," and "WTF?! THIS MAN IS T-REX." We don't mean to fuss over a celebrity's feet ourselves but when they're reportedly nearly Shaquille O'Neal-sized, how can you not? With such intense clamor about Adam Driver's physical attributes, it's pretty clear that this is his world, and we're all just living in it.