The Question About Lea Michele That Emma Roberts Refused To Answer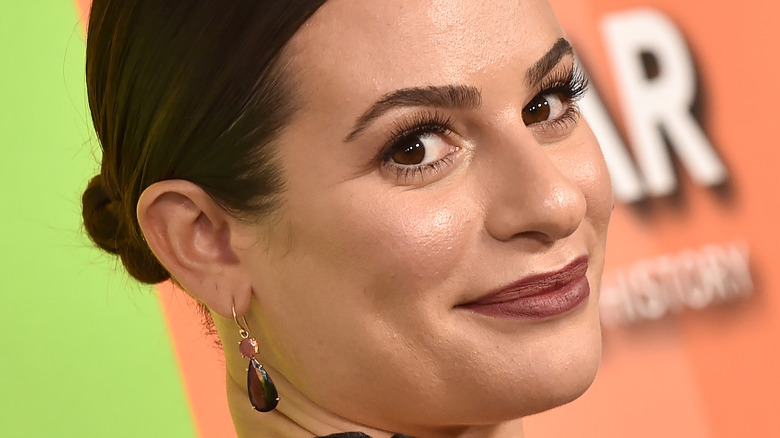 DFree/Shutterstock
Lea Michele is no stranger to Hollywood. Michele got her start as a child on Broadway and continued making a name for herself through her 20s, appearing in shows like "Les Miserables," "Ragtime," "Fiddler on the Roof," and "Spring Awakening," per Broadway World. In 2009, she took her skills to the small screen, landing the role of Rachel Berry on "Glee." The role ultimately earned her an Emmy nomination, two Golden Globe nods, and several People's Choice Awards. Since taking her final bow on "Glee" in 2015, Michele has popped up on Fox's "Scream Queens" and the ABC sitcom "The Mayor." 
Despite her many accolades, Michele has proven to be a controversial figure in Hollywood. In June 2020, Michele's "Glee" co-star Samantha Ware revealed in a since-deleted tweet that the actor made her experience on the show a "living hell" (via Variety). Shortly thereafter, another one of Michele's "Glee" co-stars, Heather Morris, seemingly seconded that sentiment, taking to Twitter to write, in part, "... [W]as she unpleasant to work with? Very much so."
Ware and Morris painted a picture of their experiences with Michele on the "Glee" set, but how did things look over on the "Scream Queens" set? Well, if it's up to Emma Roberts, we may never know the answer to that.
Emma Roberts declined to comment on Lea Michele's on-set behavior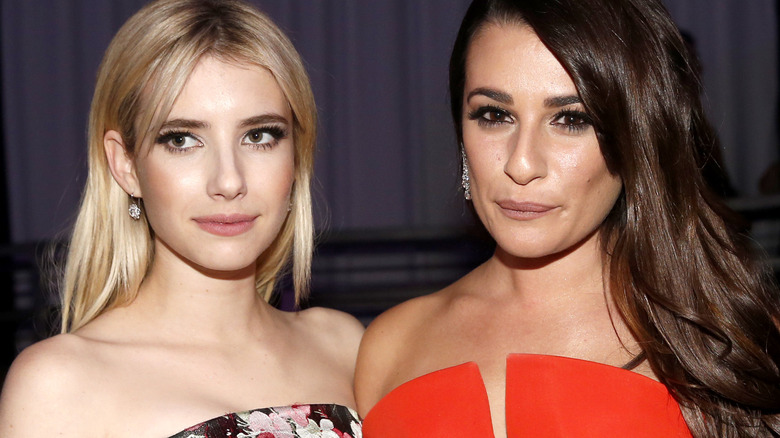 Kevin Tachman/Getty Images
In 2016, Emma Roberts appeared on "Watch What Happens Live with Andy Cohen," and ended up playing Plead the Fifth. The first question out the gate was about two of her "Scream Queens" co-stars: Lea Michele and Ariana Grande. Andy Cohen asked, "Your two 'Scream Queens' co-stars Ariana Grande and Lea Michele are rumored to exhibit diva-like behavior. In your opinion, who is the bigger diva of the two?" Roberts declined to comment, stating, "I plead the fifth." 
It's worth noting that she was only allowed to "plead the fifth" to one of her three questions. The fact that Roberts refused to answer the question is seemingly a bold statement in and of itself. Does the fact that she stayed mum mean that both Grande and Michele were huge divas? That's up for the fans to decide. 
Since Roberts decided to "plead the fifth" on her very first question, she had to answer Cohen's next two questions. In addition to being asked about her least favorite movie her famous aunt Julie Roberts has done, she was also asked who she would marry, shag, and kill given the choices of Liam Hemsworth, Nick Jonas, and Dave Franco. Her response? "I'll marry Liam Hemsworth, I'll shag Nick Jonas, and I'll kill Dave Franco."
Emma Roberts is Lea Michele's 'favorite human'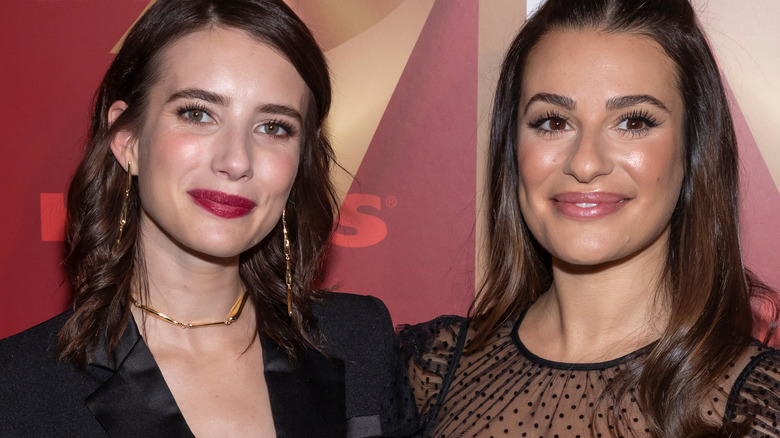 Sam Aronov/Shutterstock
While Emma Roberts opted against sharing her thoughts on Lea Michele's on-set behavior back in 2016, it seems safe to safe that there's no bad blood between the two. In February 2019, Michele took to Instagram to wish her "Scream Queens" co-star a happy birthday, writing, "Happy Birthday to my favorite human @emmaroberts she may be pocket size but she's the best friend any girl could ask for! I love you Rob!" 
Fast forward to July 2021 and Michele hopped on Instagram once again to gush over her gal pal, writing, "Reunited (now as mamas) and it feels so good I could cry. Forever my queen!" While it seems her relationship with Roberts remains in tact, the same can't be said of her relationships with other former co-stars. 
In June 2020, shortly after Samantha Ware and Heather Morris spoke out about her past behavior, Michele posted an apology on Instagram that read, in part, "Whether it was my privileged position and perspective that caused me to be perceived as insensitive or inappropriate at times or whether it was just my immaturity and me just being unnecessarily difficult, I apologize for my behavior and for any pain which I have caused. We all can grow and change and I have definitely used these past several months to reflect my own shortcomings."
She added, "I listened to these criticisms and I am learning and while I am very sorry, I will be better in the future from this experience."