Are The Spice Girls Still Friends With Each Other?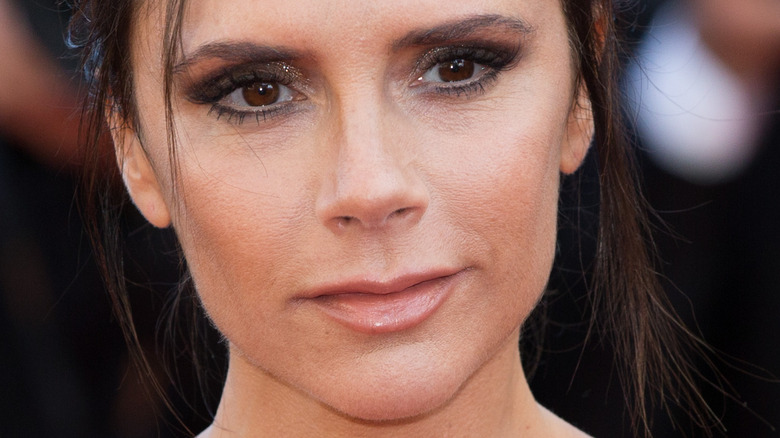 magicinfoto/Shutterstock
Melanie "Mel B" Brown, aka Scary Spice, just let us in on a little secret and it's something that we really, really wanted to hear: the Spice Girls will tour again. The band, with the exception of Victoria Beckham, aka Posh Spice, reunited in 2019 for "Spice World" and did a 13-stop stadium tour across the U.K. and Ireland. Now, they're looking to do it one more time (perhaps with Victoria), and we couldn't be more excited.
"I'm always pushing to have a Spice Girls reunion," Brown said on Channel 4's "Steph's Packed Lunch" (via The Sun). She said that as the group's "driving force," she will do everything in her power to bring it to fruition. "We were kind of in talks last year, but then Covid hit so it kind of pushed everyone's plans, like AWOL, but I think we're hopefully on the same page together — they're gonna kill me for saying this — but we're hoping ... to tour in 2023."
The possibility of another reunion is a good sign that our favorite girls love working together. But does it mean that they're also still the living proof that friendship never ends?
The Spice Girls maintain a close relationship with each other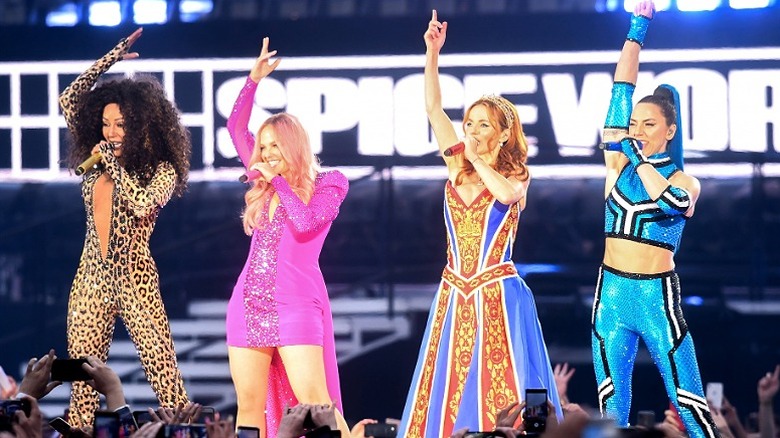 Dave J Hogan/Getty Images
Once upon a time, the Spice Girls ruled the world. From 1994 to 1998, Mel B (Scary Spice), Victoria Beckham (Posh Spice), Geri Halliwell (Ginger Spice), Mel C (Sporty Spice), and Emma Bunton (Baby Spice), for the lack of a better term, spiced up everyone's lives and became one of the most successful musical acts of all time. It all changed when Halliwell unexpectedly quit the group halfway through their world tour in 1998.
Per BBC, this incident understandably caused a rift within the band, but the ladies eventually made up after some time and even performed together for the first time in over a decade at the opening of the 2012 London Olympics. Furthermore, they are better friends than they were during the height of their Spice Girls fame. "We are probably closer now than we have been in a very long time — and that includes Victoria," Mel C told the Mirror in 2020.
Fast forward to today, they continue to cultivate their friendship and even make an effort to spend time with each other amid the pandemic. On her Sunday Heart FM Show, Bunton revealed that right after quarantine ended in the U.K., they all met up with each other — including Victoria. "I actually started to think I would never see them again ... well unless it was on Zoom calls," Bunton said (via Hello!).
The Spice Girls had tons of squabbles over the years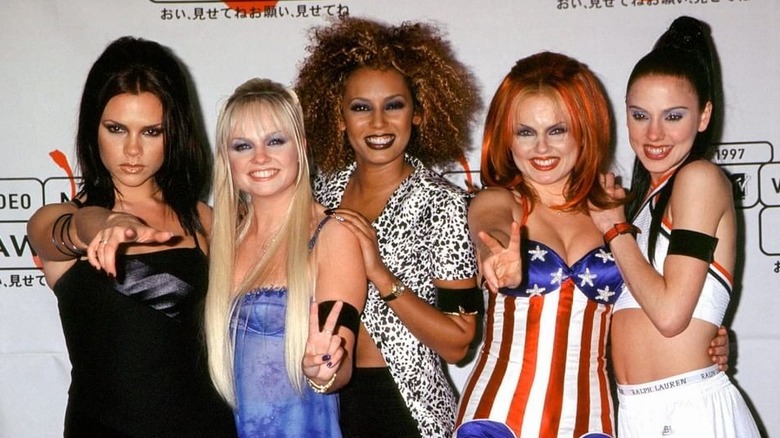 Just like any other friend group, the Spice Girls also had to go through misunderstandings over the years, with some being more intense than others. Mel C once told People that she got into a small altercation with Beckham at the 1996 Brit Awards, which led to her being almost kicked out of the band. In 2019, when Mel B confessed that she hooked up with Halliwell back in the day, the latter got upset and was clearly disappointed that her former bandmate would even say such a thing. 
But now, it appears that they're on good terms and may even tour again, this time including Posh Spice. "Not to speak out of turn, but between you and I," Mel C teased, per Entertainment Tonight, "I know Mrs. Beckham would love to do Glastonbury."
In the meantime, the Spice Girls are likely bonding via their group chat. "We do have a message group, we did have a WhatsApp group last year but Geri kept calling it 'what sip'," Mel C said on Scott Mills and Chris Stark's Radio 1 show (via Daily Mail). "Which kind of put us off so we went back to an iMessage."