The Real Meaning Of Santa Can't You Hear Me By Kelly Clarkson And Ariana Grande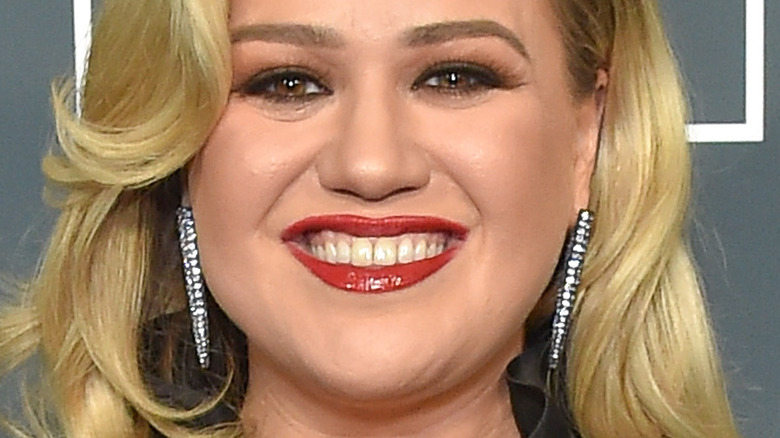 DFree/Shutterstock
As the new season of singing competition show "The Voice" airs, Kelly Clarkson and Ariana Grande are bonding over being co-judges. Clarkson and Grande have also proven that they're friends off-screen, as the two singers are releasing a collaboration together, just in time for the holidays. 
While it's not the first time either artist has made a holiday-themed album, including Clarkson's 2013 record "Wrapped in Red" and Grande's "Christmas & Chill" in 2015, it is the first time they're joining forces to raise listeners' merry spirits.
The song, titled "Santa, Can't You Hear Me," is one track from Clarkson's newly-released album "When Christmas Comes Around..." consisting of other Christmas-themed collaborations. While there isn't a music video yet, Clarkson and Grande's song shows off each of their vocal ranges during the upbeat jingle-bell instrumental. However, if it is heard in passing, some of the lyrics might go unnoticed. Keep reading for a deeper dive into the song's real meaning.
Kelly Clarkson and Ariana Grande send out a call to Santa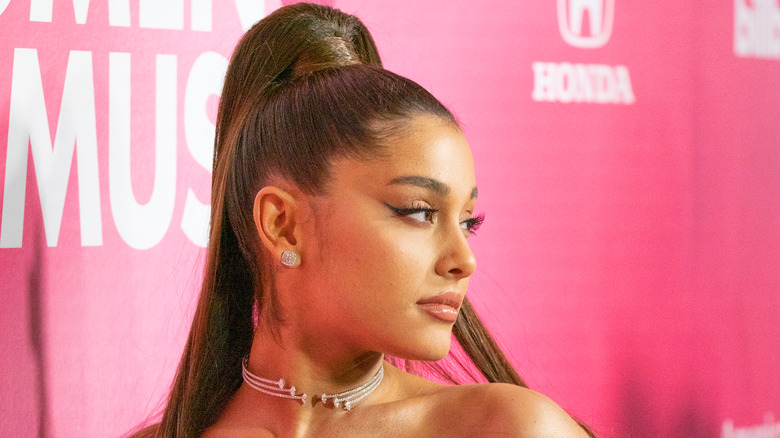 lev radin/Shutterstock
When "The Voice" co-judges Kelly Clarkson and Ariana Grande released their Christmas collaboration, "Santa, Can't You Hear Me," pop fans were prepared to keep an eye out for potential Easter eggs. While there don't seem to be any direct references to Clarkson or Grande's lives, the song still stands out as a powerful, vocal-heavy holiday song. 
"Keep that magic snowman / Keep those twinkly lights / Keep the reindeer / My heart already knows how to fly," Grande and Clarkson sing on the first verse, via Genius. The song's lyrics immediately set the scene that the two musicians aren't wishing for the standard holiday-associated things to come their way. Instead, they're wishing Santa to send for something — or someone — else.
"What I want for Christmas / Hasn't come and I been so blue / Tell me what can I do? Ooh, ooh, oh yeah / Keep the mistletoe / Unless below, is what I need," they sing in the chorus. Clarkson and Grande are at different stages in their love lives — Grande married Dalton Gomez in May, while Clarkson is in the process of divorcing Brandon Blackstock. But having someone to kiss under the mistletoe is a pretty universal desire, and it's one countless listeners will be able to relate to.
Kelly Clarkson and Ariana Grande frequently praise each other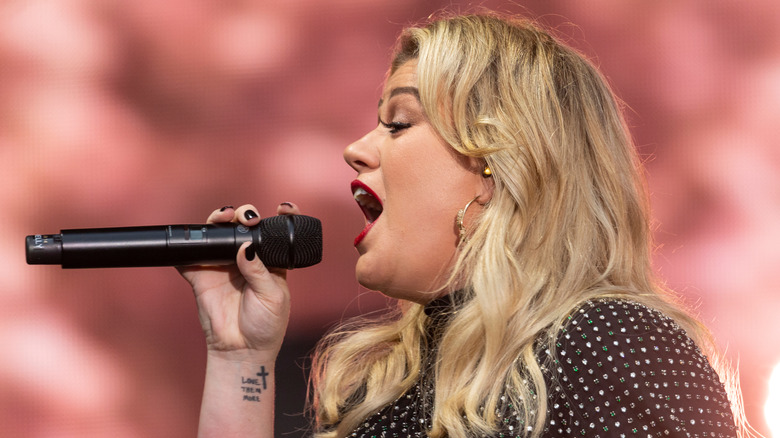 lev radin/Shutterstock
Although the release of "Santa, Can't You Hear Me" is Kelly Clarkson and Ariana Grande's first musical collaboration together, the two powerhouse pop stars have been praising each other's works for years. "Okay, who the heck is this girl & where did she come from?! Someone just sent me this & wow she is killer & only 19!" Clarkson wrote on Twitter in 2013 about Grande.
Flash forward a few years later, and the two musicians are still close friends and musical inspirations on one another. Grande responded to Clarkson's throwback tweet in September, writing, "queen !!!!!!! beyond honored to sing with you. i love this record and you."
With the full album's release, Clarkson also shared her thoughts behind the wider meaning of the album and her intentions behind creating it. "'When Christmas Comes Around...' captures how different the holidays can be for all of us during our lives, and I hope everyone can find something on the record they relate to. Hopefully the happier songs, but if not, hey ... you're not alone!" she tweeted.