How Donald Trump Referred To Himself In A New Lawsuit Is Completely Unlike His Typical Stance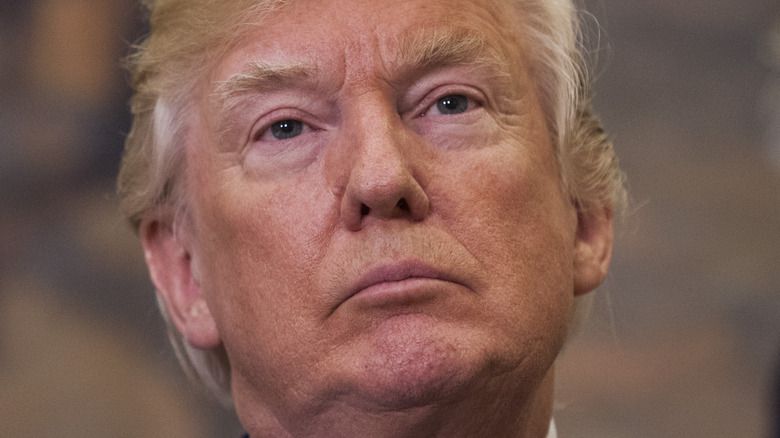 Pool/Getty Images
Once again, Donald Trump has stunned the masses and left them collectively scratching their heads.
As reported by Politico, in an attempt to thwart the release of White House documents regarding the January 6 insurrection that took place at the Capitol, Trump and his gaggle of attorneys filed a 26-page lawsuit wherein they referred to the investigation as "a vexatious, illegal fishing expedition" and pointed their fingers squarely at the committee and the archives, and specifically placing blame on United States Representative Bennie Thompson and national archivist, David Ferriero.
While the notion of Trump launching yet another lawsuit doesn't exactly come as a surprise, many were stunned by the way in which a man notorious for refusing to accept defeat, opted to refer to himself in the new lawsuit. "We will stop the steal!" he emphatically declared at a January 6 rally (per CNBC) that many believe spurred the attack on the United States Capitol building. Could his new title be a sign that he has finally accepted the election results?
Trump's new lawsuit refers to him as the 'former president'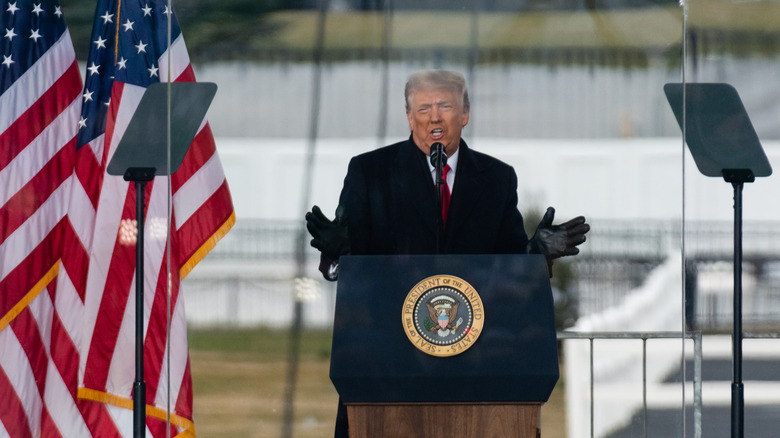 Bloomberg/Getty Images
The times, they are a-changin'. In a surprising turn of events, Donald Trump's new lawsuit against the Capitol riot committee and National Archives refers to the businessman turned politician as the "former president" though he's been adamant in the past that he would never concede in regards to the 2020 election and even recently told a group of Iowans that he "never conceded" and had "no reason to concede," per NBC News.
However, his latest lawsuit suggests otherwise. As reported by Politico, the surprising choice of words can be found on page 11 of the lengthy complaint Trump and his team of lawyers launched in federal court on October 18. "Plaintiff Donald J. Trump is the 45th President of the United States. President Trump brings this suit solely in his official capacity as a former President under the PRA, associated regulations, the Executive Order, the Declaratory Judgment Act, and the Constitution of the United States," the lawsuit reads.
In response to the lawsuit, the Capitol riot committee's Chairman Bennie Thompson and Vice-Chair Liz Cheney penned a statement that in part read, "The Select Committee's authority to seek these records is clear. We'll fight the former President's attempt to obstruct our investigation while we continue to push ahead successfully with our probe on a number of other fronts." So, even if the fight isn't exactly over, the words have slightly changed.