The 'Shady' Halloween Costume True Chose For Khloe Kardashian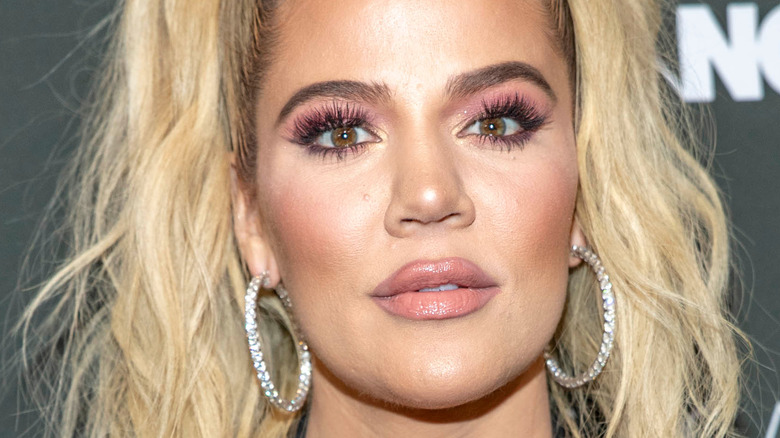 Eugene Powers/Shutterstock
The Kardashians are getting ready for Halloween, and giving their followers a glimpse into the action. Eldest sibling Kourtney Kardashian shared a series of shots on her Instagram showing off her Halloween decor. The shots include skull-embossed pumpkins, a skeleton sitting at a cobweb-covered dinner table filled with spooky memorabilia, and perhaps most impressively, a pair of 12-foot skeletons from Home Depot, which Us Weekly reported are quite difficult to come by due to their popularity on TikTok.
Kylie Jenner posted a similar series on her Instagram, though her decor appears to be a bit more subdued. Kylie posted photos of a bowl of miniature pumpkins, a plush spider on her mantle, and Halloween-themed cupcakes she decorated with her daughter, Stormi. The shot after the cupcakes shows Stormi's hands covered in icing during the decorating process.
Khloé Kardashian recently appeared on "Ellen" and discussed her plans for Halloween. In the interview, she revealed that her daughter True actually picked out her costume for her. And Khloé wasn't exactly flattered by it.
True wants Khloe to be Pua the pig
During her appearance on "Ellen," Khloé Kardashian dished on her Halloween plans. "Kendall normally has a birthday party every Halloween," she explained. "And I'm not sure if she's doing that yet ... But I know prior, we all go to Kim's." She then revealed that her daughter True will be dressing as the Disney princess Moana. Awww!
But this cute moment soon took an uncomfortable turn, as she then revealed the costume her daughter decided on for her. "And she wants me to be Pua, the pig," Khloé said, to laughter from the audience. "So, it's a little shady of her, but that's okay," she continued. "I will be Pua for True." Ellen DeGeneres gave her plaudits for being a good sport, saying, "You're a good mother."
This wouldn't be the first time Khloé has dressed up as a pig, either. Back in 2014, she posted a behind-the-scenes photo on her Instagram in which she is wearing a pink pig mask and pretending to take a bite out of a giant inflatable donut. "I can never stay serious for too long," she wrote in the caption. The Kardashians have come a long way since then. The seven-year-old photo has over 400,000 likes; in contrast, Khloé's most recent post has 1.3 million — and as of writing, it's only been up for two hours!