Why Katie Thurston And Blake Moynes' Split Isn't So Surprising - Exclusive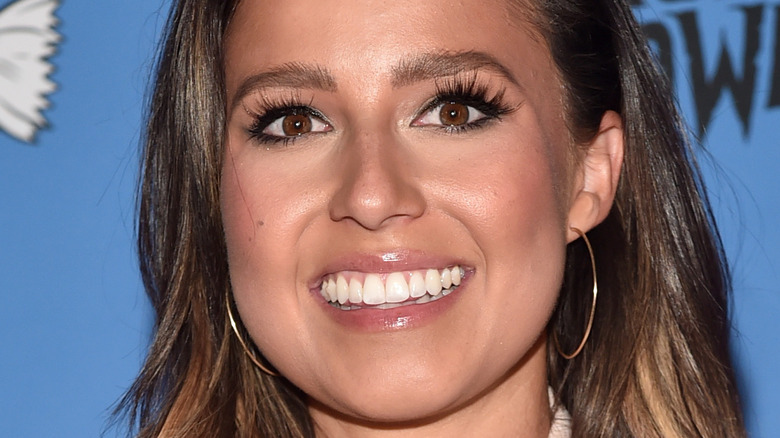 Alberto E. Rodriguez/Getty Images
"Bachelorette" stars Katie Thurston and Blake Moynes stunned the masses when they released matching Instagram statements announcing that they were pulling the plug on their reality show engagement and their relationship altogether. "It is with mutual love and respect that we have decided to go our separate ways," the joint statement began. "We are so grateful for the moments we shared together and the entire journey that has unfolded this year, but we ultimately have concluded that we are not compatible as life partners, and it is the most caring choice for both of us to move forward independently." The pair then signed off by writing, "We ask for kindness and privacy as we both navigate this transition. Both of us will forever want the best for one another and ask you to please support us in our decision."
Coming not even three months after the end of their "Bachelorette" season, fans were shocked to see Katie and Blake call it quits. Still, one expert says that the "Bachelorette" split shouldn't really come as a surprise at all.
Katie Thurston and Blake Moynes have different approaches to conversation
To get to the bottom of this highly publicized split, Nicki Swift spoke exclusively with body language expert, media coach, international personal branding expert, and author of A.W.E.S.O.M.E, Jess Ponce III to get his professional analysis of the couple... and what he has to say might surprise you.
According to Ponce, the very first interview the couple gave after becoming engaged is "pretty telling." Ponce elaborated further by comparing the ways in which the pair navigated the interview. "While Blake initially talked about them as a couple (at the beginning), when asked questions directly about his thoughts, Blake spoke about his feelings, using I statements. He was also very thoughtful in his responses, often looking up to find his words. He didn't seem rehearsed when talking about his perspective and feelings," he explained. In contrast, Ponce said that Katie seemed "very prepared," and mentioned her use of we statements. "She was very self-aware of the 'them,'" he added. According to Ponce, one example of that was when she said "every day our love has grown stronger and stronger... we're not even the same couple you saw... We're just very happy to start our lives together," while Blake just sat back and smiled. "It was a subtle nod, him being supportive of her statements," Ponce noted.
Alas, according to Ponce, the couple's tone and conversational approach was only the tip of the iceberg when it came to the writing on the wall for this "Bachelorette" couple.
Even Tommy the cat wasn't buying what Katie Thurston and Blake Moynes were selling
Though Katie Thurston and Blake Moynes approach to conversation appears to be drastically different, body language expert and media coach Jess Ponce III pointed out something that was even more disconcerting. 
While discussing the first interview the couple participated in post engagement, Ponce identified a particularly curious statement Katie made. "At one point she said, 'I think everyone can agree that this is exactly who I am supposed to be with.' Is she validating the choice? And if so, why?!" Ruh roh. But aside from that head-scratching line, Ponce also noted that Katie appeared to be "clenching" on to Blake's right hand. "He seemed okay with it, but it was her holding him — as in to make sure he was there for her," Ponce explained. 
As further evidence that trouble may have been brewing well before the couple made their famous break up announcement, Ponce pointed to one of the couple's last videos together. In what is meant to be a light and playful video, Ponce couldn't help but notice the way in which the couple interacted with one another. "They did not seem overly connected. He handled her a lot. It was more about the look than affection. He really used her as a model," Ponce remarked. Perhaps even stranger than that, Ponce noted that Katie's cat, Tommy, didn't even seem comfortable. "When she held the cat, the cat didn't purr or seem comfortable — a clear indicator that there was something not quite right."