Why Shanna Moakler Regrets Getting This Tattoo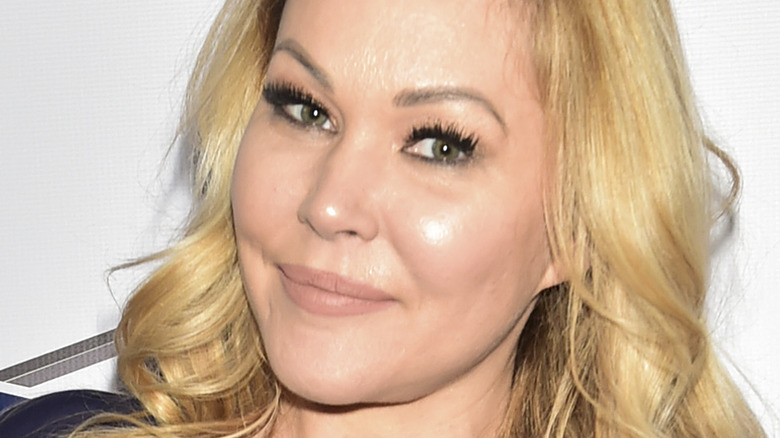 Michael Bezjian/Getty Images
Tattoos are a form of self-expression. Whether it's a pop culture flash tattoo or a $4,000 piece, each piece of ink on a person's body tells a story. It speaks volumes to one's dedication when getting inked up, knowing that each tattoo is a lifetime commitment between one and the art. The last thing you want to do when considering a tattoo, however, is be impulsive.
Impulsivity, however, is unavoidable sometimes. Chances are you've seen a horror story or two where a couple gets tattoos of each other's names, only for the relationship to end in disaster. Such is the case with model and actor Shanna Moakler and Travis Barker. Much of Moakler's personal life has been subject to media scrutiny, including her relationships with iconic Brit rocker Billy Idol and boxing legend Oscar De La Hoya — but none of Moakler's romances, however, have garnered more media interest than her marriage to Travis Barker. 
The Blink-182 drummer and model first started dating in 2002 before tying the knot two years later. Throughout their marriage, the couple welcomed son Landon and daughter Alabama and starred on their own reality series before divorcing in 2008. And during the course of their relationship, Moakler nabbed a curious tattoo — one that she ultimately regrets. Here's why.
Shanna Moakler recommends not getting your partner's name inked for life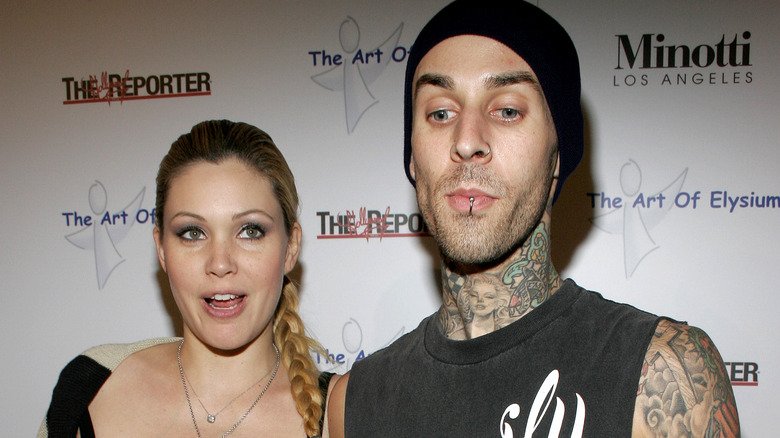 Tinseltown/Shutterstock
Shanna Moakler has had quite the rollercoaster ride when it comes to her personal life — and her relationships with fellow celebrities — but long after her 2008 divorce from Travis Barker, the ex-couple is still making headlines in relation to each other.
At one point in their relationship, both Moakler and Barker decided to solidify their love in ink. While the drummer had his wife's name inked in a heart, Moakler opted to tattoo Barker's name on her left wrist. They still had these tattoos for over a decade after their split — but in October 2021, Barker got engaged to Kourtney Kardashian, and everything changed.
In May, prior to Barker and Kardashian's engagement, Moakler told People she has "no ill will" towards the couple — despite throwing shade at their relationship numerous times on social media. She claimed to the outlet that she has fully left her past behind, and, to prove it, she shared an eight-minute Instagram video of her getting her tattoo of the musician's name lasered off. "It's my ex's name," Moakler stated in the video. "Don't tattoo names on your body, kids." And while tattoo removals are often described as painful, Moakler is seen taking the pain in stride. She, however, was not the only one getting rid of a tattoo from their union.
Travis Barker also got rid of his Shanna Moakler tattoo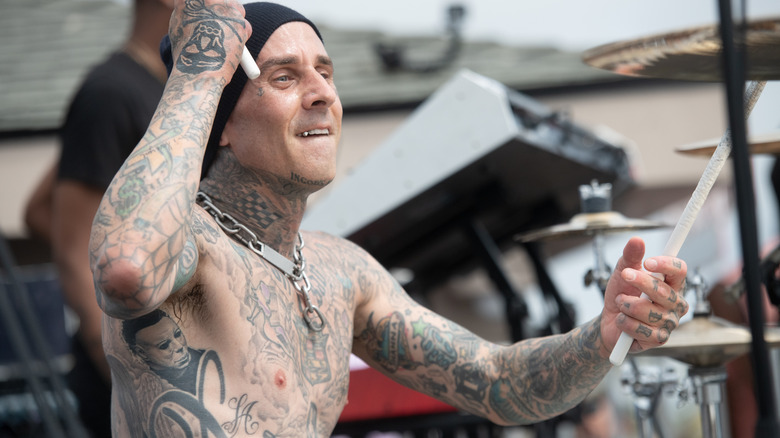 Scott Dudelson/Getty Images
There are coloring books out there with less illustrations than Travis Barker's body. The renowned drummer has long been the subject of tattoo artists — boasting ink on nearly every inch of his body at this point, including his head and face. In October, just a few weeks after their engagement, Barker continued his tattoo journey when he got ink of a scorpion and a tattoo of fiancée Kourtney Kardashian's lips inside his left arm.
Artist Scott Campbell shared the tattoo on Instagram, writing, "Scorpio season. On @travisbarker ... Lips straight from the mouth of @kourtneykardash... Congrats you two." Eagle-eyed fans were quick to note that Barker's scorpion tattoo lies directly over his old tattoo — a heart emblazoned with the name "Shanna." The buck doesn't stop there, either. In April, Barker got Barker got a tattoo on his chest that reads "Kourtney." Fingers crossed he doesn't have to get that one lasered off!
Following Barker's new tattoo, Shanna Moakler seemingly acknowledged it on Instagram, sharing a story with an image from the film "Point of No Return." Per People, Moakler wrote, "I never did mind about the little things," along with a red kiss emoji — perhaps a subtle nod to Barker's ink of Kardashian's lips.