Chris Evans' Role As Buzz Lightyear Has Fans Divided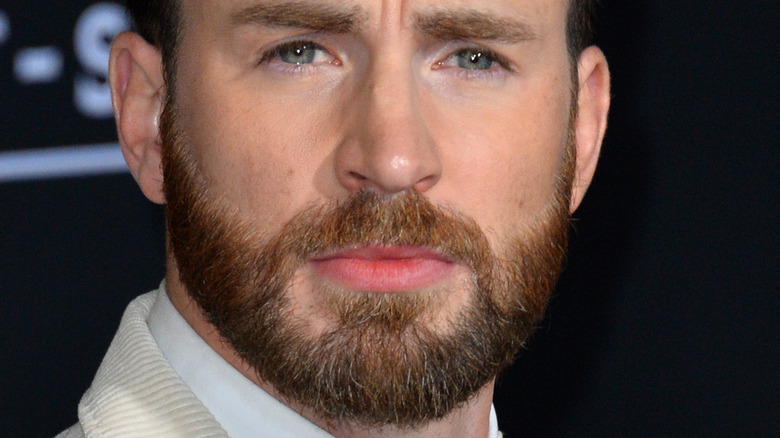 Featureflash Photo Agency/Shutterstock
It's time to go to "infinity and beyond!" according to Disney, as the media giant just dropped the trailer for a new movie about Buzz Lightyear (famously voiced by Tim Allen in the "Toy Story" franchise). But there is a new space cadet in town for the upcoming movie, and his name is Chris Evans. "Lightyear" is the origin story of the cartoon superhero that the fictional toy is based on, and will feature Evans as the voice of Buzz Lightyear himself.
After the October 27 reveal, Evans has been tweeting non-stop about his excitement to be a part of such a pivotal childhood tale. "Animated movies were an enormous part of my childhood. They were my escape. My adventures. My dreams. They were my first window into the magic of storytelling and performing," the "Captain America" star wrote, along with an attached statement. " ... 'Thank you' doesn't even come close. #Lightyear."
Evans also shared his reaction after seeing the "Lightyear" trailer drop. "I'm covered in goosebumps. And will be every time I watch this trailer ...," Evans tweeted. "Or have any thought whatsoever between now and [the release] cause nothing has ever made me feel more joy and gratitude than knowing I'm a part of this and it's basically always on my mind."
However, not everyone is sharing the same type of enthusiasm and excitement for this film — and Evans' role in it. Since the announcement and trailer release, the internet is divided over who should be the true voice actor to carry on the legacy of Buzz Lightyear.
Fans are confused about the voice actor change for 'Lightyear'
Tim Allen was the original voice actor for beloved action figure Buzz Lightyear, playing the part in all four "Toy Story" films from 1995 through 2019. But now, with Chris Evans taking on this larger-than-life role, some fans are confused — and unhappy. "Buzz lightyear movie where buzz is voiced by Chris Evans and not Tim Allen what is this timeline," one Twitter user asked.
But there is a subtle difference between Allen's Buzz and Evans' Buzz. Pixar chief creative officer Pete Docter explained how the character in "Lightyear" differs from the one in the franchise. "See, back when we created the very first "Toy Story," we designed Buzz Lightyear with the idea that he was a toy based on some really cool character from an epic, blockbuster film," Docter said. "Well, all these years later, we decided it's time to make that film." Since "Lightyear" is the origin story of the real (cartoon) man behind the toy, that means Allen's Buzz and Evans' Buzz are two distinct characters!
This explanation didn't satisfy some folks on Twitter, though — as yet another user expressed their disappointment, tweeting, "The 10 year-old in me is excited about this movie, but it's not gonna be the same without Tim Allen." Others, however, see this as an upgrade due to Allen's Republican political ties — like this person, who wrote, "​​Good morning to everyone who's happy to have Chris Evans voicing Buzz Lightyear instead of Trumper Tim Allen."
"Lightyear" will be released in June 2022, per IMDb.