Prince Harry And Meghan Markle Want To Return To London For Christmas For This Crucial Reason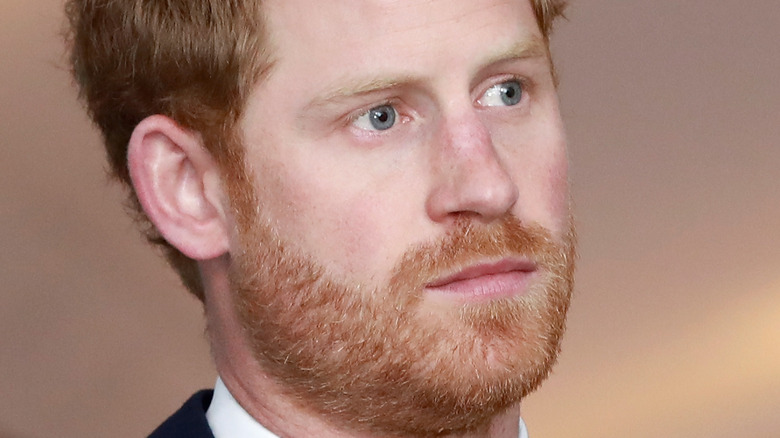 John Phillips/Getty Images
Prince Harry has always been very close with his grandmother, Queen Elizabeth. No one can forget the adorable video he made with the queen, in which they responded to Barack Obama and Michelle Obama's Invictus Games' challenge. The queen's reaction — a subtle yet smiling "Oh really, please?", followed by Harry dropping the mic after her comment — gave sweet insight into their relationship. 
That is also why so many royal fans and critics were shocked when Harry and his wife, Meghan Markle, stepped down from their royal duties and began a new life for themselves in California. "I didn't see a way out," Harry explained to Oprah Winfrey in March (via People). "I was trapped but I didn't know I was trapped. Trapped within the system like the rest of my family."
While Harry and Meghan did put the royal family on blast during their bombshell interview, it's clear that the two are still close with Queen Elizabeth — regardless of the drama. After all, their daughter Lilibet Diana, who was born in June, is the queen's namesake, according to an official statement by the Duke and Duchess of Sussex.
And while Harry has made it clear that he doesn't want to return to royal life again, there's a new report that claims he desperately wants to return home to London for Christmas in order to see his grandmother. This is why.
Prince Harry wants to spend time with Queen Elizabeth for several poignant reasons
Prince Harry is reportedly hoping to return to London for Christmas to see his beloved grandmother, Queen Elizabeth, who has recently been dealing with a series of health issues. (While Buckingham Palace has been vague about the exact situation, the institution revealed the queen was hospitalized for a night due to "preliminary investigations." Additionally, reports claim, she doesn't have COVID.)
Speaking of the monarch's health, an insider close to the situation claimed to Us Weekly that the Duke of Sussex "panicked" upon hearing that his granny had been hospitalized. The source revealed that Harry can't help but "feel helpless being 5,000 miles away" from the queen, so he has "been checking-in non-stop with her." According to the anonymous tipster, the prince still "feels guilty about not saying goodbye" to Prince Philip in real life before the monarch's death in April — and "[Harry] would never forgive himself if the same thing happened with his beloved grandmother," the source continued.
But Harry allegedly wants to be with his grandmother for other sentimental reasons as well. "[Harry is] hoping to go back home for Christmas with Meghan, if not before so that [the Queen] can finally get to meet Lilibet and see Archie again," the insider said. Should the Duke and Duchess of Sussex make it back to the U.K. by December, it will definitely be a holiday to remember — for the whole family.