Which Famous Celebrity Couple Did Donald Trump Just Party With?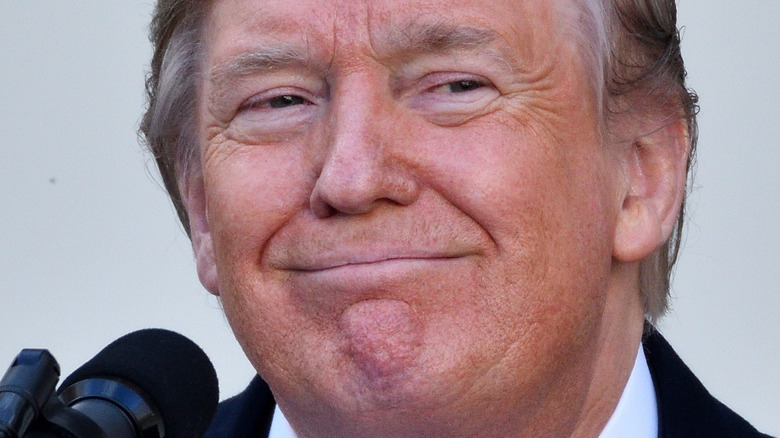 Evan El-Amin/Shutterstock
There's no denying that Donald Trump has been one of the most controversial presidents in the history of the U.S., with his polarizing views having many a famous face choose to distance themselves from the businessman. But while there are plenty of celebrities who have made their disapproval of the former president public knowledge, there are a few who have stood by the former "Celebrity Apprentice" star.
One famous couple Trump would probably get along pretty well with country star Jason Aldean and his wife, former "American Idol" contestant Brittany Aldean, as the latter in particular has been pretty vocal in her support for the Republican. Brittany shared several photos of herself and her children wearing anti Joe Biden shirts to Instagram in September, a few months after she posted a video to Instagram Stories wearing a Trump shirt alongside the caption "... STILL MY PRESIDENT" (via Fox News).
But while famous supporters of the businessman may be a little few and far between (Trump has infamously struggled to find music to play at his rallies), he actually spent what looked like a pretty spooktacular Halloween with a famous power couple.
Donald Trump's Halloween with Paulina Gretzky
Oh, to be a fly on the wall here! Donald Trump got into the Halloween spirit on the spookiest day of the year, throwing a party at his famous Mar-a-Lago resort in Palm Beach, Florida, where he cut a rug with celebs including Paulina Gretzky and Dustin Johnson. The model and the pro golfer, who got engaged in August 2013, were snapped cozying up to the former president in a group photo posted to Gretzky's Instagram account.
As for what everyone wore? Well, Gretzky dressed as a "Baywatch" lifeguard in a red swimsuit and jacket, while Johnson rocked a white polo shirt, headband, and shorts for what appeared to be a tennis costume. What did Trump dress up as, you ask? Well, he opted for one of the most popular Halloween costumes of the past few years — himself!
Gretzky's friend, Kristina Melnichenko, gave fans a better look inside the event on her Instagram by sharing several videos, which had an enchanted feel with large toadstools on the tables. The clip, soundtracked by Kanye West's "Praise God," showed Trump seemingly solo at the party as he greeted the group.
Trump appears to have long been a fan of the spooky holiday, regularly handing out candy to children during his stint in the White House. He continued on with the tradition in 2020 when many celebrations were canceled due to the coronavirus pandemic, even decorating the iconic building for the season (per AP).