Who Is Kanye West's New Girlfriend, Vinetria?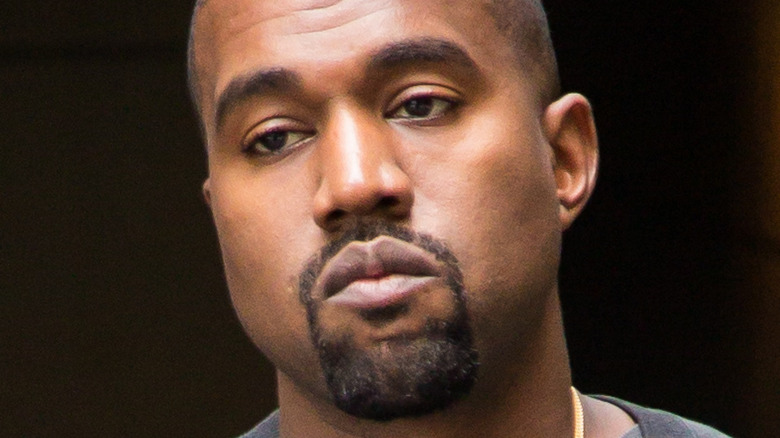 Liam Goodner/Shutterstock
It's been about ten months since Kanye West and Kim Kardashian-West shocked the world by announcing their plans to divorce. After seven years of marriage and four children, the couple was ready to call it quits, per USA Today. Kim was the one who ultimately made the decision to file, though the couple had clearly been growing apart for a while. In the months leading up to the split, West was running a failing and bizarre presidential campaign and suffered from what was widely speculated to be a mental health crisis, per TMZ. A broken-hearted Kim's decision to file was well documented in the final season of Keeping up with the Kardashians.
Luckily for Kim, though, it seems like she's already moved on. The reality star has recently been spotted all over New York (including Staten Island) with Pete Davidson. "Pete can be super charming and Kim loves the attention," a source told People of the budding romance. "She is very happy and in a good place. She has moved on from Kanye and feels it's for the best."
As it turns out, West has moved on too. If the rumors are true, then he's had someone new in his life for quite some time.
Kanye West is moving on
Rumor has it that Kanye West has more than moved on from his marriage to Kim Kardashian-West. According to Page Six, West has been hooking up with a model named Vinetria for a while. It seems like they may be getting serious as the pair recently made their first public appearance together at a basketball game in Minneapolis.
West's rumored new love remains a bit of a mystery. She has about 400,000 Instagram followers (but only 12 posts) and has also recently been linked to YouTuber James Butler, per Grazia. Additionally, she appears to be a fan of "KUWTK" as she tweeted in celebration of Kourtney's engagement: "i am so so so happy for kourtney kardashian," on October 19.
While we don't know much about Vinetria, we do know that West's relationship with her appears to be a bit complicated. It hasn't even been a week since West publicly claimed he wanted to reconcile with Kim. "I ain't never even seen the papers; we're not even divorced. That ain't no joke to me," he said during "Drink Champs" appearance. "My kids want their parents to stay together. I want ... us to be together." It's also possible West might be rebounding in response to Kim's new relationship with Pete Davidson. "Everybody in the family is worried about how Kanye will react to Kim spending so much time with Pete," a source told Page Six. "Kanye recently said he still wants to be with her, so he can't be taking this well."