How Tall Is Travis Barker?
s_bukley/Shutterstock
Travis Barker first found fame as the drummer for Blink-182 and he has continued to be successful in the music scene — while also occasionally stepping into the world of reality TV. At the same time, he happens to be someone who's known for his punk aesthetic, which includes plenty of tattoos.
Barker opened up to GQ about his body art in 2016, saying that around 70 percent of his body is covered in tattoos, although it would possibly be more if he hadn't lost some ink when he received severe burns during a 2008 plane crash. When it comes to the images and text on his body, Barker admitted that he doesn't care if they're perfect. "For me, it's documenting part of my life or people, things, times in my life. When I'm dead and gone I want people to be able to look at my body and basically relive my life in some ways."
Granted, while Barker's tattoos are obviously meaningful, and he may be known for his ink, there are a few other aspects of his body that you might be interested in. That includes his height!
Travis Barker's Blink 182 bandmates make him seems smaller than he is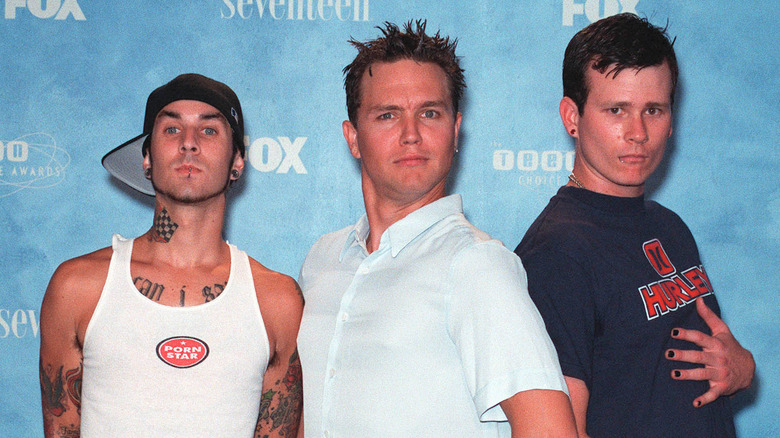 Featureflash Photo Agency/Shutterstock
As we mentioned, Travis Barker is a drummer. That means when you perhaps first saw him in action with his band Blink-182, he may have been spending a large part of his time sitting down behind a drum set. Because of that, you might not have realized how tall (or how short?) he really is!
Well, he happens to be 5-foot-9-inches, according to IMDb. That makes him the average height for men in the United States, per Medical News Today. It also means that he's the shortest member of Blink-182. Granted, the other members of the group are pretty darn tall. If you're curious, Mark Hoppus is 6-feet and Tom Delonge is four inches taller than that. In fact, Delonge was once asked on Twitter about certain lyrics he's written when someone tweeted, "Why are all the ladies in your life 'little?' Little Windmill ... Pretty Little Girl ... Little Cinderella ...[?]" His answer: "Because I'm 6'4"," as he penned in 2019. Fair enough! Pretty much everyone (except for perhaps basketball players and models) must seem like they're on the smaller side to Delonge.
As for Barker, you might be scratching your head because while he may look like he's on the shorter side when standing beside the members of Blink 182, he also seems to practically tower over someone else.
The women in Travis Barker's life are very different heights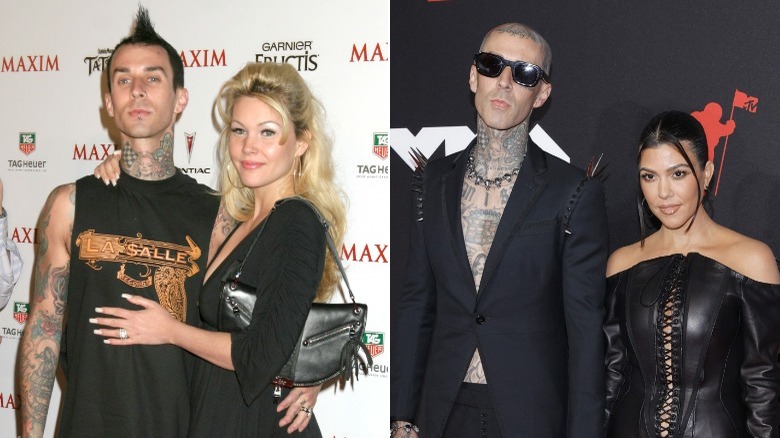 Shutterstock, Jason Kempin/Getty Images
Back in the day, Travis Barker was married to Shanna Moakler, though the two ended up getting divorced in 2008. However, during their time together, the former husband and wife occasionally showed up on the red carpet while also charming fans in their unique sort of way on their reality show, "Meet the Barkers." Although it may not have been at the center of attention thanks to all of the quirkiness and drama that played out on-screen, you may have noticed that the two were pretty much equally paired when it came to their height. That's because Moakler is just an inch shorter than Barker at 5-foot-8, according to IMDb.
Of course, these days, Barker is in a relationship with fellow former reality TV star Kourtney Kardashian. In fact, the two are engaged and may be your new favorite red carpet couple. If that's the case, then you might have noticed that this time around, there's a big difference between Barker's height and that of the woman in his life. Indeed, Kourtney is only 5-feet-tall. No wonder he looks so tall when he stands next to her!