What Scott Disick Just Publicly Said To Kourtney Kardashian Since Her Engagement To Travis Barker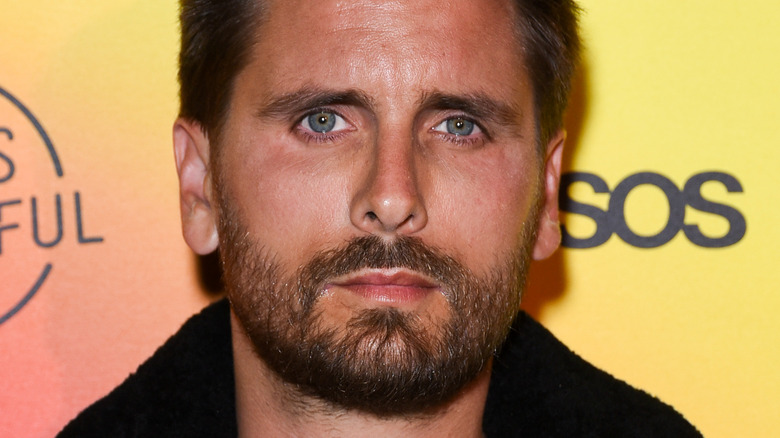 Presley Ann/Getty Images
The Lord has finally spoken. 
On the heels of Kourtney Kardashian's highly publicized engagement to Blink-182 drummer Travis Barker, Scott Disick has remained notably mum — a move that has taken many by surprise. As you may recall, Scott received major backlash in August after Younes Bendjima, another former flame of Kourtney's, leaked direct messages wherein Scott allegedly trashed Kourtney for her PDA-filled romp in Italy with Barker. "Yo is this chick ok!????" the direct message purportedly read, per Daily Mail. YIKES.
To make matters worse, shortly after the leaked messages debacle Scott and his girlfriend Amelia Hamlin, who also happened to be 18 years his junior, called it quits. As reported by E!, during part two of the famous "Real Housewives of Beverly Hills" reunion, Hamlin's reality star mama Lisa Rinna was asked whether or not the leaked messages played a part in the couple's demise, and Rinna admitted that it "wasn't helpful." 
Now, it appears that maybe Scott has finally come to terms with Kourtney's new relationship after all. Keep reading to learn what Scott just publicly said to Kourtney.
Scott Disick commented on Kourtney Kardashian's post of their daughter Penelope
While Scott Disick may be trying to distance himself from Kourtney Kardashian and her social media account following Travis Barker's grand proposal, it appears he is game to pop in every now and then — especially when it comes to his children. 
On Tuesday, November 2 Kourtney Kardashian shared a photo of the former couple's daughter, Penelope, prompting Scott to break his apparent vow of silence — at least in the public eye, anyway. "As if," Kourtney captioned the post along with Penelope dressed head to toe in yellow plaid as Cher Horowitz from the 90's classic "Clueless." Proud Papa Bear Scott immediately seized the moment to get in on the action as well, penning a comment under the post that read  "O Cher, don't forget she can't keep driving her jeep without her drivers license."
While it's no secret that the former couple has shared many ups and downs, they have always displayed a united front when it comes to the act of co-parenting their three children. Perhaps an adorable photo of Penelope dressed as a mini Cher is exactly what they needed to set them back on track!