How Did Kourtney Kardashian And Scott Disick Meet?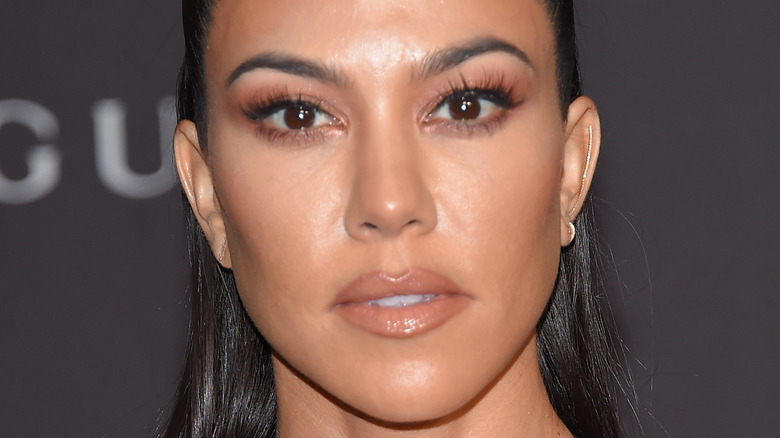 DFree/Shutterstock
The 2007 premiere of "Keeping Up with the Kardashians" started the family's reign over pop-culture that would last well over a decade. It also introduced the world to Scott Disick, who was dating Kourtney Kardashian at the time. The ups and downs of their relationship are well-documented on the series. Plus, there were wild individual behaviors, like that one time Disick shoved money into a waiter's mouth, as Bustle recapped. Or when he bought a title to become Lord Disick. This was in addition to drama with the other sisters, including Khloé Kardashian, who originally wanted to avoid any family dinners with Disick.
During their nine-year-long relationship, Kourtney and Disick had three children together — the oldest son Mason, middle daughter Penelope, and the youngest Reign Aston. But the two separated, partly because of Disick's hard-partying ways and noted substance use, which were enough to land the reality star in rehab. "I wish it was a little bit easier for me to be under control, but it's not," Disick said on an episode of "Keeping Up with the Kardashians." His and Kourtney's breakup, of course, led to more high-profile relationships when both were single — some built to last and others only weeks old before falling apart.
Though the two may never, ever, ever get back together after all their drama, you may be wondering, how did Kourtney Kardashian and Scott Disick meet?
Inside Kourtney Kardashian and Scott Disick's meet-cute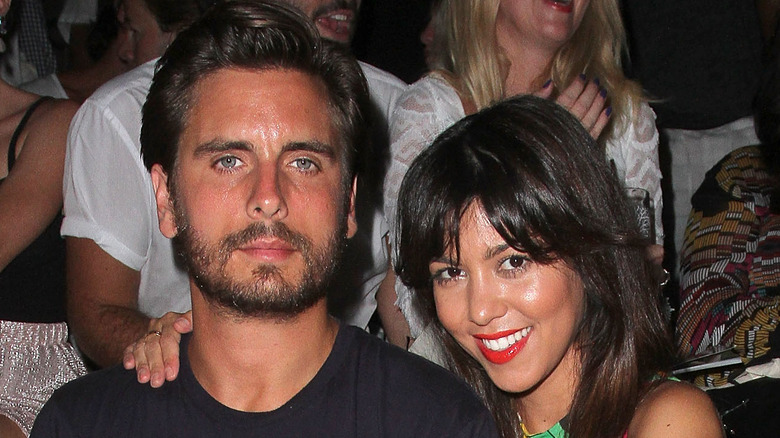 John Parra/Getty Images
Back when "Girls Gone Wild" was the hottest name in the adult film industry, founder Joe Francis was known for hosting wild parties. He also played cupid once and set up one of the most famous couples in reality show history. "I introduced Kourtney [Kardashian] and Scott [Disick] at my house in Mexico," Francis told In Touch Weekly. According to the party host, "Scott came as the guest as a friend of mine, and they met in my master bedroom."
Plus, there is photographic evidence. In 2015, Kourtney posted a photo on Instagram, where she claimed it was the first night she met Disick. Both are on a gigantic couch with Francis and three other women. This was the start of an up-and-down relationship but Mexico seemed to stay a special place for the couple. Kourtney perhaps alluded to their first meet-up in a 2014 Instagram post of her and Scott in Cabo San Lucas, Mexico with the caption, "seems so long ago."
Scott and Kourtney also remained close with Francis, who posted a photo of the couple at his estate in 2015. But that same year, Disick and Kourtney broke up after Disick was "caught partying with stylist Chloe Bartoli in Monte Carlo," People reported. The following year, Disick once again returned to Mexico to hang solo with Francis. A source claimed that "Scott has been saying how things are much easier now that he's not with Kourtney."
Who have Kourtney Kardashian and Scott Disick dated since?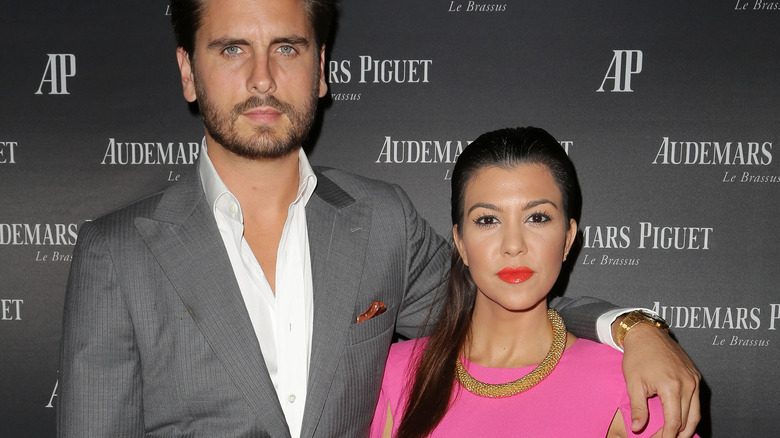 Alexander Tamargo/Getty Images
Post break-up, Kourtney Kardashian briefly dated Justin Bieber, model Younes Bendjima, and actor/model Luka Sabbat, Page Six recapped. But then, she made a huge splash in the entertainment world when she started dating drummer Travis Barker — Page Six first learned of the couple in January of 2021.
One highlight was when the pair were spotted with another "it" couple — Megan Fox and Machine Gun Kelly — at the MTV Video Music Awards. Kourtney posted a steamy photo on Instagram with the other three in a bathroom. One month later in October of 2021, Kourtney revealed she was happily engaged. In an Instagram post, she and Barker embraced on the beach, surrounded by candles and red roses, with the simple caption "forever."
Meanwhile, Disick was rolling through different short flings. He began dating Sofia Richie, and amazingly, the two hung out with Kourtney. The Daily Mail posted photos on Instagram of Richie, Disick, and Kourtney, plus their children all together on vacation in Cancun in 2018. The new couple didn't last and Disick then linked up with Amelia Hamlin, the daughter of actors Harry Hamlin and Lisa Rinna. But once again, Disick couldn't find lasting love and the two split up in 2021. Days after Kourtney and Barker announced their engagement, The Daily Mail spotted Disick with 20-year-old model Elizabeth Grace Lindley.