The Truth About Lamar Odom And Wendy Williams' Relationship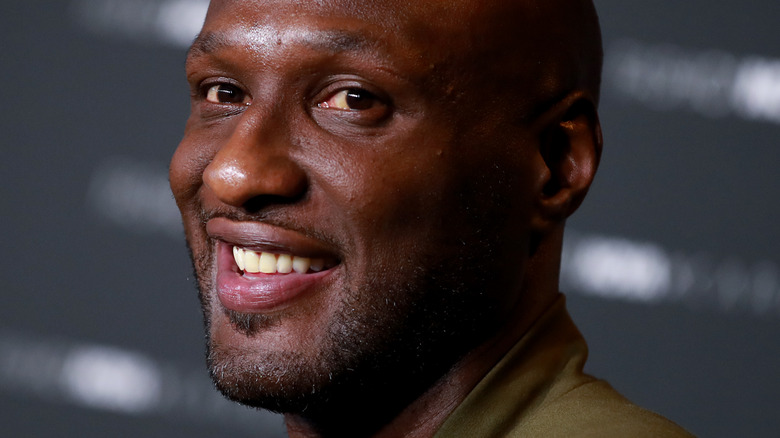 Rich Fury/Getty Images
Even though Lamar Odom is perhaps best known for being a member of the Kardashian family, that is a chapter in his life that has long been closed. And while the former NBA star said that he and his ex-wife Khloe Kardashian (their divorce was finalized in 2016) are no longer on speaking terms (via Complex), he did hint that if he were given the opportunity, he would be willing to try again with the reality star.
While on "The Megan Pormer Show" in October (via the Daily Mail), Odom said that he still has love in his heart for Khloe and would give it another go in "a heartbeat." He added, "I mean yeah I would. Will she get back with me though? l don't know, that would be a whole different [story] ..." 
And while Khloe has certainly moved on in her life — she now shares a daughter with another one of her NBA exes, Tristan Thompson, it seems like Odom has also been looking for love in the celebrity world, too. Believe it or not, he has been linked with someone else who likes to keep up with the Kardashians a whole lot: talk show host Wendy Williams. Here's what you need to know.
Wendy Williams posted a whole story about Lamar Odom and his championship belt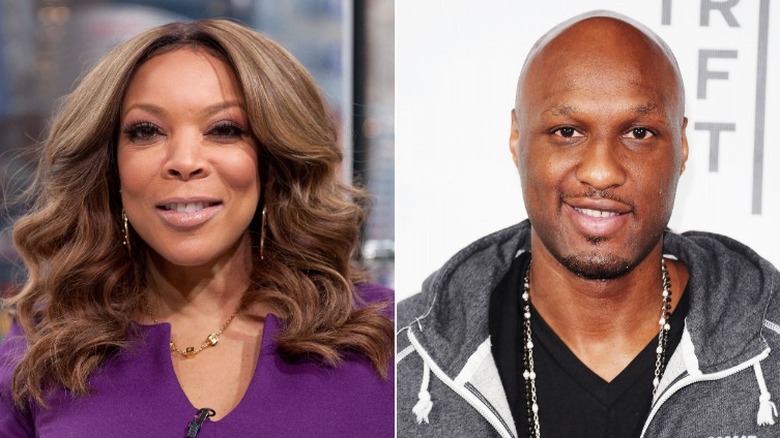 D Dipasupil, Michael Loccisano/Getty Images
Apparently, Wendy Williams spent some time by Lamar Odom's side during and after his pay-per-view boxing fight with former pop star Aaron Carter.
The former NBA star turned out to be victorious in the match (via CBS Sports), much to Williams' excitement. That's because, after the fight, Odom somehow found his way back to Williams' Las Vegas hotel suite, where she got to try on his championship belt — at least that's according to social media. Williams took to her Instagram account back in June to tell her fans about it. She captioned her post with, "@lamarodom is the MAN!! He spent time with me after his WIN. He put this belt on me & commented on my small waist in a good way. He was VERY wanting to take a shower. He left my suite, I got to my car & fell in my fortress bed 4am." Ohhhh boy.  
And while some of Williams' fans were blown away over the fact that she purportedly spent time with Odom at her hotel suite late at night, equally messy is what Odom and Williams chatted about on her talk show. 
Lamar Odom denied getting romantic with someone else on Wendy's show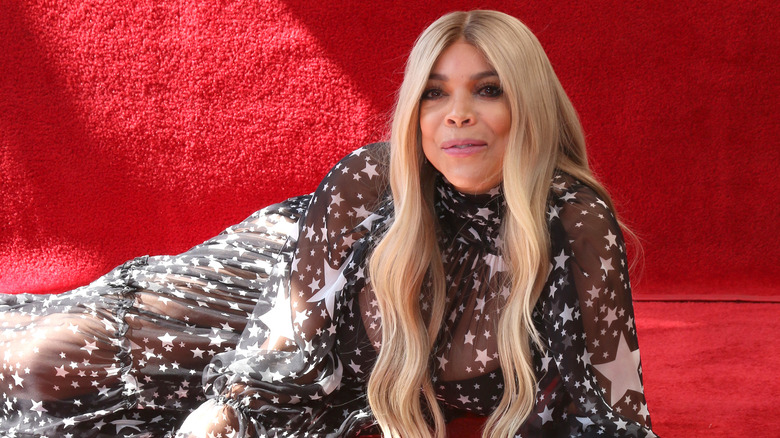 Kathy Hutchins/Shutterstock
During a virtual appearance on "The Wendy Williams Show" in May, Lamar Odom opened up about his love life at the prodding of one Wendy Williams. And no, he didn't talk about the night he was reportedly in Williams' hotel in Las Vegas, but rather about a new female friend that he has been seemingly spending a lot of time with: Karlie Redd. On-air, Odom admitted that he and Redd were just friends. He elaborated: "Really good friends, getting to know each other." When Williams went as far as to ask him whether or not they had "smashed," and if they "sleep together" — Odom paused before saying, "No." 
Well, while Williams certainly did have a lot to say about Odom's dating rumors, if there's anyone who has been keeping rather quiet about it all, it's Odom's ex-wife, Khloe Kardashian. Not that she should do otherwise!
As one tipster told E! News, "Khloe will always have a sweet spot for Lamar in her heart but has no interest in rekindling a romantic relationship," while also adding that he played a "huge part" in her life from 2009 to 2016. "He has tried to reach out and get her attention and Khloe just laughs it off. She has a lot going on and it's just not her focus."