Why Khloé Kardashian Is Facing So Much Heat For Her Recent Instagram Post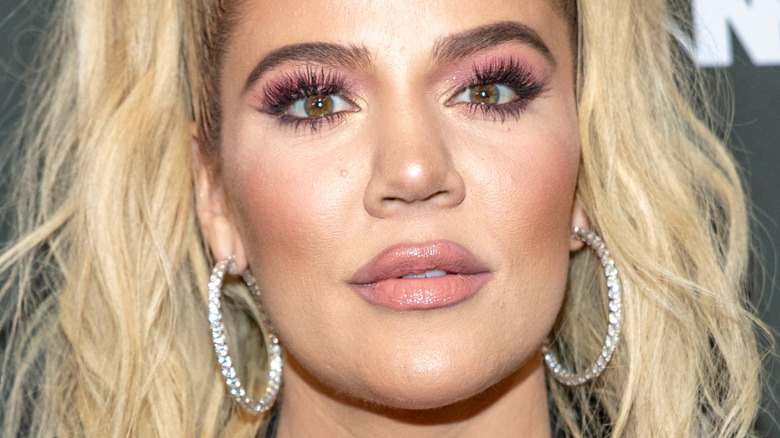 Eugene Powers/Shutterstock
Even though Kim Kardashian wasn't there, she took to her social media accounts to respond to the horrific tragedy that occurred when Travis Scott took the stage at the Astroworld music festival in Houston, which left at least eight people dead and dozens of others injured or hospitalized. She posted that the entire Kardashian and Jenner family was heartbroken over the lives lost. She tweeted, "We are keeping all of the victims, families, and loves ones impacted in our prayers for healing – as well as Travis who we know cares so much about his fans and is truly devastated." 
Likewise, Kylie Jenner, who was also at the festival with Stormi, the 3-year-old daughter she shares with Scott, wrote on her Instagram Story that both she and Scott were unaware of the fatalities or the chaos that ensued during the performance. However, she did add (via E! News), "I am sending my deepest condolences to all the families during this difficult time and will be praying for the healing of everyone who has been impacted."
Kylie's sister, Kendall Jenner, also shared her own message of condolences for the families of the victims that lost their lives, per Variety. But it's Khloé Kardashian's most recent Instagram post that has a lot of people up in arms — and it's not just because of the content, but also because of her timing. Here's what she did soon after the tragedy.
Khloé Kardashian's social media faux pas
Even though Kim Kardashian insists that her family is in shock over the Astroworld tragedy, Khloé Kardashian has yet to address the situation. Instead, just days after the nightmare that occurred on the opening day of the festival, Khloe posted what many people would only describe as "thirst trap" photos of herself modeling a bodysuit on her Instagram account. A lot of the reality television star's critics and detractors believe the timing couldn't be any worse, seeing how there are still festival attendees at the hospital fighting for their lives, according to CNN. 
Even though her sister Kendall Jenner deleted an Instagram photo she took backstage at Astroworld, per the Daily Mail, Khloe is being slammed for her "tone deaf" post. Some critics took to her comments section to write, "People died by okay, seems it's no problem in the world of Instagram," along with, "TONE DEAF!!!! WTF."
But, then again, even Khloe's sister Kourtney Kardashian knows there's a huge difference between what's posted on Instagram and what goes on in reality, per Entertainment Tonight. In other words, one is definitely not like the other.