How Did Sylvester Stallone Nearly Die During The Making Of Rocky?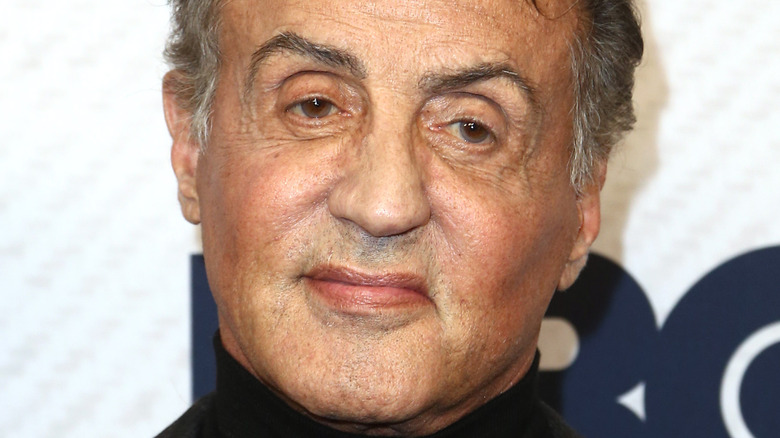 Tommaso Boddi/Getty Images
Acting can be one of the most dangerous jobs in the world, if you let an actor tell it. But all humor aside, actors have a lot of near-death experiences while working on the job. Actor Uma Thurman recalled almost dying on the set of "Kill Bill 2" because director Quentin Tarantino wanted a car scene shot in a specific way. "Quentin came in my trailer and didn't like to hear no, like any director, he was furious because I'd cost them a lot of time. But I was scared," Thurman said in The New York Times interview. "He said: 'I promise you the car is fine. It's a straight piece of road. Hit 40 miles per hour or your hair won't blow the right way and I'll make you do it again.' But that was a deathbox that I was in. The seat wasn't screwed down properly. It was a sand road and it was not a straight road."
Actor Isla Fisher almost drowned on the set of "Now You See Me," and the directors kept her near-death experience in the film. "My chain got stuck. I had to really swim to the bottom. I couldn't get up. Everyone thought I was acting fabulously. I was actually drowning," Fisher said, per Daily Mail. "No one realized I was actually struggling."
Now, Sylvester Stallone is admitting that he also almost died on the set of "Rocky IV" back in 1985.
Actor Dolph Lundgren 'pulverized' Sylvester Stallone's heart
Coming close to death is a terrifying experience, something that actor Sylvester Stallone knows all too well. Back in 1985 when Stallone was filming "Rocky IV," he almost died because his co-actor Dolph Lundgren punched him so hard during their infamous boxing scene, his heart couldn't take it. "He pulverized me and I did not feel it at that moment but later that night my heart started to swell," Stallone said, per Daily Mail.
Apparently the punch was so lethal, Stallone had "nuns praying for him" in the intensive care unit. "My blood pressure went up to 260. They thought I was going to be talking to angels," Stallone said. "[Lundgren] had bruised the perio cardio sac, which is when the heart hits the chest – like in a car accident when your chest hits the steering wheel." Ouch!
But Stallone is a seasoned, veteran actor, so he isn't new to this painful and dangerous game he plays. In fact, according to Hello Magazine, Stallone said that he "usually grade[s] the quality of a film by the intensity of the injury." Stallone has experienced some of the most painful injuries of his career on the set of "The Expendables." "When I do 'The Expendables' I break my neck, my spine, and dislocate shoulders," Stallone said. "I fell on my back and had to put some metal in there, so if I'm squeaky, then deal with it, it's not my shoe, it's my back." Yikes!