How Is Hunter Biden's Art Career Really Going?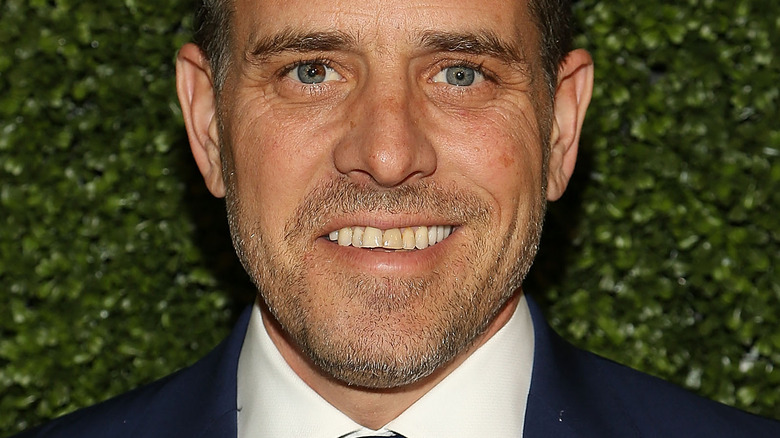 Paul Morigi/Getty Images
Hunter Biden, President Joe Biden's remaining son, has shifted his focus from politics and business to art. His plans to start selling his art raised eyebrows, and plenty of people wonder how his career as an artist is really going now.
Over the years, Hunter faced a lot of heartbreak and tragedy. His mother — and Joe's first wife — Neilia Biden and sister died in a car accident when he was quite young, and both he and his brother Beau sustained injuries in the accident (per Biography). As he penned for The Sydney Morning Herald, his father Joe made it through a dangerous brain aneurysm some years later, and his brother Beau died in 2015 of brain cancer. "I come from a family forged by tragedies," Hunter wrote, as he opened up about the challenges he navigated that eventually led to his passion for art. What Hunter refers to as a "deep descent" into drug and alcohol use "came not long after I hugged my brother, Beau, the best friend I've ever had and the person I loved the most in the world, as he took his last breath."
As Hunter embraced sobriety, he turned to art. As he told The New York Times, painting "keeps me away from people and places where I shouldn't be." It allowed him to put "my energy toward something positive," and he grew to be quite protective of his art. After painting mostly for himself for some time, he decided to pursue representation and start selling his art.
Hunter Biden's artwork has been selling moderately
As Page Six shared in 2020, Hunter Biden made a deal with the Georges Bergès Gallery for his first art show. Biden's New York show opened in October and Artnet noted the 25-piece exhibit was named "The Journey Home." The pieces were reportedly priced between $75,000 to $500,000 each, and details regarding the buyers and final sales prices will not be released. 
After a one-day showing in Los Angeles, California and interest during the initial days of the SoHo exhibit, Bergès said he was "very satisfied with where we are at the moment." He noted he set the prices for the artwork, not Biden, and he believed in a decade they would each be worth significantly more.
There has been plenty of buzz, but how is Biden's art career actually going? Yahoo! News reported that five prints sold prior to the Los Angeles event and Manhattan show opening, at a price of $75,000 each. The original works are slated to be priced in the high range of the pricing spectrum, up to $500,000 apiece. The number of people seeing the pieces in person is said to be small, as anybody getting an appointment to view the exhibit has reportedly been vetted by a team of lawyers (via the New York Post). The feedback seems mostly positive, though we'll see if Biden's work can truly support him or if the interest will fade away after the initial exhibit closes.
If you or anyone you know is struggling with addiction issues, help is available. Visit the Substance Abuse and Mental Health Services Administration website or contact SAMHSA's National Helpline at 1-800-662-HELP (4357).