Big Bird Owns Ted Cruz In Hilarious Fan Fiction Book Art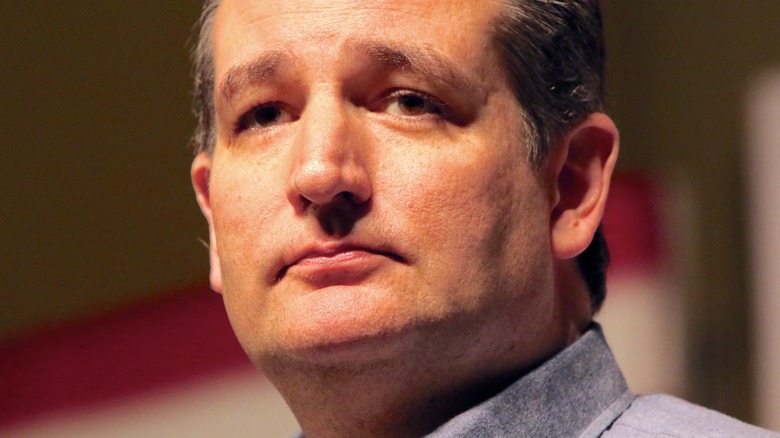 Rich Koele/Shutterstock
Texas Sen. Ted Cruz really doesn't need help when it comes to getting made fun of. The Republican puts himself in such awkward, laughable situations all by himself and it's near impossible for people not to pile on and make jokes at his expense. Unfortunately for him, from average Twitter users to "Saturday Night Live," Ted Cruz provides plenty of fodder for public laughter.
The latest comments about Cruz are largely due to the senator's harsh response to the news that Big Bird, the famous canary from "Sesame Street," got his first COVID-19 vaccination shot. "I got the COVID-19 vaccine today!," Big Bird tweeted on November 6 to the tune of 287,000 likes and counting. "My wing is feeling a little sore, but it'll give my body an extra protective boost that keeps me and others healthy." The officially six-year-old yellow fella (per Britannica) also reminded people that he's been "getting vaccines since I was a little bird." The tweet is meant to promote vaccinations for children aged 5 to 11, now that they've been approved.
While many people appreciated Big Bird's actions for keeping Sesame Street safe and setting a good example, not everyone did. Conservatives, particularly, had terrible things to say, led largely by Cruz, who called it via Twitter, "Government propaganda...for your 5 year old!" Lots of people responded to the controversy, including Chelsea and Hillary Clinton. And the latest dig is pretty hilarious, if NSFW.
Jimmy Kimmel gets in on the Ted Cruz Big Bird action with a book cover we cannot post here
The latest in the Twitter feud against Ted Cruz and his anti-Big Bird comments comes in the form of a new book cover "for children." It features Big Bird getting off a plane in Cancun. One tweeter posted the cover, asking, "OMG WHO DID THIS?" Turns out, it's from "Jimmy Kimmel Live."
On November 8, Jimmy Kimmel said on-air that Cruz tweeted against the bird (despite being vaccinated himself) because Cruz "desperately just wants to be noticed," but "the truth is, I think maybe Ted's still sore about Big Bird's most recent book." The fictitious book, then unveiled, clearly refers to Cruz's escape to Cancun, Mexico in February when his home state of Texas was plunged into freezing cold darkness because of an unprecedented winter storm and its failed power grid. Cruz chose to run, rather than help his constituents.
The Twitter responses are generally hilarious. One reply asked for help for Cruz's poodle, Snowflake — who Cruz left alone at his Texas home while he took the rest of his family to Cancun — via a gif that read "Save me from Ted Cruz #Freesnowflake." Another tweet suggested people "Vote for @SenatorBigBird," because he "won't abandon us for Cancun!" It seems Senator Big Bird would have a good amount of support, as it refers to a parody Twitter account, started November 7, that already has 98,000 followers and growing.