The Meaning Behind Fall In Love At Christmas By Mariah Carey, Khalid And Kirk Franklin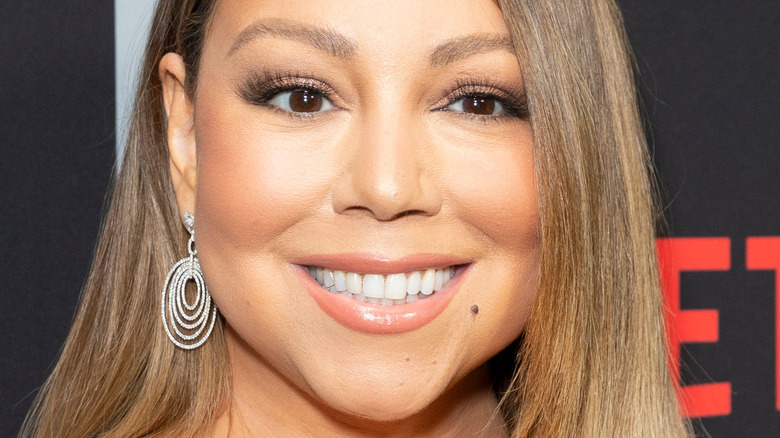 lev radin/Shutterstock
The queen of Christmas is back! Mariah Carey officially declared "it's time" for the Christmas season to begin in an Instagram video posted immediately after Halloween. In the video, Carey is as festive as ever in a sparkly red gown accessorized with a candy cane bat the singer uses to smash pumpkins that read, "It's not time." The Grammy award-winning artist then transforms into her famous "All I Want For Christmas" outfit to start spreading her holiday cheer.
"I know it's like 'ha ha she loves Christmas,' no I literally do," Carey told model Naomi Campbell on an episode of her YouTube series, "No Filter with Naomi." "I know people are like 'you love Christmas!' and they make fun of me, but it's okay because I do. I actually do. It's what I love." The singer went on to reveal her love for the holiday came from her longing for a cheerful Christmas as a child. "I was a sad kid that wanted Christmas to be great," Carey said. "I wanted a real family that cared about me. I wanted them to care and I wanted them not to ruin it and they ruined it every year."
The "Honey" artist turned her Christmas fate around with her 1994 hit "All I Want For Christmas Is You," which has since re-entered the top charts every year for the holidays. Establishing herself as the reigning authority on Christmas music, Carey released her latest Christmas single with a little help from Khalid and Kirk Franklin.
Mariah Carey wants to fall in love this Christmas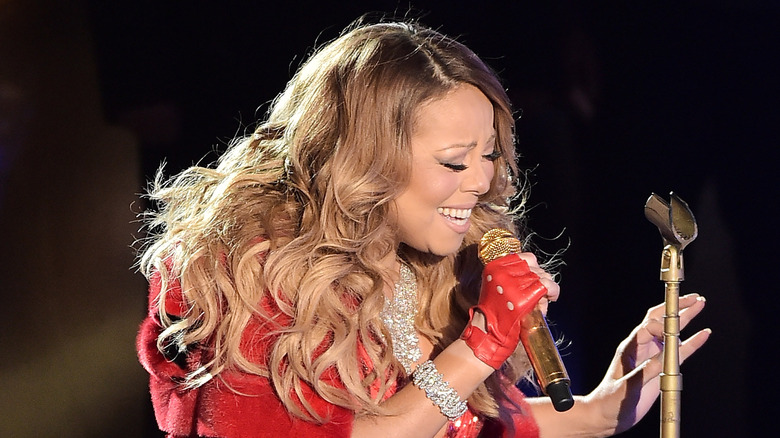 Michael Loccisano/Getty Images
In the new Christmas single titled "Fall in Love at Christmas," Mariah Carey mixes her high-pitch vocals with Khalid's R&B sounds and Kirk Franklin's gospel background for a song about falling in love at Christmas time. "We had a love so deep / Just like the joy the season brings / So let's fall in love again this Christmas night," she sings. The song continues its sweet message with, "This time of year, we're both aware / We gotta fall in love again at Christmastime / And all the angels in the sky / Shine down on us as we roll by / We gotta fall in love again at Christmastime" (via Genius).
The single is expected to be a focal point of Carey's upcoming Christmas Special on Apple TV+, "Mariah's Christmas: The Magic Continues." According to The Hollywood Reporter, the artist is dropping her second special with the streaming network after a successful release of "Mariah Carey's Magical Christmas Special" in 2020. While last year's holiday program included appearances by Ariana Grande, Tiffany Haddish, Snoop Dogg and Jennifer Hudson, this year's special is expected to include a performance of "Fall in Love at Christmas" with collaborators Khalid and Franklin.
"There's just a different feeling that I get," the celeb told the outlet about her love for Christmas. "It's like an actual, tangible feeling that comes over me that I just want everybody to feel this happy." And with her latest single, Carey's fans (the lambily) are not only happy ... they're in love.