The Real Meaning Of Stretchy Pants By Carrie Underwood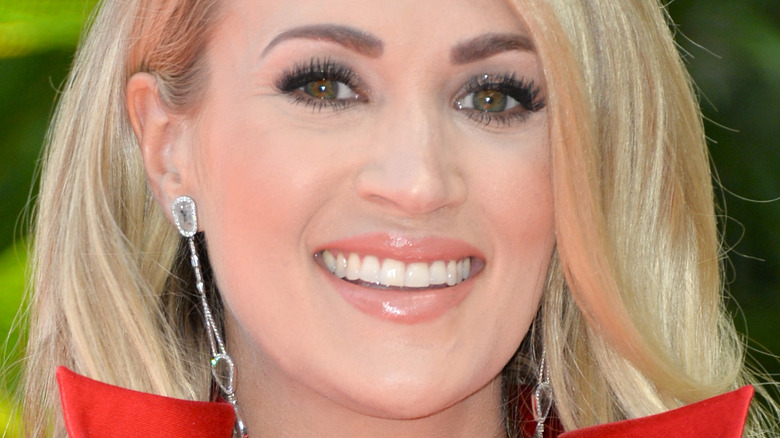 Featureflash Photo Agency/Shutterstock
Carrie Underwood's biggest claim to fame is most definitely her country music career, but the "Dirty Laundry" singer has also conquered an industry where cowboy boots would be a huge fashion don't: athleisurewear. While her fans might expect the stretchy workout pants from her CALIA by Carrie Underwood line to disappear from the racks at DICK's Sporting Goods stores, they were mystified when her new song "Stretchy Pants" disappeared from the internet.
According to Country Now, the tune was originally supposed to be released on November 5, but "was abruptly removed" from streaming sites, much to the dismay of Underwood fans who were looking forward to hearing it. It's unclear why this happened, but the song was available for purchase a week later, per CMT.
Fans who have closely followed the "Drinking Alone" singer's career over the years have likely heard her talk about her fondness for pants with waistbands that can expand. When Underwood gets a break from getting all glammed up for concerts and red carpet events, her ideal outfit is "what looks like PJs, like flannel pants and T-shirts," she told CMT in 2006. And in 2020, she took to Instagram to share a photo of herself modeling a pair of gray CALIA sweatpants, adding a caption that read, "These may be the most comfortable pants I've ever owned!" They certainly fit the description of the must-have holiday apparel Underwood sings about in "Stretchy Pants."
Carrie Underwood's song celebrates overindulging during the holidays
So, last holiday season, you carved the turkey and savored your favorite cuts of meat, taking a Louisville slugger to your appetite until you just couldn't take one more bite. Maybe next time you'll think before you eat — and take Underwood's sound advice about how to deal with the inevitable overindulging that happens during the holiday season.
"Stretchy Pants" is a song about ensuring that pesky buttons and zippers don't prevent you from enjoying a holiday meal to the fullest by stopping you from getting as full as you please. "So bring on the turkey, potatoes, casserole dishes / 'Cause I ain't messing around with them buttoned up britches," Underwood sings, per AZ Lyrics. "You got them skinny jeans on, girl, I feel sorry for you / 'Cause I just tried everything, and I'm going back for round 2." Underwood goes on to express her love for "Spandex and Lycra," and it's clearly not because she wants to have a full range of movement while working out at the gym.
In a statement, she shared the inspiration for her festive food ditty, saying (per CMT), "There are times to be disciplined, and then there are times when we need to eat and drink and be merry and enjoy ourselves with family and friends." Underwood was working on her Christmas album, "My Gift," when "a fun detour" led to her and her co-songwriters creating the song that celebrates stuffing your face.
Carrie Underwood's holiday cooking will have her guests breaking out their stretchy pants
Carrie Underwood is a huge fan of holiday meals, but she doesn't partake of one of the most popular dishes when her family celebrates Thanksgiving. The country star is a vegetarian who described herself as "a Tofurky kind of girl" in a 2020 Instagram post. However, this doesn't mean that her guests have to miss out on the meat. That same year, Underwood revealed that her friend Jay Cutler attended her family's Thanksgiving dinner and cooked a turkey himself.
But the singer doesn't need too much assistance when it comes to serving up mouth-watering meals during the holidays. She told People some of the dishes she whips up herself include stuffing with vegetable broth, sweet potato casserole, and baked cinnamon apples with coconut ice cream. (Does your stomach sound like the engine of a "pretty little souped-up four-wheel drive" yet?)
Last December, Underwood told "Good Morning America" that there's always "lots of good food and music" in her house during the holidays, and "Stretchy Pants" is a tribute to both. It also benefits a good cause. A percentage of proceeds from the song's sales and streams will go to Brad Paisley and his wife Kimberly Williams-Paisley's nonprofit The Store, which provides free groceries for those in need. Underwood said of the charity (per CMT), "Everybody should be able to afford feasts for the holidays, and everybody should have the opportunity to break out those stretchy pants!"