The True Meaning Behind Can't Be Together By Adele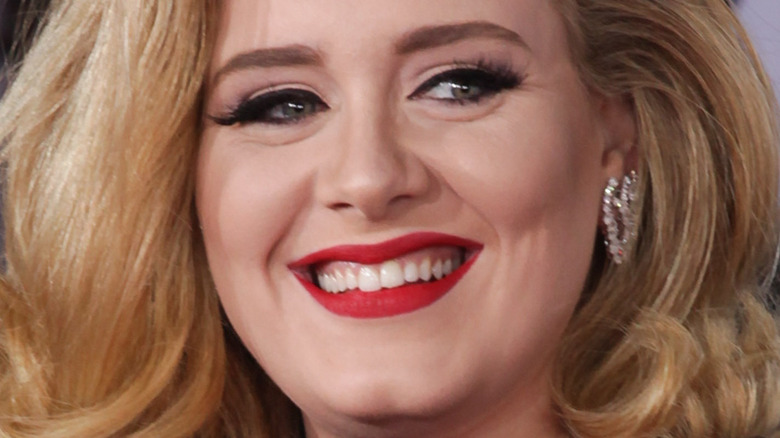 DFree/Shutterstock
After much anticipation, Adele's latest album "30" has finally been released. The singer revealed on her website that the album would contain 12 tracks. But the deluxe edition, exclusively available at Target, contains three bonus tracks: "Wild Wild West," "Easy On Me (with Chris Stapleton)," and "Can't Be Together."
This album comes on the heels of the singer's divorce from her husband Simon Konecki. While Adele told Vogue that she doesn't see her latest work as a "divorce album," the split from her husband and the effect it had on their son Angelo undoubtedly impacted the work. She told the magazine that the album actually morphed into her explaining the family's situation to her son. "He has so many simple questions for me that I can't answer, because I don't know the answer," she said. "I can't make that make sense to a nine-year-old."
One of the questions she said Angelo had was, "Why can't we still live together?" Is that the question she's answering in "Can't Be Together"?
It sounds like Adele is singing to her son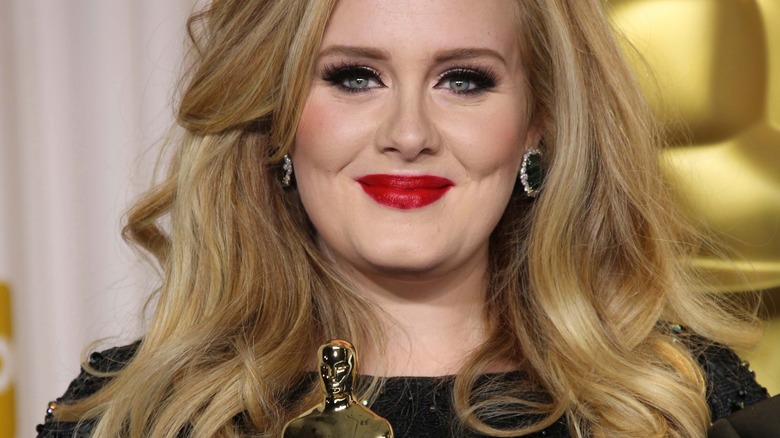 s_bukley/Shutterstock
"Can't Be Together," like most of Adele's songs, is an emotional ballad. You might immediately assume that she is singing this song to a lover of the past. "I may be out of your view but I can hear you," she sings, per Genius. "I may be out of the room but I can see you." She could be singing to her newly ex-husband Simon Konecki, but it sounds a lot like she is singing to her 9-year-old son, Angelo.
Adele and Konecki split custody of their son, and she even bought him a house across the street, per Vogue. Although the parents regularly reunite with their son for family movie nights, Adele noted that her son is still heartbroken by his parents' separation. "If I can reach the reason why I left, which was the pursuit of my own happiness, even though it made Angelo really unhappy ... then maybe I'll be able to forgive myself for it," she told the magazine.
In "My Little Love," another track on "30," Adele includes voice notes between herself and her son, where she tries to explain to him what is happening between his parents. In one, Angelo tells his mom that he feels like she doesn't love him, according to Us Weekly. How could that not break a mother's heart?
She is also singing to her ex-husband
Lester Cohen/Getty Images
As "Can't Be Together" goes on, the focus shifts to more clearly being about Adele's ex-husband, Simon Konecki. The chorus particularly sets the tone. "But we need to learn how to love who we're loving," she sings, per Genius. "It's hard but we must we've got to let it go / And turn off the urge to know what could have been / But I will love you forever." This continues into the second verse, where Adele takes responsibility — at least in part — for the relationship's demise. "I was far too reckless, I know that now," she sings. "Trying to make you jealous made me feel proud."
In her interview with Vogue, Adele acknowledged that this self-reflection is what makes this album so different from her previous. "I realized that I was the problem," she said. "Cause all the other albums are like, 'You did this! You did that! F*** you! Why can't you arrive for me?' Then I was like: 'Oh s***, I'm the running theme actually. Maybe it's me!'" She went on to say that this album is not about her divorcing Konecki, but rather about her divorcing herself. "Just being like, 'B****, f****** hot mess, get your f****** s*** together!'"