Shiloh Jolie-Pitt Just Decided To Return To Her Old Style On The Red Carpet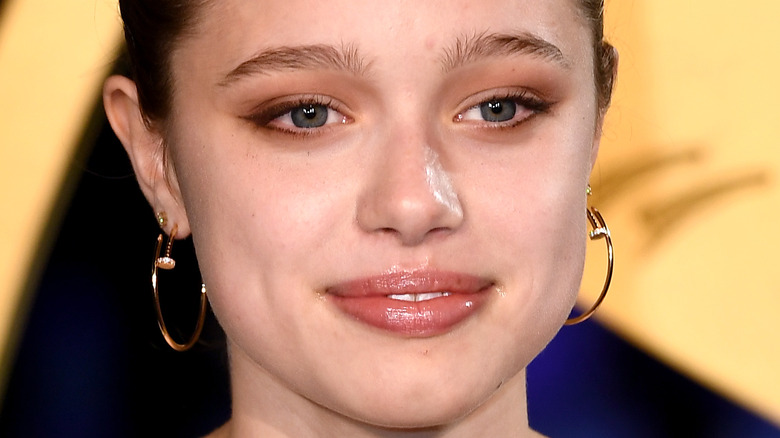 Dave J Hogan/Getty Images
Angelina Jolie has gone through quite a dramatic transformation over the years when it comes to her looks. The star always seems willing to play with her style, showing up in ensembles that create a buzz for one reason or another. Now, it looks like her daughter, Shiloh Jolie-Pitt, is doing the same and won't allow her sense of style to be limited by external expectations. 
Although Shiloh has arguably been a newsworthy figure thanks to the fact that her parents — Jolie and Brad Pitt — are super-famous, in October, she stirred up headlines on her own when she appeared on the red carpet in a dress for the first time. That was followed just a few days later by another appearance along with her mom and sister, Zahara, at an industry event where she again opted to wear a dress, this time with yellow, leopard-print running shoes. As if that wasn't enough, those events were followed by a third ,which saw Shiloh wear one of her mom's gowns in a lovely new way.
Some fans were certainly intrigued by Shiloh's fashion savviness, and a source told Entertainment Tonight in May 2020 that her dad is fully supportive of whatever choices she makes, saying, "He [Brad] loves that she always stays true to herself..." When she was younger, Pitt told Oprah Winfrey (via People) Shiloh "only want[ed to be called John. John or Peter." Jolie shared similar details, telling the Daily Mail, "Some kids wear capes and want to be Superman and she wants to be like her brothers." And recently, Shiloh chose to revive one of her old looks.
Shiloh Jolie-Pitt rocked a casual look with her family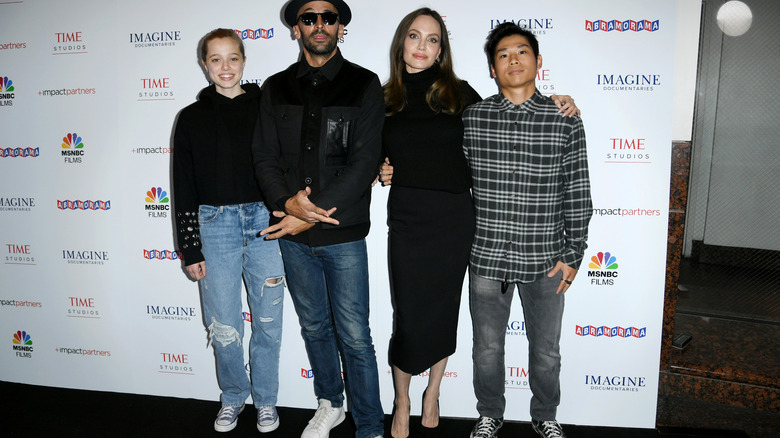 Jc Olivera/Getty Images
Shiloh Jolie-Pitt has become a regular figure on the red carpet as she tends to accompany her mom, Angelina Jolie, to events like the one they showed up to on November 18. Along with one of Angelina's sons and Shiloh's brothers, Pax Thien Jolie-Pitt, the mom and daughter attended the premiere of "Paper & Glue," a documentary from French photographer JR, per the Daily Mail. When the trio posed on the red carpet with the artist, many surely noticed that not only were they all wearing outfits that were much more casual than what they had been wearing at previous events, but Shiloh had seemingly returned to her old style.
Wearing a black hoodie with accented holes on the sleeves and loose-fitting, ripped jeans, Shiloh looked both fabulous and comfortable — and fabulously comfortable — in light blue (or grey?) Converse All-Stars. She also had her hair pulled back and was wearing little if any makeup. Of course, Shiloh can switch between looks whenever she likes — and it appears that night she wanted to keep it casual!
Although plenty of people have had opinions — not that they're warranted or even necessary — about Shiloh's fashion choices over the years, one Twitter user noted something sweet about the pictures of Shiloh and her sibs. They wrote, "The kids [look] happy..." And that's definitely what matters most when it comes to how they look!
Angelina Jolie has always encouraged Shiloh Jolie-Pitt to be true to herself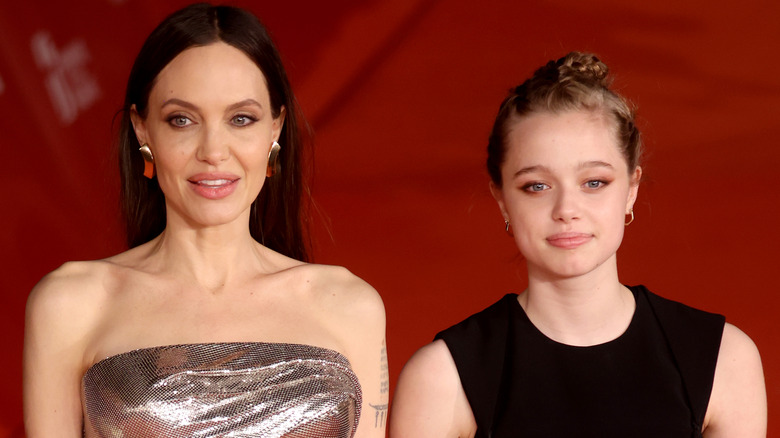 Franco Origlia/Getty Images
Daring and adventurous fashion sense aside, however, Shiloh Jolie-Pitt and her famous mother have many other things in common... including their love of performing.
In 2011, Jolie told Vanity Fair that Shiloh was "hysterically funny" and "one of the goofiest, most playful people you'll ever meet." But besides that, Jolie also revealed that, out of all of her children, she had the most in common with Shiloh, noting that they are both "goofy and verbal" and had all the tell-tale signs of being a future performer. "I used to get dressed up in costumes and jump around. But at some point, I got closed off, darker. ... Then, as I had kids and got older — being goofy, lighter — it all came back," she explained.
Fortunately for Shiloh and the rest of the Jolie-Pitt brood — including Maddox, Zahara, Pax, Knox, and Vivienne — it doesn't appear Jolie is one to stifle any of her children's creativity. "I would never be the kind of parent to force somebody to be something they are not," Jolie declared during an interview with Reuters in 2010. "I think that is just bad parenting," she added. "Children should be allowed to express themselves in whatever way they wish without anybody judging them because it is an important part of their growth. Society always has something to learn when it comes to the way we judge each other, label each other. We have far to go."