The Truth About Rupert Murdoch And Jerry Hall's Marriage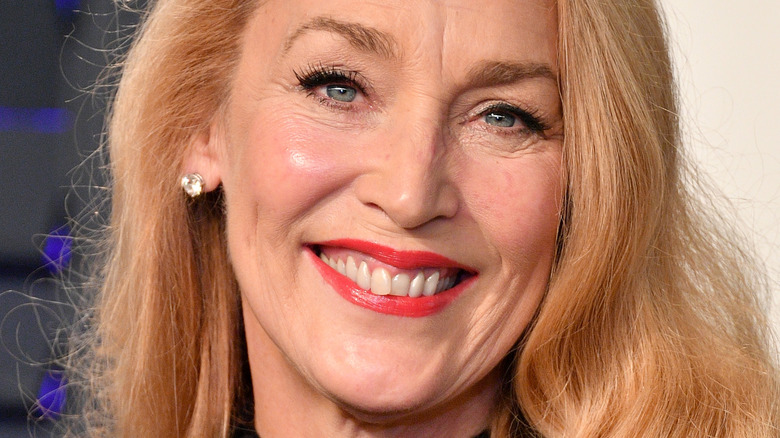 Dia Dipasupil/Getty Images
Former model Jerry Hall is best known as Mick Jagger's ex-partner and mother to their four children, making her rock 'n' roll royalty by proxy. However, Hall hung up her rocker crown when she wed business magnate Rupert Murdoch in 2016, per Hello! Describing the ceremony to The Independent as "absolutely wonderful," Hall donned an elegant gown by Vivienne Westwood to tie the knot with Murdoch, who was turning 85 years old at the time. (Hall was then 59.) According to the outlet, Hall's former flame Jagger was also in attendance, which speaks to the one-time couple's close relationship — or does it?
To hear the Daily Mail tell the story, Jagger wasn't exactly thrilled to learn of Hall and Murdoch's engagement. This may have had something to do with the fact it was Murdoch's newspaper, The Sun, which broke news of Jagger's affair with Brazilian model, Luciana Morad. That infidelity and subsequent love child ended his relationship with Hall for good back in 1999. "He has been seething," a source told the outlet of Jagger's reaction to Hall's engagement. "This means that Rupert Murdoch is going to become a part of his extended family, and Mick has a real problem with that." However, everyone seems friendly enough as of this writing, and Jagger regularly reunites with Hall and Murdoch for charity events, per the Los Angeles Times.
And what of Murdoch and Hall? Are things still going strong between the power couple?
Did Jerry Hall marry Rupert Murdoch for his money?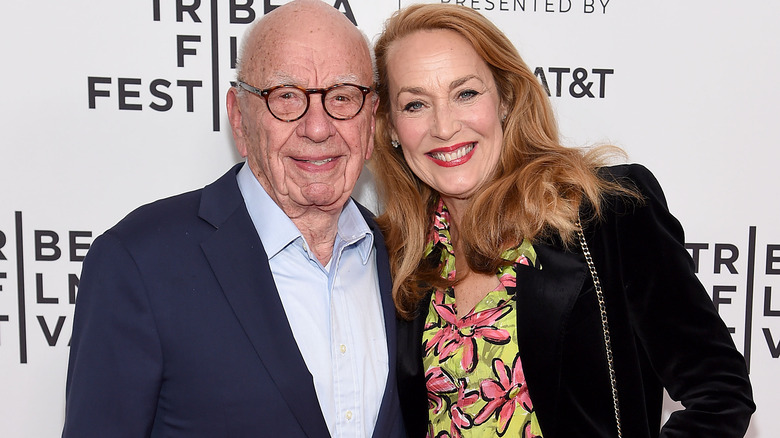 Jamie Mccarthy/Getty Images
Jerry Hall dated plenty of young, famous men as an up-and-coming model, including Mick Jagger and British singer Bryan Ferry, but she wasn't shy about expressing her preference for older types, either. "I have gone out with younger men and they're great fun, they've got enthusiasm. Stamina!" she admitted to The Washington Post. "But I think older men are much better lovers." Hall's remark may have been in response to cynics who raised the alarm over her 25-year age difference with now-husband Rupert Murdoch, who is worth an estimated $22 billion. (At the time of the couple's engagement, Gawker ran a headline which read, "Jerry Hall to Wed a Toad," and the New York Daily News quoted a source who referred to the pair as "Beauty and the Beast.")
Aside from the pair's obvious age difference, there were also critics who felt that Hall may have married billionaire Murdoch solely for his money. However, Hall — who reportedly received a $40 million divorce settlement from Jagger — doesn't exactly seem to be strapped for cash. "I don't want to be bossed around because I've got my own money, you know," she told The Washington Post in 2005. "So it's got to be the right person. But I do quite like the idea of having a companion."
Jerry Hall and Rupert Murdoch appear more in love than ever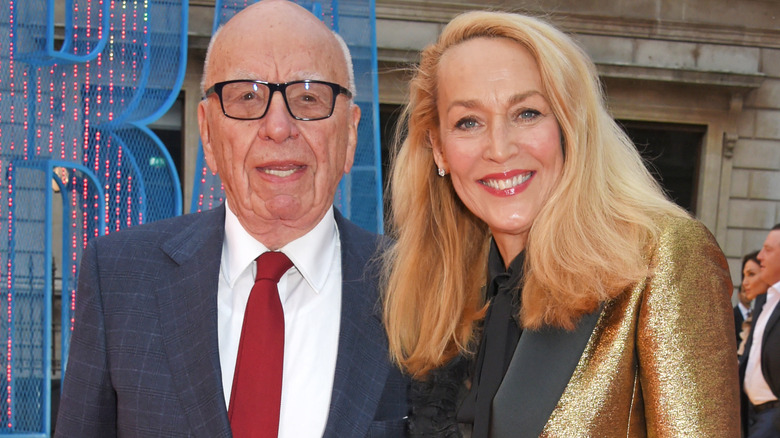 David M. Benett/Getty Images
Come March 2022, Jerry Hall and Rupert Murdoch will celebrate their sixth wedding anniversary and continue to prove the naysayers wrong. Back in 2019, a source close to the business mogul told Now To Love that Murdoch, who has been married three times before Hall, is "very happy" and "completely in love" with his current wife. Another source told the outlet that things work well between the two because "what Rupert has really been looking for all these years is not so much a wife as a First Lady. Someone who will run his life in private and be at his side in public." Murdoch's daughter Elisabeth confirmed as much to the outlet, revealing that her father appreciates strong women.
Likewise, Hall's daughter Georgia May Jagger is said to be a fan of her stepfather because he makes her mother "very happy," per Now to Love. And in a 2019 interview with Harper's Bazaar, Hall spoke of how things have changed for the better since she got together with Murdoch. "My life has certainly changed," the ex-model said. "Rupert is the most wonderful husband. ...I'm so happy!" In part, that happiness comes from the trust that she and Murdoch share. Where Hall once worried about ex-husband Mick Jagger's philandering ways, it's nice not to "constantly be having to keep an eye on someone who's talking to some woman at a party." Here's to more years of wedded bliss for these two!