The Real Reason Kate Middleton Should Technically Bow To Her Kids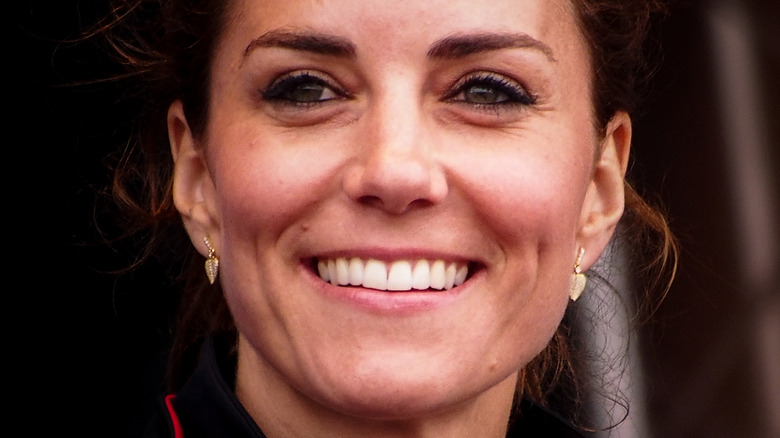 Simev/Shutterstock
Kate Middleton knows how to get under Prince William's skin. Sometimes, it's a wife's duty to needle her husband, especially because few would dare to tease the future king. And after three kids and more than a decade of marriage, Kate knows how to get her point across with the sweetest of smiles too.
The Duke and Duchess of Cambridge attended the Royal Variety Performance in November, per the Mirror. The royal couple was entertained by artists such as Rod Stewart and Ed Sheeran, and as is customary, they chatted with some of the performers after the show. The outlet reported that Kate and William were mingling with different people, but were still close to each other. All of a sudden, William started to have a coughing fit. While an aide fetched a glass of water to soothe his throat, his wife could not help cracking a joke at his expense. Stepping over smoothly, Kate remarked that his coughing was due to "too much singing."
And while the joking might seem a tad light, one must remember that she was teasing the duke in public in front of some well-known artists. In fact, a few decades ago, some may even have felt that Kate had overstepped her mark. After all, she's supposed to bow to her husband and children. Yes, Kate technically does not have the same standing as her spouse.
Where Kate Middleton ranks in the royal pecking order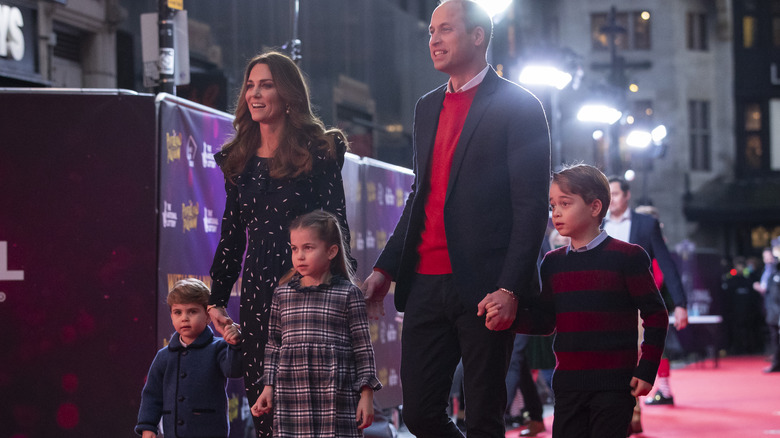 Wpa Pool/Getty Images
Kate Middleton comes from a middle-class family that has no ties to the royals. Granted, her family is well-off, but nobody was curtsying around them. However, from the moment Prince William was born, he was second-in-line to the throne. Commoners and the royal family alike gave him the respect and honor befitting of his status. When Kate married Wills, she became a duchess and people bowed to her accordingly. But, there's still a list of people that Kate must bend the knee to. 
According to Express, her children make the cut. Apparently, Kate must bow to all direct descendants of Queen Elizabeth's bloodline. And yes, that means that she should bow to Prince George, Princess Charlotte, and Prince Louis because they have blue blood. As Kate wasn't born a royal, and only married into the family, she also needs to bow to Princess Beatrice and Eugenie, as well as to the other royal cousins such as Prince Edward's children, Lady Louise Windsor and James Viscount Severn. However, she would only bow to the queen and Prince Charles if accompanied by William, as his rank would then also apply to her as well.
Once William ascends the throne, she would only bend the knee to him. But since these two have such an easy relationship, where she can tease him about his singing, she would probably not be bowing to him. Unless that's their thing, and then there's no judgment here.