Kathy Griffin Reveals What's Really Going On With Her Health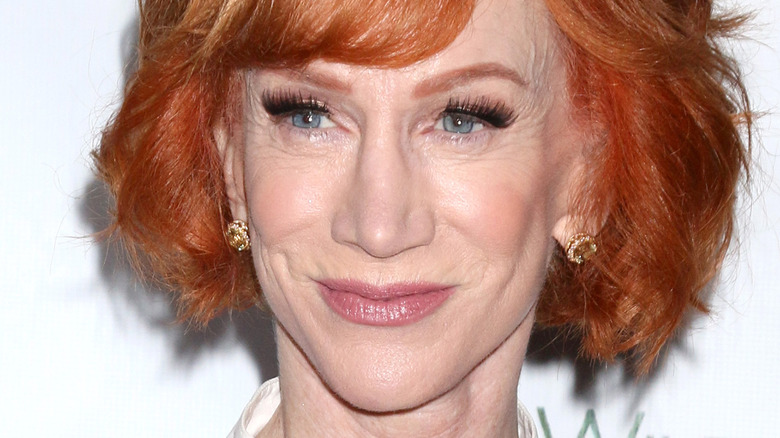 Kathy Hutchins/Shutterstock
Comedian Kathy Griffin is ready to make a big comeback in the entertainment world. She has been through some major challenges over the past few years, including a lung cancer diagnosis. During her November 30 appearance on "Jimmy Kimmel Live," she shared a status update regarding her cancer and fans will not want to miss her news.
But if you missed the initial announcement, Griffin's cancer diagnosis first surfaced in August, with the star explaining everything in a Twitter post. She said she had never smoked and was prepared to face surgery. "The doctors are very optimistic as it is stage one and contained to my left lung," she noted. Griffin added, "Hopefully no chemo or radiation after this and I should have normal function with my breathing." The comedian revealed she expected to be "up and running around as usual" within a month, and she insisted she was "gonna be just fine." 
Now, less than four months after that revelation, Griffin was ready to share major updates about what had transpired since her diagnosis.
Kathy Griffin is moving forward after cancer surgery
During Kathy Griffin's appearance on "Jimmy Kimmel Live," she explained how her August surgery led to removing half of her left lung. "So now, they put the intubation too rough on my vocal cord," Griffin detailed, and as a result, her voice is different for now. Griffin described her new voice as "Minnie Mouse meets Marilyn Monroe," and she joked she's "kind-of enjoying" the pitch that is "higher than Mariah Carey." Although her voice is currently a higher pitch than what her fans are used to hearing from her, she noted it should eventually heal and return to normal. Even better, Griffin announced she's currently "cancer-free."
Griffin also noted she had gained some weight during the COVID-19 pandemic, and as a result, she decided she would only wear Gucci tracksuits in the future. She modeled her look for Kimmel's audience, and she added a Gucci fanny pack and sneakers as accessories for good measure. She cracked many jokes during her segment with Kimmel and was full of smiles when she talked about her New Year's Eve wedding and role on the HBO series "Search Party." 
The star's voice may sound different, but she's still got her trademark sense of humor. Griffin is seemingly thrilled to be cancer-free and is anxious to get back to entertaining her fans again.