How Compatible Are Kourtney Kardashian And Travis Barker Based On Their Zodiac Signs?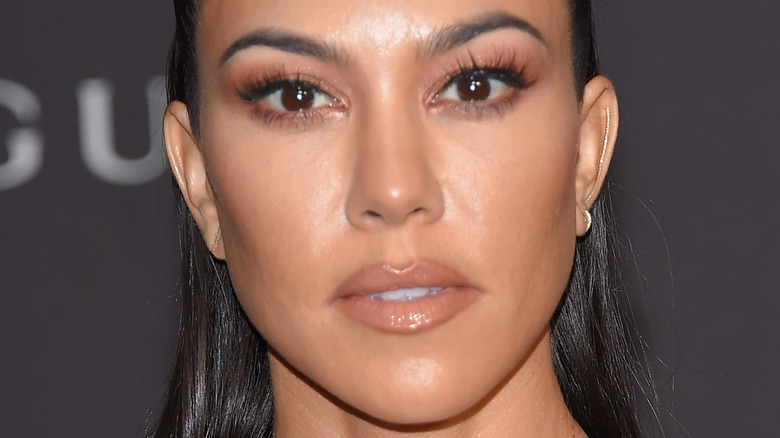 DFree/Shutterstock
Reality star Kourtney Kardashian and Blink-182 frontman Travis Barker might just be the "It" couple of 2021. The pair, who's moved in the same social circles for a while now, made their relationship Instagram official in February 2021, according to Entertainment Tonight. "Kourtney and Travis had a platonic relationship for years and they've been friends ... for a very long time, but recently something sparked and their relationship has turned romantic," a source told the outlet.
What followed next was a series of PDA-filled 'grams and some shaming from Kardashian's ex-partner, Scott Disick. Seemingly disgruntled by the fact that Kardashian was getting hot and heavy with Barker on social media, Disick called her out in front of another one of her exes — Younes Bendjima — via Instagram DM, according to the Daily Mail. "Yo is this chick ok!!??? Broo like what is this. In the middle of Italy," Scott wrote, in response to a photo of Kourtney cuddling up with Barker.
Per the outlet, Bendjima defended his former flame and reminded Disick that, "I'm not your bro." As for Kardashian and Barker, they took things in stride. The musician proposed to Kardashian in October, and a source told Radar Online that Barker had been thinking about doing so for some time. "Let's just say this was not a last-minute, spur-of-the-moment decision. Every single detail about the engagement was carefully planned," the insider said. But as the duo prepares to walk down the aisle, just how compatible are they?
Travis and Kourtney's zodiac points to an intensely romantic connection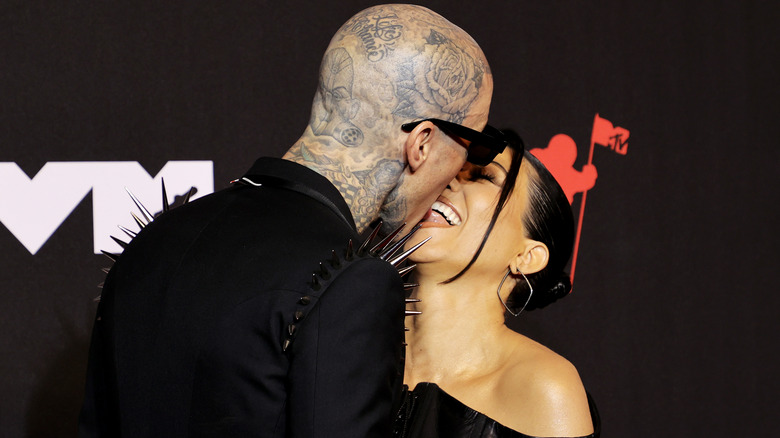 Noam Galai/Getty Images
Kourtney Kardashian and Travis Barker's engagement came as no surprise to their families. As someone close to the couple shared with E! Online, "Kourtney and Travis have talked about marriage. It was an instant connection and bond ever since they became romantically involved. They are in it for the long haul." And from a look at their zodiac, it seems their love story is practically written in the stars. 
Barker, who was born on November 14, is a Scorpio, while Kardashian's birthday is April 18, making her an Aries. As Bustle notes, these two signs aren't typically the most compatible (think fire and water), but they share an important commonality: They're both ruled by Mars. As the planet of "sex and action," this "gives them common ground when it comes to being passionate, driven and sexually expressive," per the outlet. So in this case, does fire and water make ... steam?
According to Bustle, it's Barker's moon sign that heats things up. As Harper's Bazaar explains, our moon signs represent our emotional states. And because Barker's moon sign is an Aries, per Bustle, it adds more fire, chemistry, and impulsiveness to his relationship with Kardashian. "When two people share the sun and the moon in the same sign, it's an incredibly strong indicator of astrological compatibility and is common in long-term relationships," astrologer Stephanie Powell shared with Bustle.
Will Kourtney Kardashian and Travis Barker go the distance?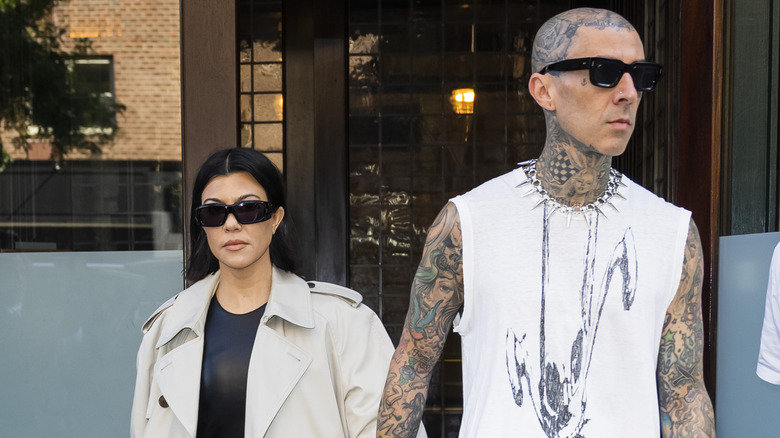 Gotham/Getty Images
Like their friends, Machine Gun Kelly and Megan Fox, Kourtney Kardashian and Travis Barker haven't been shy about publicly flaunting their love. And as it turns out, their zodiac may help explain some of that over-the-top PDA. According to astrologer Stephanie Powell, Kardashian's Mars is in opposition to Barker's Venus, which brings fireworks in the bedroom. "It's no surprise these two are head over heels, as their emotional connection is matched with a fierce physical attraction," Powell told Bustle.
But can their explosive love last over time? The key might be found in the reality star's rising sign, which is a Pisces and aligns well with Barker's water tendencies (as a Scorpio). "Kourtney is someone who has the potential to fulfill Travis' partnership needs and can innately care for and comfort him," Powell informed Bustle. Furthermore, Kardashian's rising Pisces makes her "dreamy and romantic," per ScreenRant, and intimates deep devotion — potentially explaining why she consistently forgave ex Scott Disick in the past.
Overall, it's not surprising that Kardashian and Barker's long-standing friendship turned romantic, because their zodiac indicates similarities in both water (Kardashian's rising sign and Barker's sun sign) and fire (Kardashian's sun sign and Barker's moon sign). Astrologer Powell hints at some significant star patterns in these two's futures come 2022, so perhaps wedding bells will ring sooner rather than later?