Alicia Dea Josipovic Dishes On Her Holiday Movie Secretly Santa, Musical Aspirations, And Fashion Inspiration - Exclusive Interview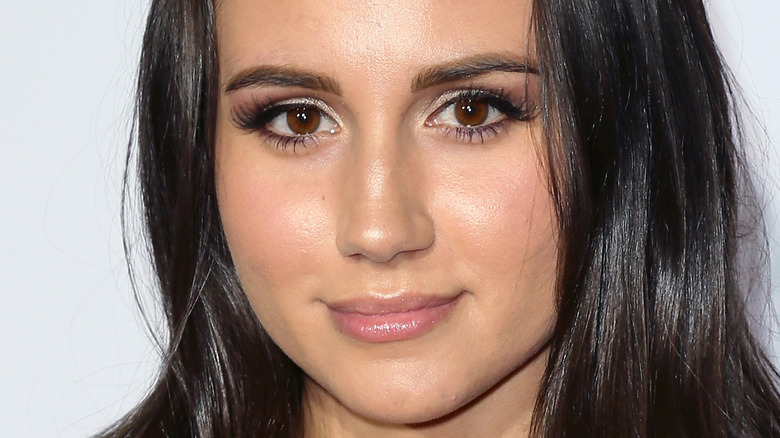 David Livingston/Getty Images
In 2021, there are Christmas films aplenty to satisfy your festive cravings. Next up is Lifetime's "Secretly Santa" starring "Degrassi: The Next Generation" actor Alicia Dea Josipovic. In the adorable Lifetime offering, Josipovic plays Miranda, who meets a dashing, and rather mysterious, man wearing a Santa costume on a night out. What Miranda doesn't realize is that her secret Santa, with whom she continues an online romance, is in fact her business rival Paul. The love/hate dynamic is the perfect basis for this sweet romantic comedy, and seasonal movie fans are sure to quickly fall in love with "Secretly Santa."
As well as playing a holiday movie love interest, Alicia Dea Josipovic has been busy working on several other acting projects, recording and releasing new music, and dreaming of in-person events at which she can wear some serious fashion. Nicki Swift caught up with the star of "Secretly Santa" to find out all about the festive film and Josipovic's plans for 2022.
Bringing Secretly Santa to life
You're here to talk about "Secretly Santa." What drew you to the film?
I've always wanted to do a Christmas film. So this is my Christmas debut film, and it's been a long time coming. I've been wanting to do a Christmas movie for at least the last couple years, and when I got handed the script and when I got the offer, I just was drawn to Miranda because she's just such a hustler. She's an everyday girl, but she's also a hustler, and she's got a lot of heart. And she's this strong, independent woman who stands up for what she believes in. So I was like, "I really like this character." I just really like the storyline and it was really about doing a feel-good Christmas movie. So I was really excited to do my first Christmas film.
There are so many Christmas movies this year, but this one's going to stand out to people because it has such a sweet premise. 
For sure. And I think it's a little bit different too, right? Because there's an LGBTQ storyline that happens, and this is kind of the first that we're seeing in these Lifetime and Hallmark films. There's a lot of diversity too. So yeah, this one's definitely going to stand out more than some of the other films.
Alicia Dea Josipovic had the best co-star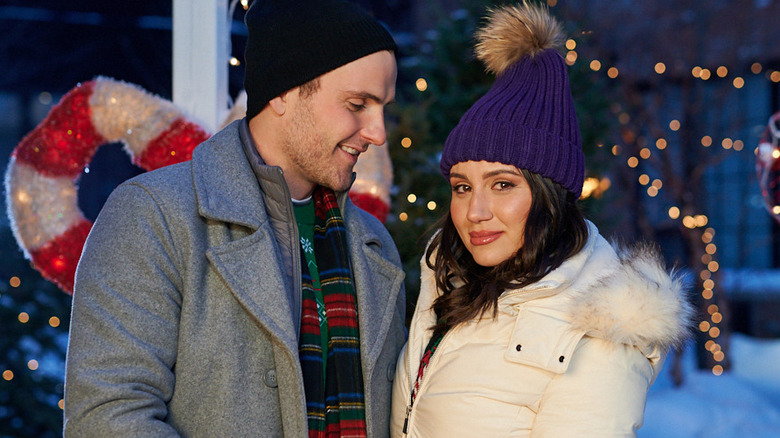 Lifetime/Danielle Blancher
What was it like working with your "Secretly Santa" co-star Travis Nelson? 
He's amazing. We clicked immediately, first day on set. So he was just a pleasure to work with, and we got really close and I'm actually seeing him tomorrow. We're supposed to be doing ... an Instagram Live for the film, so we're going to get together just before the film airs on Monday. But he's wonderful. And we just worked really well together. We had great chemistry. We became super, super close on set and so it was awesome. It's nice having that, working with somebody who you want to see on set every day and that you can bounce ideas off of. He was great. He was wonderful.
Could we be seeing a sequel?
I mean, I hope. I would love to do a sequel. Everyone was so amazing. The cast was just amazing too. Everyone on set was awesome. The crew was great. So I hope we can do a sequel. That would be amazing. I'm going to pitch that idea.
You're obviously a fan of Christmas movies. Do you have any favorites? 
Oh my gosh. So many. I mean "Home Alone," right? That's everybody's favorite, but you know which other one I love? I love "Four Christmases." That's always my favorite Christmas movie, and I watch it every year. I love that one. I love Vince Vaughn. He's one of my favorite actors and favorite comedians, so that's a really fun Christmas movie. And "The Grinch." "The Grinch" is one of my all-time favorites.
Leaving Degrassi was 'super hard'
So a lot of us know you as Bianca DeSousa from "Degrassi: The Next Generation." What was it like working on the show?
Amazing. So that show was kind of my first leap into this industry, and it taught me everything that I know now. The cast was just incredible. We were all a family, and leaving the show was just super, super hard because you're used to seeing these people almost every day for four years and you get so close with everyone, but it was just ... It was awesome. It was the best learning experience that I could have had in those four years of working with such an amazing crew and cast and production company, and I definitely miss it a lot.
Breaking into music
You're also a singer and released your single, "Never Say Goodbye," earlier this year. Do you have more music in the works, and is there an album coming? 
I do. Yeah. So right now I'm working on my album. The song that I released, this was kind of a one-off. This was a song that I worked on years ago and it just got brought to life now, but it was a song that I wrote for my father, who had passed. And I did an episode of the show "Nurses" in Canada. And my character was a singer, and so it worked out that they wanted me to sing on the show. One of the producers was like, "Do you have any music that you've done?" I was like, "Oh yeah, I've actually written and recorded a bunch of stuff." So I had sent them, "Never Say Goodbye," the song that I had released, and Jody Colero, who's the music producer of the show, he was like, "Oh my God, we love it. Can we place it on the show? Who owns it?" And I'm like, "Well, I own it. Let's place it on the show."
So it kind of just worked out, and it got me right back into this passion that I have so much love for. So now I'm right back in the music. This is the push that I needed because I was just solely focused on acting for quite a bit of time. And I really missed writing and music, and this song needed to be released. So that's what happened with "Never Say Goodbye," and now I'm working on my album. It's a little bit different though. It's like a pop, dark dance kind of style ... It's really, really cool. It's really different, but super, super cool and fun. So, that'll be coming out in the new year.
Alicia Dea Josipovic is a huge T.I. fan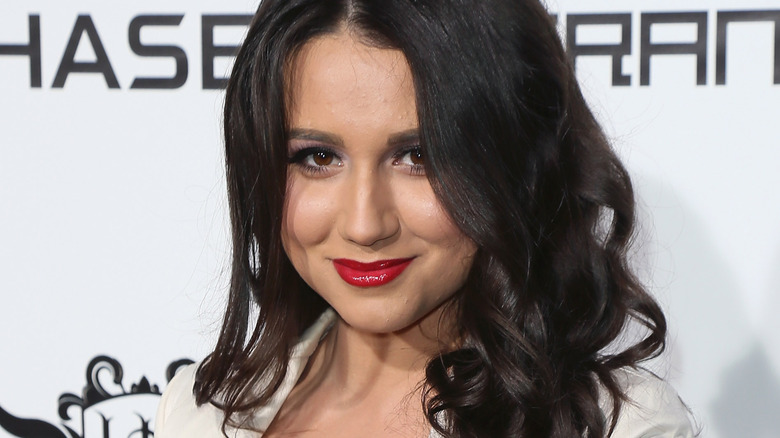 David Livingston/Getty Images
Are there any musicians you'd love to collaborate with?
Oh my gosh. There's so many. I'm obsessed with Rihanna. She's my idol.
Rihanna is everybody's idol. She's amazing.
So badass. She's so awesome. I love her. There's so many. I'm a huge hip hop fan. It's not my style of music at all, but I love hip hop, and my favorite artist growing up was T.I. Do you remember T.I.? I was obsessed with him to the point where I would celebrate his birthday. It was not okay. September 25th, by the way. Yeah, I was so obsessed with him. I would celebrate his birthday. I know all of his songs, I can rap you ... I'm not going to do it right now, but I can rap a lot of his songs, so that would be a cool person to collaborate with just because I was obsessed with him when I was growing up.
Imagine making those childhood dreams come true?
Right? Totally. I'm in, I'm down. Dreams do come true. Let's get it going.
Alicia Dea Josipovic's Yellowstone dreams
Are there any TV shows that you'd love to star in, or anything that you've been binge-watching recently?
"Yellowstone." It's so good. It's the best. And Beth, the lead woman on the show, she's just so badass. She's so independent, fierce. She's just everything that I would want to play in a character. She's definitely a role model character that I would want to play at some point in my career. But yeah, "Yellowstone" is a great show. I love that show ... I binge-watched it because I didn't watch the first season until, this was like a couple months ago. They're on their fourth season now ... It's just been "Yellowstone" for me for the past two months ... Now I'm like, I want to just move to Montana and I want to marry a cowboy. This is my life right now, so ...
Italian fashion runs in the family
Do you have any favorite designers or style icons?
I love Italian designers. So Dolce & Gabbana has always been one of my favorites. What else? Oh, Prada. Those are some of my favorite lines. I love, obviously, bougie high-end fashion in the Italian world. But a lot of my friends love French designers. And maybe it's because I'm half Italian, that's probably why I like the Italian designs more because I've maybe been to Italy a lot. I've got to feel the fabrics and go into these little boutique stores that have just the most exquisite clothes. And it's just the fabrics and everything, the colors and all of it, just how much art and passion goes into every single piece of clothing that they make. So I'm definitely drawn to the Italian designers. And also my grandmother was a fashion designer in Italy. We have a bunch of her Italian designs from the '50s, and at one point, we wanted to bring them to life — they're obviously dated because they're the '50s, but I was thinking of modernizing it and one day bringing it to life. I love fashion. I love Italian fashion and some of those designers are probably my favorite ones.
We just need some more real-life events and red carpets for you to go to.
Exactly. Let's do that. Let's get it going.
There might be more Christmas movies in Alicia's future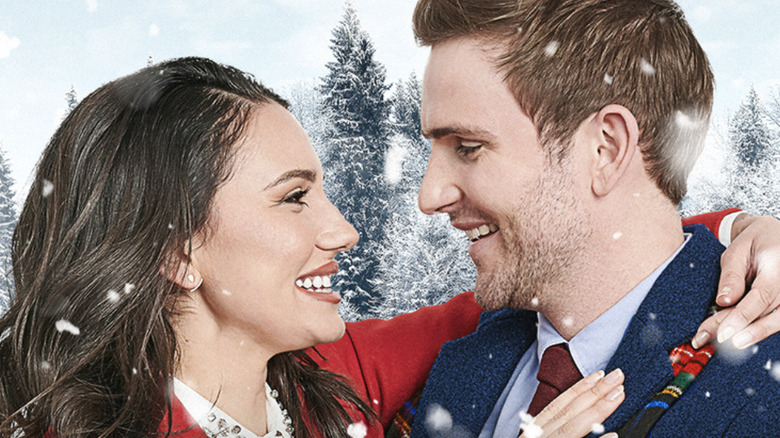 Lifetime/Danielle Blancher
What else do you have planned for 2022?
What else do I have planned for 2022? Well, the project that I'm primarily focusing on is definitely going to be the album ... I would love to do another Christmas film this year ... whether it's a Christmas film or a summer fling or something like that. But yeah, so album first, and I hope to get a couple other projects on the go. So acting and music. Those are my two passions. So I'm just hoping to just continuously do that for the rest of my life.
Anything else you want people to know about "Secretly Santa"?
Well, this film, it was super special to Travis and I, and we wanted to make the story just relatable and fun. It's about giving, it's about family, and it's about falling in love, and it's got all the good, warm, fuzzy feels that you're going to want to watch when you watch a Christmas movie. So I hope everybody likes it because we had so much fun making it ... You just want to sit there, eat your popcorn with your hot chocolate and just enjoy this beautiful film all [feeling], but it's got all the good feels you're going to ... Everyone's going to like it, so I'm excited.
"Secretly Santa" is available to watch exclusively on Lifetime on Monday, December 6 at 8/7c.