Hillary Clinton Has This To Say About Donald Trump Running Again In 2024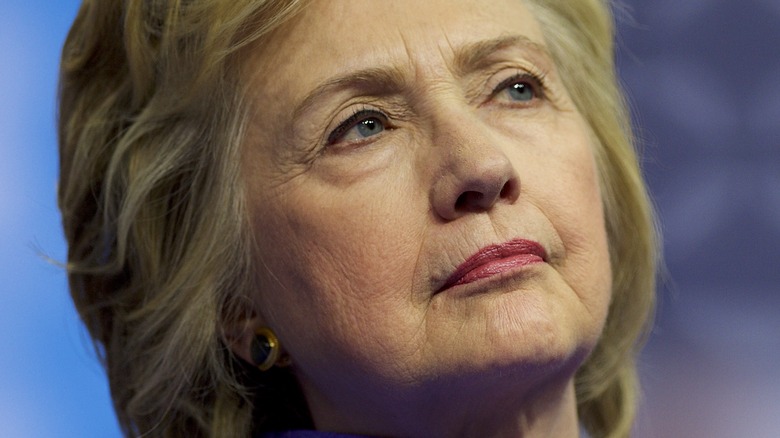 Mark Makela/Getty Images
Since Donald Trump left the oval office in January, his supporters have been wondering whether he will run for president again in 2024. The former businessman has indicated he's not done with politics yet and even said recently that his base will be "angry" if he doesn't give the presidency another shot (via Newsweek). Meanwhile, some members of the Republican party expressed their support for his re-election, according to CNN.
One person who might not be as happy about a second Trump presidency is Hillary Clinton. The former secretary of state lost to Trump in 2016 and believes he will run again, according to TODAY, telling NBC's Willie Geist, "If I were a betting person right now, I'd say Trump is going to run again."
While Clinton's prediction isn't surprising, she's also not a fan of what another Trump presidency would mean for the country, which is currently in rebuild under President Joe Biden.
Hillary Clinton thinks another Trump run will 'make-or-break' America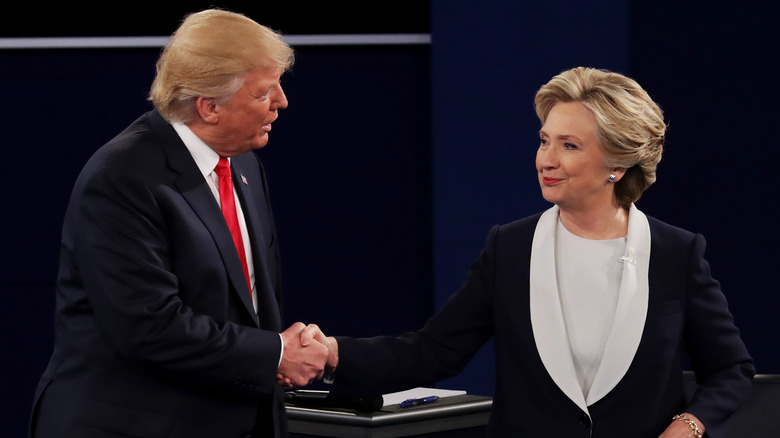 Chip Somodevilla/Getty Images
Speaking with NBC's Willie Geist on TODAY, Hillary Clinton warned people that a Trump presidency in 2024 might not be a good thing. "I want people to understand that this is a make-or-break point," the Democrat said. In the segment, she also controversially shared an excerpt of what would've been her acceptance speech had she won four years ago. "Are we going to give in to all these lies and this disinformation and this organized effort to undermine our rule of law and our institutions, or are we going to stand up to it?" she asked.
Clinton's questions and judgement have sparked speculation that she herself may run against him again (per Newsweek) amidst panic in the Democratic party concerning President Joe Biden's low approval ratings, according to The Atlantic. However, it seems like Biden is paying no mind to the negative press, joking about the numbers during an appearance on "The Tonight Show Starring Jimmy Fallon." "I would pay attention when they're in the mid-60s, but now they're in the 40s, I don't pay attention anymore" he said (via NBC News).