Was Lala Kent's Engagement Ring Really A Fake Diamond?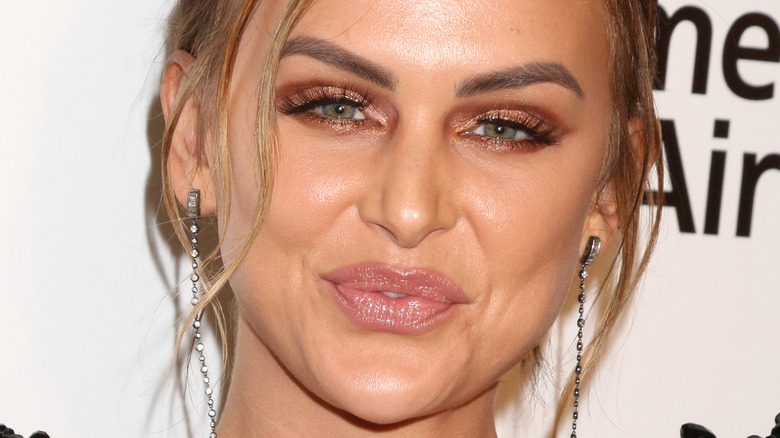 Kathy Hutchins/Shutterstock
It's no secret that things aren't good between Lala Kent and Randall Emmett right now.
It was revealed in November that the two — who welcomed their first child together in March — had gone their separate ways, with Us Weekly claiming the breakup with Lala's idea and Randall with still supposedly "trying to win her back." It sounds like Lala had no time for that though, with the outlet's insider claiming that "the trust is gone" between the former couple.
Lala — who's taken aim at Emmett a few times — has since shared her take on the split, including telling "The Real Housewives of New Jersey" star Melissa Gorga on her "Melissa Gorga on Display" podcast in December, "This whole experience has been traumatizing and it haunts me daily." She continued in a sneak peek obtained by E! News that it scared her "how I could feel so safe with someone and to have a conversation about starting a family... And him making me feel safe enough to bring this beautiful innocent life into the world is hard. It haunts me, like I said, daily."
But Lala wasn't done there. She's now making some pretty serious allegations about her ex and the infamous huge rock the wealthy movie and TV producer (Emmett is thought to be worth around $500,0000) presented her with when he got down on one knee back in 2018, and, well, let's just say this one's a sparkler of an accusation.
Lala Kent's engagement ring lies
Lala Kent slammed her former fiancé, producer Randall Emmett, claiming he lied to her about her engagement ring. The "Vanderpump Rules" star made the allegation during the December 15 episode of "Give Them Lala", sharing she'd taken the ring Emmett gave her to a jeweler who revealed the supposed truth.
Using the GIA certification, she claimed the jeweler told her the diamond was "mostly brown" and "treated by one or more processes to change its color." That meant it was worth tens of thousands rather than hundreds as she believed, with Lala claiming the jeweler confirmed her ex knew what he was buying.
"I love any type of ring that is given and has sentimental value... No wonder he whose name we shall not mention flew in four times, he had to make sure the s*** brown diamond was clear!" she joked on her podcast, seemingly referring to Emmett and making it pretty clear she no longer believes she found a diamond in the rough.
While the ring still contained a diamond, meaning it wasn't exactly "fake" as she suggested, Lala wasn't happy with being misled, saying, "Like, 'Wow, there's not one piece of the five years I was with this person that has been truthful and honest.'"
Richie Rich of Leon Diamond told Page Six in 2018 that he designed the ring, which took two weeks to complete. He said it was six carats and alleged that Emmett purchased it for $150,000.