Eric Trump Opens Up To Jay Cutler About His Family's Political Inexperience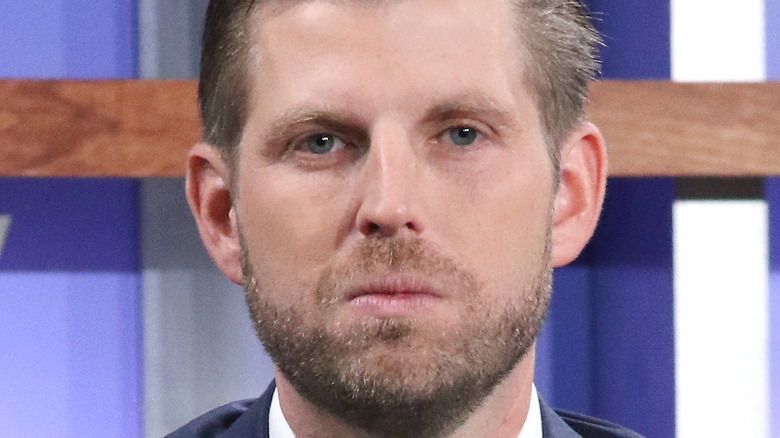 Jim Spellman/Getty Images
When it comes to identifying which Trump children held the most sway regarding day-to-day operations during Donald Trump's presidency, it'd be fair if Ivanka Trump and Donald Trump Jr. are the only names to spring to mind. Though Ivanka was the senior adviser to her father, it's no secret Donald Jr. made the most of his time as his father's social media hype-man. But lost in the two-person fray of it all is Eric Trump, the second Trump son — the "overshadowed" sibling, according to The Daily Dot — who has often been the butt of jokes by late-night lampooners. Of course, while his older siblings were in the White House, he was the head of the family business, per Business Insider.
However, with Eric's latest statements about his family swiftly making headlines, it looks like he'll be in the spotlight for now. Shockingly, in a podcast interview with former NFL quarterback Jay Cutler, the Trump Organization's current executive vice president seemed to indicate that his family's political players were somewhat less competent than they prided themselves to be.
Eric Trump said his family was not 'smart enough' to collude with Russia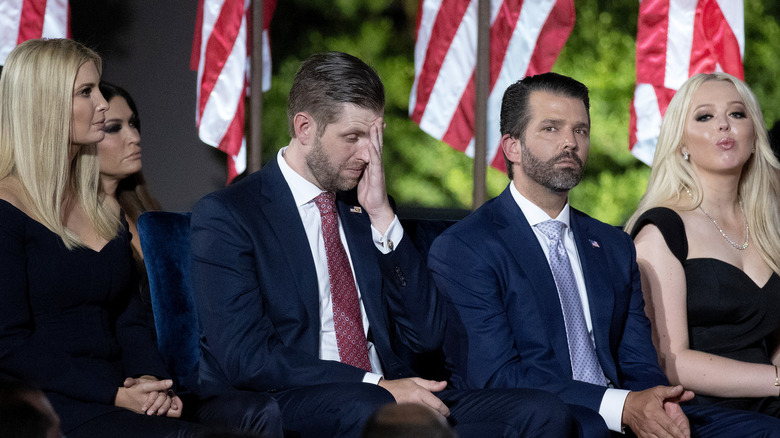 Chip Somodevilla/Getty Images
During his recent appearance on "Uncut with Jay Cutler," Eric Trump was candid about prior allegations that his father, ex-president Donald Trump, colluded with Russia during the 2016 presidential election — allegations which served as the basis for the first out of Trump's two impeachment trials. (Trump was ultimately acquitted of all charges, though some political officials still believe there was Russian involvement, per The New York Times.) Speaking with Cutler, Eric said (via Business Insider) that the Trumps "weren't smart enough to collude with Russia." He then attempted to double-down on his statement by asserting, bafflingly, that the ex-president nor his cohort couldn't have colluded due to sheer ineptitude. "We didn't know what the hell we were doing," Eric continued. "We didn't know what a delegate was."
Adding more fuel to the fire, Eric then recalled an incident that took place at the 2016 Iowa Caucus, an electoral polling event which serves as a strong predictor of the outcome of presidential primaries and general elections. As Eric told Cutler: "I remember walking up to a caucus in Iowa saying, you know, I looked at this young staffer and I go, 'Hey, do you know what a caucus is?'" Cutler responded with laughter, but whichever way you look at it, Eric's statements aren't likely to bode well for anyone.