The Reason Donald Trump Jr. Just Got This New Nickname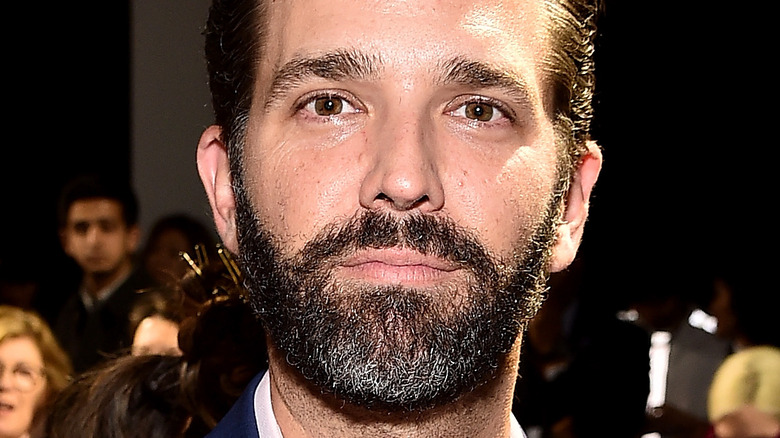 Theo Wargo/Getty Images
While Donald Trump Jr. is no stranger to spiteful, cavalier, or controversial behavior, it seems his latest stunt has caused a prominent New York City newspaper to label him with a less-than-desirable moniker. That's because he is in the midst of ostensibly looking to profit off of a tragic death ... and the tragic misfortune of others. 
According to Huffington Post, on October 26, the New York Daily News lambasted the regularly frustrating son of ex-President Donald Trump on their front page. They used a large portion of real estate on the front of their Tuesday print edition to deride Don Jr. as the "SPAWN OF HATIN'". No mincing words here. So, what was the reason for the pun-heavy and all-caps ripping? 
As Huffington Post reported, Don Jr. capitalized on an accident that occurred on the set of "Rust" — staring a vocal Trump family detractor — Alec Baldwin. The headline is clearly pretty harsh, but equally, if not harsher, is what Don Jr. did to earn this scathing and Devil-conjuring nickname. As the Daily News added on their front page, "Don Jr. tops sick GOP Alec taunts with slimy T-shirt." But wait, what T-shirt? Here's, a little more specifically, what he did.  
Donald Trump Jr.'s new nickname is a reference to his awful recent act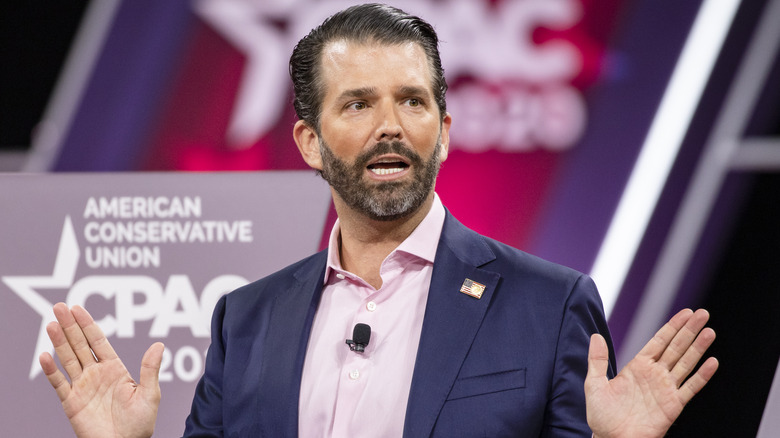 Samuel Corum/Getty Images
As Huffington Post reported on October 25, Donald Trump, Jr. did his best to capitalize on (and profit off) a horrific tragedy. That would be the incident involving actor Alec Baldwin on the set of the Western movie "Rust," in which a prop gun the actor was holding misfired (via The New York Times), killing the film's cinematographer, Halyna Hutchins, and injuring director Joel Souza. 
Within a week of the incident, Don Jr. launched a hoodie and T-shirt line with the message, "Guns Don't Kill People, Alec Baldwin Kills People," presumably to line his own coffers. The hoodie runs for $27.99. "Screw all the sanctimony I'm seeing out there. If the shoe was on the other foot Alex Baldwin would literally be the first person p*****g on everybody's grave trying to make a point. F*** him!" Don Jr. then wrote on Instagram Stories, per HuffPost, while promoting the new shirts. Really classy stuff here. 
This is hardly the first time Don Jr. has attempted to make money off of his followers. Earlier this year, the "Spawn of Hatin'" (if we may) used the app Cameo in an effort to drum up money from his fans. According to The Hill, this was directly after Don Jr. complained about the "millions" in legal fees associated with the Trump Organization criminal scandal. In any case, this is a new low.