The Real Reason Joe Biden's Dog Was Removed From The White House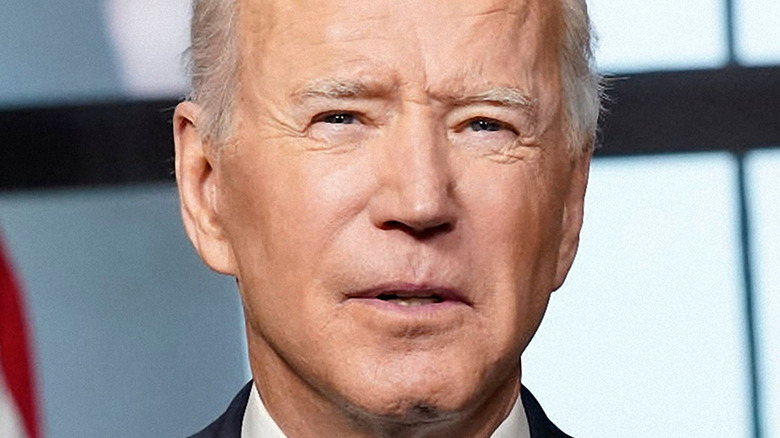 RedhoodStudios/Shutterstock
President Joe Biden and his wife, Dr. Jill Biden, made headlines in early December when they shared they had welcomed a new fur baby into the White House. On December 20, the president shared a video on Instagram of the family's new puppy, a German Shepherd named Commander. In the sweet video, the president can be seen greeting the small dog and then walking him on a leash with his wife. The playful pup looks overjoyed to be with a new family in a new home — just in time for Christmas!
The Bidens lost one of their dogs, Champ, in June, announcing the sad news on social media. Biden wrote on Instagram at the time, "In his younger days, he was happiest chasing golf balls on the front lawn of the Naval Observatory or racing to catch our grandchildren as they ran around our backyard in Delaware. In our most joyful moments and in our most grief-stricken days, he was there with us, sensitive to our every unspoken feeling and emotion."
Now that the Bidens are bringing Commander into the family, you'd think they'd be back to a two-dog household with Major, their other German Shepherd — except that's not the case. 
Major Biden couldn't get his behavior under control
When President Joe Biden moved into the White House in January, Major made history as the first rescue dog to live in the house. The Bidens adopted him in 2018 to be a buddy for Champ, whom the Bidens brought home 10 years prior. However, soon after the Bidens moved in, the dogs started to have behavioral issues. In March, both dogs were sent back to their family home in Delaware after a biting incident. Major reportedly got aggressive with White House staff, per CNN, and a source said the dog had been "jumping, barking, and 'charging' at staff and security."
Major was eventually welcomed back into the White House and got extensive training for the aggression and behavior concerns, per TMZ. Michael LaRosa, Dr. Jill Biden's spokesperson, told The New York Times on December 20, though, that Major will be permanently moving out of the White House. "After consulting with dog trainers, animal behaviorists and veterinarians, the first family has decided to follow the experts' collective recommendation that it would be safest for Major to live in a quieter environment with family friends," LaRosa shared in a statement to the newspaper. "This is not in reaction to any new or specific incident, but rather a decision reached after several months of deliberation as a family and discussions with experts."
So while Major and Commander won't be buddied up in the White House, they'll still be puppy siblings who hopefully at least get to spend holidays together!